This week, we get a clearer picture of how HIV evades detection and elimination while infecting a cell. We also read a study linking anemia and red blood cell measurements to the development of HIV-associated neurocognitive disorder. Plus, new data estimates there are over 2 million people in the world living with HIV and hepatitis C. To beat HIV, you have to follow the science!
Virology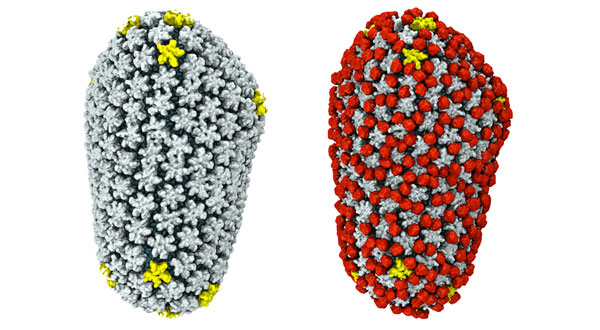 The naked HIV capsid, left, would be quickly detected and eliminated from the cell, but a host protein, cyclophilin A, in red in the image on the right, binds to the capsid and enables it to transit through the cell undetected. (Credit: Graphic by Juan Perilla)

Researchers at the University of Illinois offer an atomic view of how HIV evades detection while infecting a cell. It has to do with the interaction between HIV's capsid -- the protein coat of the virus -- and a common host protein known as cyclophilin A.
Cyclophilin A plays a role in the inflammatory response, but also the trafficking of other proteins. The researchers found that HIV somehow tricks cyclophilin A into binding to the HIV capsid, thereby providing cover as HIV infects a cell.
"What we think is happening is, where there is no cyclophilin the capsid is naked, so the cell can recognize it and trigger a process that destroys the virus," said study co-author Juan R. Perilla, Ph.D., according to the study press release.
However, HIV appears to be a bit of a Goldilocks, as the researchers found that having too much or too little of cyclophilin A interfered with HIV's ability to infect cells.
"If the capsid is fully occupied by cyclophilin A, it prevents recognition by the nuclear pore complex. So there is an optimal amount of cyclophilin bound to the capsid such that it allows the HIV infection to go forward," Perilla said.
"Now, we understand a little bit better the HIV virus' strategy for evading cellular defenses. That gives insight into battling the system," said lead author Klaus Schulten, Ph.D., according to the study press release.
Read: Last Week in HIV Research: New Single-Tablet Regimen Odefsey Approved; and the Charlie Sheen Effect on HIV Prevention
Comorbidities
Advertisement
Anemia and red blood cell measurements may predict neurocognitive impairment in people living with HIV, according to a study published in the Journal of Infectious Diseases.
Researchers for the CNS HIV Antiretroviral Therapy Effects Research (CHARTER) study followed 1,261 individuals living with HIV and provided comprehensive neurocognitive assessments. They found that HIV-associated neurocognitive disorder (HAND) occurred in 47% of the participants.
Anemia was independently associated with the development of HAND. The researchers also found a positive association between red blood cell indices -- such as the mean corpuscular volume (MCV) and mean corpuscular hemoglobin (MCH) -- and HAND.
"Future studies should address whether treating anemia may help to prevent HAND or improve cognitive function in HIV-infected persons," the researchers concluded.
Hepatitis C Coinfection
Globally, about 2.27 million individuals living with HIV are also living with hepatitis C (HCV), according to new research published in Lancet Infectious Diseases.
The 2.27 million figure indicates a coinfection prevalence of 6.2% of people living with HIV. About 1.3 million of those coinfections occur in people who inject drugs.
The researchers also note that the odds of HCV infection are six times greater in people living with HIV than those who are not.
"The study shows that not only are people with HIV at much higher risk of HCV infection, groups such as people who inject drugs have extremely high prevalence of HCV infection -- over 80%. There is a need to scale up routine testing to diagnose HCV infection in HIV programs worldwide, especially among high-risk groups, as the first step towards accessing the new, highly curative HCV treatments," said Philippa Easterbrook, M.D., M.P.H., according to the study press release.
Warren Tong is the senior science editor for TheBody.com and TheBodyPRO.com.
Follow Warren on Twitter: @WarrenAtTheBody.

Copyright © 2016 Remedy Health Media, LLC. All rights reserved.