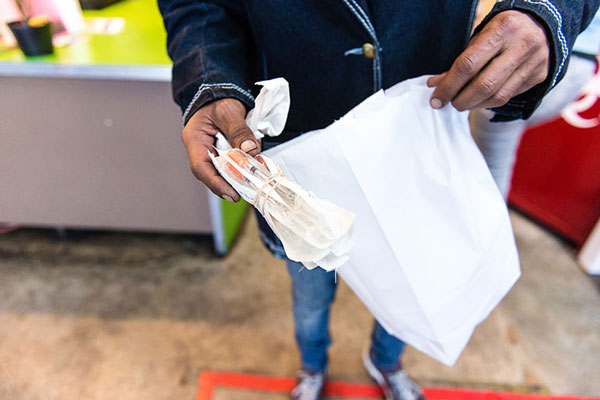 Diamond Mendoza, 49, picks up new syringes at the Center for Harm Reduction on Skid Row in January 2016. Mendoza says he's HIV free because he only uses needles once. (Credit: Heidi de Marco/KHN)

Los Angeles --At precisely 8:30 a.m. on a Tuesday morning, the doors to the needle exchange on Skid Row open and the daily procession of injection drug users begins.
Michael Poor, 47, is one of the first customers. He has used his last clean syringe. Poor, who is homeless and addicted to methamphetamines, says coming to the downtown exchange puts his mind at ease: clean needles lower his risk for HIV.
"It is a very needed service, not just in downtown but anywhere drugs are an issue," says Poor, a lanky, friendly man who is missing all of his teeth. "Thanks to needle exchange ... I have stayed pretty healthy, which is a hard thing to do when you are injecting drugs."
Needle exchanges like the one Poor visits could receive a financial boost this year following a decision by Congress to lift a ban on federal funding. As abuse of prescription drugs and opiates continues to spread across the nation, more states are considering exchanges as a way to save lives.
Indiana, for instance, opened its first exchange after an HIV outbreak last year.
Advertisement
The change in federal policy, part of a spending bill approved earlier this month, allows funding only in areas where drug-related cases of hepatitis and HIV are rising or are likely to. State and city health departments will make that determination along with the federal Centers for Disease Control and Prevention, according to the legislation.
The money can be used to pay for staff and programs, but not for syringes.
"It is really an important and historic moment for us at syringe exchanges," said Mark Casanova, executive director of Homeless Health Care Los Angeles, which runs the syringe exchange on Skid Row, known as the Center for Harm Reduction. "But it doesn't go far enough."
Casanova said about a third of his $350,000 budget for the exchange program is spent on the 1.2 million syringes he hands out each year, and he will have to continue relying heavily on private donations to pay for them.
Despite the restrictions, lifting the ban underscores a growing recognition that needle exchange programs can help reduce the the spread of infectious diseases, said Daniel Raymond, policy director for Harm Reduction Coalition.
"This is a huge victory," said Raymond, whose national organization advocates and provides training for exchange programs. "It is in some way the last chapter of an era where syringe exchange was considered too volatile and too partisan [for policy makers] to come to a consensus."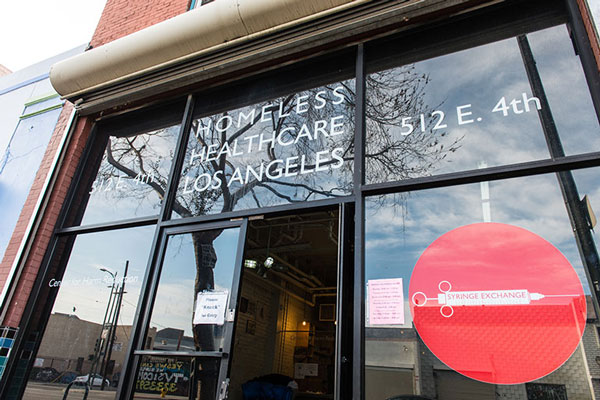 The Center for Harm Reduction on Skid Row has a syringe exchange program, which provides treatment, prevention services and disease management for injection drug users. (Credit: Heidi de Marco/KHN)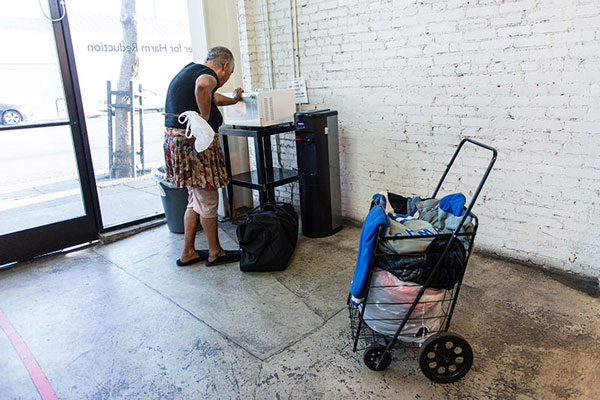 A woman heats up food in the lobby. The center is part of the Skid Row community and offers overdose prevention services, as well as a response training program. (Credit: Heidi de Marco/KHN)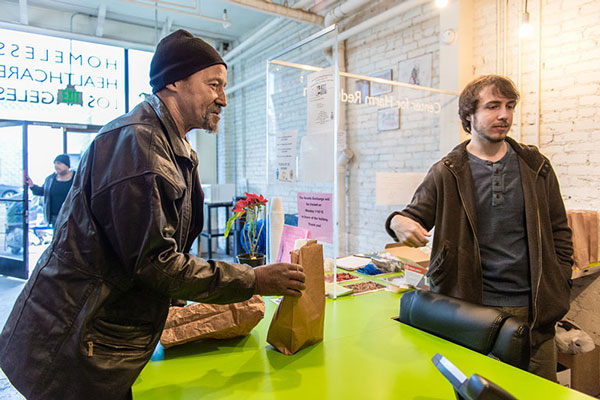 James Nolen, 65, gets his kit with needles, cotton balls and alcohol swabs at the Harm Reduction Center. Nolen says the clinic is the best thing for addicts and people who want to get off drugs. (Credit: Heidi de Marco/KHN)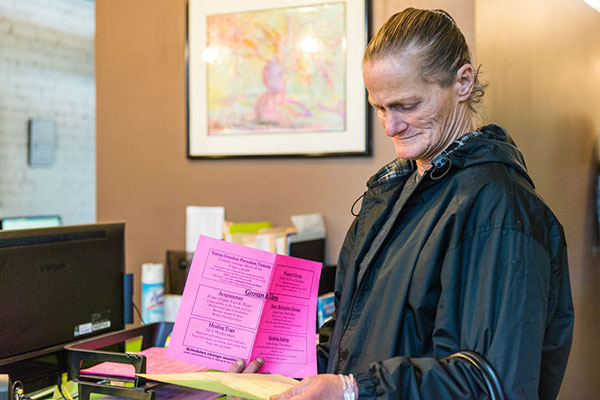 Toni Soules, 58, waits for her starter kit. Soules is homeless and is addicted to speedballs Ñ heroin and cocaine. (Credit: Heidi de Marco/KHN)

Critics of needle programs counter that opening the door to federal funding could leave less money for treatment of people who want to get sober. The new law does not allot additional funds for the exchanges, but rather allows them to compete for existing drug program money.
"The dollars are precious these days," said Calvina Fay, executive director of Drug Free America Foundation, a drug policy and prevention organization. "When we have people wanting to get clean and standing in line waiting for a treatment bed ... the money could certainly be better spent."
Needle exchanges began at the height of the AIDS epidemic and today number roughly 200 around the United States, including about 40 in California.
Using clean syringes continues to be the safest way to prevent transmission among injection drug users, according to a 2012 CDC report, which said the percentage of injection drug users infected with HIV dropped by half from the mid-1990s to 2009.