First Steps in Getting HIV Patients to Quit
US health authorities urge clinicians to adopt the 5As approach to smoking cessation (Figure 2).7 Research indicates that primary care providers do a good job on the first two As -- ask every patient whether they smoke and advise smokers to stop. But dwindling proportions of clinicians implement the more timeconsuming third, fourth, and fifth As. That falloff became clear in a study of 3336 people enrolled in the National Lung Screening Trial, which found lower lung cancer mortality in participants randomized to screening by low-dose computed tomography than in those randomized to chest x-ray.8 Participants reported that three quarters of their providers asked them about smoking and advised them to stop (Figure 3).9 But fewer than two thirds of providers assessed whether patients were willing to quit, only 56% assisted them in picking a smoke-ending strategy, and a mere 10% arranged follow-up after the patient began to quit.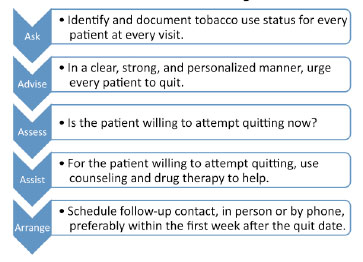 Figure 2. US health authorities recommend that providers use the 5As approach to help patients stop smoking.7
Proportions of Clinicians Adhering to the 5As Approach to Smoking Cessation
Figure 3. Three quarters of clinicians in the National Lung Screening Trial asked their patients if they smoked and advised smokers to stop.9 But fewer providers assessed whether patients were willing to quit or assisted them in choosing a smoke-ending strategy. A bare 10% arranged follow-up after the patient began to quit.

Veterans Administration (VA) clinicians may not represent all HIV providers in the United States, but a VA study indicates that clinicians caring for veterans often do not know which patients smoke, and this gap in care is worse with HIV-positive veterans.10 The study compared reports of 801 HIV-positive and 602 HIV-negative veterans with reports of 72 HIV providers and 71 non-HIV providers. While 82% of non-HIV providers correctly identified current smokers, only 65% of HIV providers knew which of their patients smoked.
Models adjusted for age, gender, race, and other factors determined that having HIV doubled the odds that the provider failed to identify current smoking (aOR 2.28, 95% CI 1.48 to 3.53).10 And compared with general practitioners, infectious diseases specialists proved almost 3 times more likely to miss current smokers (aOR 2.71, 95% CI 1.79 to 4.11). Providers did not identify current smokers more often when patients reported "bothersome" shortness of breath or cough, or when patients had smoking-related diseases like chronic obstructive pulmonary disease (COPD), coronary artery disease, or bacterial pneumonia. While 62% of non-HIV providers felt confident about influencing smoking cessation, only 39% of HIV providers did (P = 0.049).
A reasonable way to start encouraging HIV-positive people to forsake smoking is to count off the key benefits of quitting. The CDC highlights several major documented benefits of quitting, and research involving people with HIV confirms these benefits and adds others:
Advertisement
Overall benefits of quitting smoking
Smoking-related mortality plunges up to 90% in smokers who quit when younger than 40.1
When smokers over 50 years old quit, their excess cardiovascular disease risk disappears within 5 years.11
Two to 5 years after quitting, risk of stroke may fall to the same level as someone who never smoked.12
Within 5 years of quitting, risk of several cancers -- mouth, throat, esophagus, and bladder -- drops by half.12
Ten years after quitting, lung cancer risk drops by half.12
HIV-specific benefits of quitting smoking
Overall mortality risk is lower in former smokers than current smokers with HIV.13
Risk of cardiovascular disease, including myocardial infarction, is lower in former smokers than current smokers13 and decreases with longer time since quitting.14
Non-AIDS cancer risk is lower in former smokers than current smokers with HIV.13
Giving up cigarettes cuts risk of bacterial pneumonia, a frequent and serious complication of HIV infection.13,15-17
In the interview in this issue, HIV smoking expert Jonathan Shuter underlines the importance of building a quit plan before trying to stop smoking. The National Cancer Institute's SmokeFree.gov offers a step-by-step interactive guide to help people design their personal quit plan. Creating a quit plan involves seven steps:
Set a quit date.
List your reasons for quitting.
Identify smoking triggers you should avoid.
Build a "quit kit" to help you fight tobacco cravings.
Get rid of smoking reminders.
Pick a smoke-ending medication with your provider and line up support.
Tell friends and family you plan to quit.
See "Ten Things Every HIV-Positive Smoker Should Know" and "Ten Things Every HIV Clinician Should Know About Smoking" in this issue for summaries of long-term smoking risks and quitting benefits in this issue. At the same time, clinicians should not overlook the short-term benefits of quitting that may spark the interest of patients who want to see immediate gains from their abstinence. In a useful review article, Barcelona HIV experts Marta Calvo-Sánchez and Esteban Martínez note that short-term gains include having more money, tasting food better, and having better skin and less dyspnea.18
Smoke-Ending Drug Therapy Options
In their comprehensive review of smoking and HIV, Barcelona clinicians Calvo-Sánchez and Martínez note "significant resistance among the general population and the HIV-positive community" against taking drugs to help quit smoking.18 Fewer than half of HIV clinicians responding to a nationwide survey reported frequently prescribing antismoking drugs.19 But relying on will power alone to quit, they observe, results in repeated failure to escape nicotine addiction and in quit rates below 10%.
Calvo-Sánchez and Martínez list three first-line medication options -- various forms of nicotinereplacement therapy, varenicline (Chantix), and bupropion (Zyban).18 They relegate nortriptyline and clonidine to second-line status because of their side effects. These HIV smoking experts bluntly advise that "before a smoking cessation attempt, one of the first-line drugs should be prescribed in combination with health advice."18 The reason for this exhortation is simple: These drugs work. The Cochrane Database of Systematic Reviews lists 53 trials of nicotine replacement gum in the general population, 41 trials of replacement patches, and 14 studies of replacement tablets, inhalers, or nebulizers.18 Cochrane counts 19 bupropion trials in the general population, 7 varenicline trials, 6 clonidine trials, and 4 nortriptyline trials. With each of these options, odds ratios for successful cessation versus comparison interventions range from 1.43-fold (nicotine gum) to 2.33-fold (varenicline), and odds of success are always significant.
Varenicline
By blocking nicotinic acetylcholine receptors, varenicline blunts the craving for nicotine. Results of two small pilot trials20,21 and a larger placebocontrolled trial22 found at least short-term success with varenicline in people with HIV. The first study involved22 people who took varenicline for an average 30 days.20 Abstinence could be confirmed by cotinine levels in 6 people (27%) after 3 months and in 5 (23%) after 6 months. One person stopped varenicline after 1 week because of vomiting, headache, and discomfort. In an open-label nonrandomized study of 36 people averaging 29 pack-years of smoking (for example, 2 packs a day for 14.5 years), 6 people (17%) stopped varenicline because of side effects.21 No one had grade 3 or 4 lab abnormalities or serious side effects. Fifteen of these 36 people (42%) had cotinine-confirmed continuous smoking abstinence in weeks 9 to 12 of treatment.
ANRS, the French national HIV trials group, conducted the placebo-controlled trial in 250 HIV-positive people who smoked at least 10 cigarettes daily and said they wanted to quit.22 The researchers excluded people with current psychoactive drug dependence, a suicide attempt, or ongoing depression. US prescribing information warns of "serious neuropsychiatric events," including depression and suicide, in some people using varenicline.23 HIVsmoking mavens Calvo-Sánchez and Martínez suggest that "depression or psychiatric disorders at baseline are not contraindications [to varenicline] but great caution is recommended when depressive symptoms appear."18
Participants in the placebo-controlled trial smoked a median of 20 cigarettes daily, and more than 80% tried to quit at least once before.22 Their age averaged about 45, and 83% were men. Enrollees started varenicline at a dose of 0.5 mg once daily on days 1 to 3, followed by 0.5 mg twice daily on days 4 to 7, then two 0.5-mg tablets twice daily through week 12. The researchers confirmed self-reported quitting by measuring exhaled carbon monoxide. All participants received counseling on quitting throughout the study.
A modified intention-to-treat analysis involving 102 people who started varenicline and 111 who started placebo calculated continuous abstinence from weeks 9 through 12 in 34.3% randomized to varenicline and 12.6% randomized to placebo, rates that yielded 3.6-fold higher odds of quitting with varenicline (95% CI 1.8 to 7.2, P = 0.0003).22 From week 9 through week 48, the quit rate dwindled to 17.6% with varenicline versus 7.2% with placebo, results yielding still nearly tripled odds of quitting with varenicline (OR 2.8, 95% CI 1.1 to 6.7, P = 0.024). Grade 3 or 4 adverse events developed in 25% in the varenicline arm and 13% in the placebo group. Grade 3 or 4 drug-related adverse events affected 10% taking varenicline, while grade 3 or 4 drug-related psychiatric events affected 6%.
A nonrandomized US study of 228 HIV-positive smokers found that varenicline outdid nicotinereplacement therapy in helping people stop smoking24 as handily as it outdid placebo in the French trial.22 Study participants had enrolled in the Lung HIV study of respiratory complications; they smoked at least five cigarettes daily and expressed interest in quitting in the next 30 days. Researchers encouraged them to try varenicline for 12 weeks, and those who could not or opted not to received nicotine replacement therapy. Everyone got 12 weeks of telephone counseling. The investigators confirmed 7-day abstinence by saliva cotinine levels or exhaled carbon monoxide.
Age averaged 43, and 85% of participants were men.24 While 118 took varenicline, 110 used a nicotine patch (with gum as needed). Rates of confirmed abstention at the end of treatment were 25.6% with varenicline and 11.8% with nicotine replacement, results that translated into 2.54-fold greater odds of abstention with varenicline (95% CI 1.43 to 4.49). About 14% taking varenicline switched to nicotine replacement because of adverse events, which included nausea, abnormal dreams, agitation, insomnia, and depression. One person taking varenicline reported suicidal ideation, a problem that resolved when varenicline stopped.
Bupropion
Bupropion may help people stop smoking via two mechanisms. First, the drug selectively inhibits reuptake of the addiction drivers dopamine and norepinephrine. Bupropion also blocks nicotine receptors. Prescribing information for bupropion warns that people taking the drug may feel hostility, agitation, or depression and may have suicidal thoughts.25 Protease inhibitors and efavirenz may lower bupropion concentrations.
Because bupropion is also prescribed as an antidepressant, Weill Cornell Medical College HIV experts call it "an attractive option" for some HIV-positive smokers.26 But bupropion remains poorly studied as a smoking stopper in people with HIV. In a Spanish case series of 21 HIV-positive smokers who took bupropion, 8 (38%) gave up cigarettes for more than 1 year.27 No one had clinically significant interactions with antiretrovirals.
Nicotine Replacement
Nicotine replacement remedies now come in five formats -- patch, gum, nasal spray, oral inhaler, and lozenge. Scores of studies in the general population confirm that tapering smokers off nicotine with nicotine replacement can help them quit smoking.18 In the larger studies of nicotine replacement in people with HIV, quit rates have been as high as 26%.
Researchers at six US clinics randomized 444 HIV-positive smokers to 8 weeks of nicotine patch replacement plus standard care (two brief counseling sessions) or to nicotine patch plus more intensive motivation (four counseling sessions plus a quitday call).28 Study participants smoked an average 18 cigarettes daily, 63% were men, 52% European American, 18% African American, and 16% Hispanic. Almost two thirds had at least a high school education, but 79% were unemployed.
Intention-to-treat analysis determined carbon monoxide-confirmed 7-day abstinence rates of 13% at 2 months after enrollment and 10% at 4 months and 6 months in the standard care group versus 12% and 9% in the enhanced-counseling group.28 Six-month abstinence rates were significantly higher in Hispanics, people with low nicotine dependence, and people with high motivation to quit. Statistical analysis adjusted for these factors determined that more patch use boosted abstinence odds by one third (OR 1.32, 95% CI 0.99 to 1.75).
Another US study involved 209 HIV-positive smokers in care at three clinics and randomized to 10 weeks of nicotine patch or gum plus (1) individual counseling, (2) Internet-based counseling, or (3) self-help.29 Study participants averaged 45 years in age, 82% were men, 53% white, 27% black, and 14% Hispanic. More than three quarters of participants (79%) had at least a high school education, and 35% had education beyond high school. Only 14% had a job, while 11% were retired. They smoked an average 18 cigarettes a day.
About one quarter of participants in each study arm achieved carbon monoxide-verified 7-day abstinence 12 weeks after treatment began.29 One year after treatment began, quit rates remained near that level -- 20% with self-help, 20% with individual counseling, and 26% with Internet-based counseling, and these differences between groups were not significant. Employment, greater desire to quit, and lower mood disturbance scores favored quitting.
Which Smoke-Stopping Drug to Use
In the general population nicotine replacement therapy plus other interventions yielded 1-year quit rates of 15% to 31%30 -- results not too different from those recorded in the 209-person HIV trial.29 In the Cochrane Database review by Calvo-Sánchez and Martínez, nicotine replacement therapy efficacy compared with control arms ranged from 1.43-fold higher with gum to 2.02-fold higher with nasal spray.18 Odds of success with bupropion were similar (1.94-fold), while odds of success with varenicline were slightly higher (2.33-fold). In a nonrandomized study in Madrid involving 12 smokers who took bupropion, 8 who used nicotine replacement, and 6 who took varenicline -- all with four to six psychological support sessions -- 12-month quit rates were similar with the three interventions: 25% (3 of 12) with bupropion, 25% (2 of 8) with nicotine replacement, and 17% (1 of 6) with varenicline.31
University of Alabama at Birmingham researchers devised and tested an algorithm to help HIV clinicians figure whether varenicline, bupropion, or nicotine replacement suits an individual patient best.32 Providers should find and copy this useful algorithm in the cited article.32 The algorithm rests on a few simple decision drivers:
Does patient want to quit smoking today?

Yes → go to next decision point.
No → nicotine replacement plus
counseling.

Is patient willing to take an oral medication twice daily?
Contraindications to one medication drive patients to another medication.
Has patient unsuccessfully tried that medication before?

Yes with varenicline → consider bupropion.
Yes with bupropion → consider nicotine replacement.
Yes with nicotine replacement → prescribe two nicotine replacement methods.

Has patient quit after 4 weeks on medication?

No with varenicline → varenicline plus nicotine replacement.
No with bupropion → bupropion plus nicotine replacement.
No with one nicotine replacement → two nicotine replacements.
Table 2. Pluses and Minuses of Three First-Line Smoke-Ending Medications
Contraindications and Cautions*
Drug Interactions*
Quit Rate in General Population
Quit Rate in People With HIV
Varenicline (Chantix)
Suicide attempt, depression or psychiatric disorders, kidney impairment, pregnancy
None
21% to 23% at 1 year34
18% at 1 year22
Bupropion (Zyban)
Epilepsy, seizures, intracranial lesion, suicide attempt, mania, eating disorders, alcohol or benzodiazepine withdrawal, MAOI antidepressants, serious hepatic disease, pregnancy
Ritonavir-boosted protease inhibitor may decrease concentration; efavirenz or rifabutin may increase concentration; avoid linezolid and ciprofloxacin
20% to 30% at 1 year with other interventions30
38% at 1 year in small case series27
Nicotine replacement
MI within 2 weeks, pregnancy, latex allergy (with patch)
Possible interactions with tricyclic antidepressants, theophylline
15% to 31% at 1 year with other interventions30
From 10% at 6 months28 up to 26% after 12 months29

MAOIs, monoamine oxidase inhibitors; MI, myocardial infarction.

* Adapted from Calvo-Sánchez and Martínez,18 Cropsey,32 and product information.

The algorithm study involved 100 adults in care for HIV who smoked at least 5 cigarettes daily and were not pregnant or nursing.32 They got randomized to algorithm-driven treatment or treatment as usual (smoking cessation assistance from their provider when they were ready to quit). All participants received one standard 20-minute smoke-ending session in which staff discussed behavioral methods to reduce smoking. The authors picked varenicline as the preferred oral agent because of an eight-trial general-population analysis demonstrating its superiority to bupropion or placebo.33
The 100 study participants averaged 46 years in age; 71% were men, 75% black, and 25% white; 70% had at least a high school education.32 Two thirds of participants had received treatment for substance abuse and 57% for mental health. Enrollees smoked an average 16 cigarettes daily and had smoked for an average 27 years. The algorithm group and the usualcare group did not differ in any of these measures. Of the 50 people randomized to the algorithm group, 38% used the nicotine patch, 36% varenicline, 12% nicotine patch plus lozenge, and 10% bupropion. Twenty-six people randomized to the algorithm cluster had not tried to quit in 4 weeks and were offered the nicotine lozenge to ease acute cravings.
More people randomized to the algorithm than to usual care took a smoke-ending medication (81% versus 23%, P < 0.001). Through 16 weeks of follow-up, people in the algorithm group lowered their smoking rate more than people in the control group (10 versus 6 fewer cigarettes daily, P = 0.021). Throughout follow-up, a higher proportion in the algorithm arm made at least a 24-hour quit attempt (50% versus 38%, P = 0.006). The researchers argue that this algorithm "provides clinicians with a brief and succinct pathway for treatment selection decisions and thereby lends itself to being utilized during even brief clinical encounters."32