How is the mobilization of communities most affected by HIV a critical part of the UN's or any plan to end AIDS?
There won't be dramatic progress on the AIDS epidemic without a fully engaged, energized community. All over the world, community activists created the AIDS response, refusing to accept it when governments turned away from the issue or ignored groups most affected by the virus. Many of the biggest challenges ahead in tackling AIDS -- like reaching key population groups, creating demand for services, delivering treatment and prevention, and advocating for smart policy and more investment -- depend on a more engaged, better supported community. Today, there is wide acknowledgment that community activism and service delivery are essential to tackling HIV. And now it's time to actually put the needed resources behind this work to make support for communities a systematic part of AIDS planning and financing. At the same time, we have to support people who are pushing back against very concerning efforts in many countries to shrink civil society space, making it harder for civil society to organize and speak out.

What are your priorities for the Community Mobilization team and how are you ensuring they are addressed to meet needs at both global and local levels?
First, we need to support advocacy. Advocates are focused on a whole range of areas -- advancing human rights, scaling up services, tackling intellectual property barriers, and making sure gains are not lost as donors withdraw funding from middle-income countries. We have to support civil society advocates in pushing for these priorities and recognize the connection between progress on rights and public health goals. Coming up, we want to support advocacy around the UN High-Level Meeting on AIDS in 2016 [scheduled for June], a critical opportunity to mobilize resources and global commitment.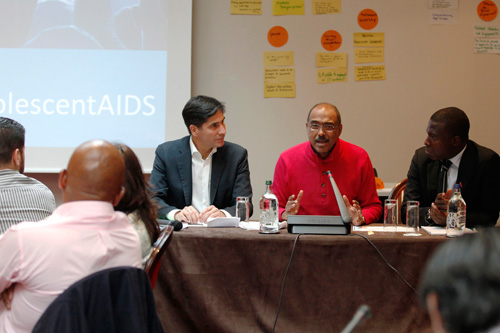 Chris Collins (left) and UNAIDS Executive Director Michel Sidibé (center) during a platform meeting for the All In initiative to end adolescent HIV
Second, we have to be a fierce promoter of the community role in addressing AIDS, both by delivering services and being advocates. Many community groups are under serious financial strain. Many have shut down, and others are threatened by decreasing support. We recently did a survey of community groups engaged in HIV work and found that 42% have experienced decreased funding since 2013, and over three-quarters anticipate flat or reduced funding in the future (70% expect flat or reduced domestic funding; 53% expect flat or reduced international support).
It's a critical situation, and we are trying to document the financial reality for community groups and create advocacy tools to change it. We have to convince governments and donors of the need to better integrate community-based work into systems for health planning. An article in the Lancet special issue, "Defeating AIDS," recently observed that advocacy is a "global public good." It needs ongoing support just like any other part of the response to AIDS.
Our office also works directly with a variety of groups, including faith-based organizations and youth advocates. We want to expand our support for advocacy by these and other groups. For example, we are joining with The PACT youth coalition to support a competition to develop a youth-led accountability tool to help young people share their own experiences and views on issues related to their health, sexual lives, and identity.
How are you utilizing media and communications to get these messages across?
We try to keep contact with civil society through frequent updates and opportunities for discussion. Over 1,000 people have now joined our Facebook group -- the Civil Society Dialogue Space -- where everyone can share information. We also send out regular emails profiling advocates and linking people with new research, policy developments, and materials that can help support their work. And we hold webinars on issues like engaging in PEPFAR [the U.S. President's Emergency Plan for AIDS Relief] decision-making processes, identifying advocacy priorities, and other issues.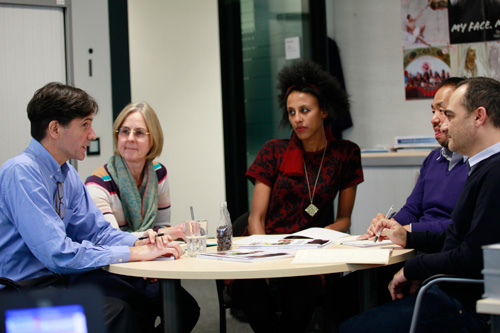 A UNAIDS Community Mobilization team meeting in December 2015

Although we have accomplished a great deal in the global response, some in the AIDS community are worried that UNAIDS' recent positive messaging is being interpreted as an indication that the global epidemic is already under control. How is your team responding to that concern?
UNAIDS is saying we have to "Fast Track" delivery of HIV treatment and prevention and progress on human rights. We need to increase investment and speed up implementation and delivery. Right now, donor resources are flat-lined and many millions of people are not getting services they need. Without an accelerated and more equitable response, the AIDS epidemic is going to be around for decades, and that's a tragedy, particularly because it isn't necessary with all the effective treatment and prevention approaches we have. We need both ambitious targets and acknowledgment of the big challenges -- and specific approaches for tackling those challenges.
In my office, we are trying to deliver information advocates can use to push for needed change -- more resources, better policies, and greater reach to those most affected. We are sharing the perspectives of advocates who've been successful in driving resources and advocating for treatment, prevention, and human rights. And we are sharing the latest research and new guidelines from the WHO and how they can be used in advocacy.
UNAIDS' reports call out the problems. The UNAIDS Gap report in 2014 detailed the lack of services for 12 of the populations most affected. The 15 by 15 report last year discussed whether we are facing "imminent success or looming crisis" in delivering HIV treatment more widely. The last UNAIDS World AIDS Day report observed that, too often, "resources are not allocated towards scaling up the programs that are most cost effective ... not focused in locations with the highest HIV burden ... [and] not focused on the populations with the greatest need."
UNAIDS' Fast Track approach calls for increased focus on interventions with the greatest impact, delivered to populations and geographic locations most affected by HIV. How has the broader HIV community been involved in designing these Fast Track strategies and targets?
We held a series of online and in-person consultations on the Fast Track targets and the revised UNAIDS Strategy. The inputs from civil society were very thoughtful, and they helped formulate what became the final targets. Many people called for ambitious targets across prevention, treatment, and human rights, and the need to act on the connections between these. And now that we have set comprehensive targets we need to help people think about what it will take to reach them: How do we accelerate delivery and advance on rights, retain people in care, help them make informed choices about their own health, and increase investment? We are working on a series of pieces that we hope will help people advocate for priorities, including scale-up of viral load testing and smart intellectual property policy.
The HIV epidemics in Asia differ from those in Africa, with many of them primarily concentrated among key populations. How does the legal environment, including the lack of laws recognizing transgender identities and laws criminalizing risk behaviors, impact the ability to combat HIV among these populations and what can UNAIDS do to support the adoption of better policies?
Social and legal marginalization of key populations, including people living with HIV, is a global phenomenon, and it's the biggest barrier to reaching people with the prevention and treatment they need. Achieving greater equity is core to the Sustainable Development Goals, which call for reducing inequality within countries and for more inclusive societies. UNAIDS has set ambitious targets for progress on human rights and service delivery for key populations, and is supporting efforts to make progress in these areas. For example, we are helping support work by Asia Catalyst to aid community-based organizations in addressing stigma and discrimination in healthcare settings in four countries, and we are helping the Thai Ministry of Health scale up its work in this area.
What are UNAIDS' regional strategies to ensure that programs targeting these communities are supported by governments and international donors, even in the absence of such legal reforms?
The UNAIDS Regional Support Team (RST) in Asia is active in a variety of ways, including raising awareness among governments on the need to sustain community engagement and service delivery, encouraging programming for key populations, and supporting funding for communities in national AIDS programs so that they can reach key populations. The RST also helps involve communities in the Global Fund's processes and looks for opportunities for community organizations to play a role in Global Fund grants. The UNAIDS World AIDS Day 2015 report features several community groups that are reaching key populations despite all the challenges involved, such as a group of community para-lawyers in Indonesia working to protect people from human rights abuses.
How will HIV be integrated into the new Sustainable Development Goals [SDGs] now that HIV is being perceived as less of an immediate priority than in the earlier Millennium Development Goals?
The updated UNAIDS Strategy builds global targets around five of the SDGs, including those for good health, gender equality, reduced inequities, just and peaceful societies, and global partnerships. A truly effective response to AIDS will be a leading edge in progress on these goals. For example, we won't be able to bring down HIV incidence among young women and girls in southern Africa unless we do better at helping girls stay in school, change gender norms, advance girls' and women's equality, and deliver health interventions that work, like treatment and PrEP. The AIDS movement has always been a movement for equity, with a global vision. And that's the spirit of the SDGs.