Ebola
Since surfacing in Guinea the day after Christmas 2013, the Ebola virus has killed at least 11,000 people, 500 of them front-line health workers, and, in the course of devastating communities and health systems, caused the deaths of many more. In that same period, an estimated 3 million people worldwide died of tuberculosis, a disease for which treatment and cures have existed since the middle of the last century, that also disproportionately impacts health workers. HIV, until the last year considered the world's leading infectious disease killer, took the lives of an estimated 2.5 million people in these last two years, depriving families and communities of some of their most promising and productive members, as it has over the last three and a half decades. But the responses to Ebola -- first unconscionably delayed, then uncoordinated, finally effective, but, still without accountability, in danger of being repeated in the same order -- once again make up one of the top stories of the year in global health because they have drawn attention to why the world can't afford health inequities, to what is broken and to necessary change. Those changes include research and development that responds to probable as well as active crises, and coordinated, funded, informed and responsible agencies and systems that can build capacities and preparedness to fight diseases. Whether those changes will take place remains to be seen while the world awaits the next inevitable epidemic.

Treating Everyone the Same
Results of the START and TEMPRANO studies showing that treatment for HIV, as well as preventive treatment for tuberculosis significantly lower incidence of serious illness and death, and the final results of the HPTN 052 trial, reiterating that treatment for HIV prevents sexual transmission of the virus, brought no surprises, but did confirm a moral imperative as well as an economic argument for equitable and immediate HIV treatment worldwide. The Vancouver declaration at AIDS 2015, and World Health Organization guidelines, urging treatment access upon HIV diagnosis for all people, followed. Just as the launch of a global response to HIV in the early 2000s settled a prolonged and nauseating argument of whether people in resource-limited countries should have treatment at all, the new guidelines may be expected to set a course that will not be reversed.
No Justice, No Health
The arc of the moral universe is long, but it bends toward better health service access. During the last year Amnesty International adopted a policy to fight the criminalization of sex work, Mozambique shed an abusive piece of its colonial past by overturning its inherited anti-sodomy law, a high court exonerated Zambian HIV treatment activist Paul Kasonkomona from charges spurred by his remarks urging recognition of Zambia's gay citizens, and, after a slip in the beginning of this month, Malawi reaffirmed its moratorium on arrests and prosecutions for alleged violations of the country's anti-gay law. All of those small steps acknowledged barriers that discriminatory laws and policies place between people and health services. Add to that the passage of a U.S. federal spending bill that allows funding for sterile syringe programs for people who inject drugs and ditches the global gag rule standing between women and health services, and a trend appears to take shape. A recent New York Times article presented arguments with dubious logic that while "America's money and public diplomacy . . . opened conversations and opportunities" for and about sexual minorities in restrictive countries, "they have also made gay men and lesbians more visible -- and more vulnerable to harassment and violence . . ." This ignores the enormous damage being invisible brought, as well as the role of courageous and self-sacrificing men and women who asserted their own rights to be acknowledged. It also ignores the many abusive policies that were enacted, enforced, pushed forward, including Uganda's original "Kill the Gays" bill, while the world looked the other way. Increasing attention to the links between health and human rights makes a difference.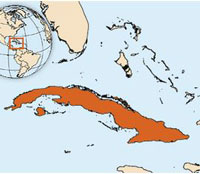 Cuba Certified First to End Parent-to-Child Transmission of HIV
Speaking of human rights can be tricky when discussing Cuba's success against HIV. The island nation didn't shine in that department when it instituted originally mandatory quarantines for people diagnosed with HIV. But the country's recognition of access to health services, including birth control and abortion, as a human right helped it become a place where babies aren't born with HIV, while across much of the world babies who are born with the virus go untreated.
This excerpt was cross-posted with the permission of Science Speaks. Read the full article.