HCV: Special Caution Warranted
Among classic diabetes risk factors tagged in HSRA HIV guidelines (Figure 1),1 HCV infection merits special attention in HIV populations because of its high prevalence among HIV-positive people. The CDC figures that one quarter of HIV-positive U.S. residents has HCV infection, and 80% of HIV-positive people who inject drugs have HCV as well.35
HCV infection could add to diabetes risk by the same mechanism ascribed to HIV infection -- ongoing inflammation. Unbridled inflammation spurred by untreated HCV infection could heighten diabetes risk even more. At the same time, HCV-induced liver steatosis and fibrosis -- and consequent insulin resistance -- could drive diabetes risk in HIV-positive people, NIH experts Hadigan and Kattakuzhy suggest.2 A study of 432 people with HIV but without HCV, Hadigan and Kattakuzhy observe, linked fibrosis (estimated by aspartate aminotransferase to platelet ratio index, or APRI) to prevalent diabetes.36
A 2008 meta-analysis of 34 studies determined that HCV infection boosts chances of diabetes compared with uninfected people in both retrospective studies (aOR 1.68, 95% CI 1.15 to 2.20) and prospective studies (aHR 1.67, 95% CI 1.28 to 2.06) (Figure 2).37 People with HCV also had independently higher odds of diabetes than people with HBV (aOR 1.80, 95% CI 1.20 to 1.40). And in an unadjusted analysis, HCV/HIV coinfection nearly doubled the odds of diabetes compared with HIV monoinfection (OR 1.82, 95% CI 1.27 to 2.38).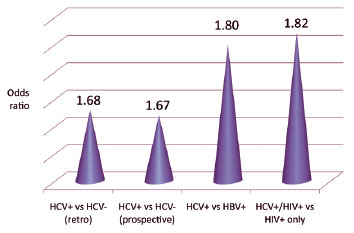 Figure 2. A 34-study meta-analysis determined that HCV infection boosted odds of diabetes by two thirds in both retrospective and prospective studies (first two cones). HCV raised odds of diabetes 80% more than hepatitis B virus (HBV) infection (third cone). In an unadjusted analysis, coinfection with HCV and HCV raised odds of diabetes 82% compared with HIV alone. (Source: White DL et al.37)

Not all cohort studies tie HCV to diabetes in people with HIV. For example, the Swiss HIV Cohort Study of 6513 HIV-positive people seen in 2000-2006 linked age, race, CDC stage, and central obesity -- but not HCV -- to new-onset diabetes.26 A New York City case-control comparison of 49 HIV-positive people with diabetes and 49 without diabetes tied higher alanine aminotransferase to new-onset diabetes (aOR 1.16 per 10 units higher, 95% CI 1.03 to 1.30), but not HCV infection.25 A study of 6816 South Carolina residents with HIV found a strong trend toward higher diabetes risk with HCV (aHR 1.41, 95% CI 0.98 to 2.03).21
An array of other studies have linked HCV to diabetes in people with HIV, including 1389 people naive to antiretroviral therapy,38 1230 people taking their first antiretroviral regimen,39 3227 HIV-positive U.S. veterans,23 and young, lean HIV-positive people without a family history of diabetes.40 A 2001-2008 study of 78 HIV-positive pregnant women taking a PI or nevirapine regimen tied HCV coinfection to a quadrupled risk of glucose abnormalities defined by National Diabetes Data Group criteria (aOR 4.16, 95% CI 1.22 to 14.1, P = 0.022).41 (HSRA HIV care guidelines list current pregnancy, gestational diabetes, delivery of an infant weighting more than 4.1 kg (9 lb), and polycystic ovary syndrome as diabetes risk factors.1)
Results of studies like these, and the plausible mechanisms outlined above, should heighten vigilance for insulin and glucose abnormalities in HIV-positive people coinfected with HCV.
An Age-Old Addendum
HIV populations around the world are aging, with a growing sample of studies showing survival of antiretroviral responders who do not inject drugs approaching or reaching rates in the general population. Aging makes diabetes more likely in the general population, and it does in people with HIV. Six of the nine studies in Table 1 identified older age as an independent diabetes risk factor. A DAD Study analysis of 16,632 people in Europe, the United States, Australia, and Argentina determined that every 5 years of age boosted diabetes incidence 16%.9 In a South Carolina study every 1 year of age hoisted diabetes risk 9%.21 Current HRSA HIV care guidelines fail to list age as a diabetes risk factor,1 perhaps because it is so obvious. But as HIV clinicians succeed in stewarding more of their patients into older age, they would do well to keep the obvious in mind.