Abstract: Whether HIV itself boosts diabetes risk remains controversial, but no one questions that HIV populations bear a weighty load of classic diabetes risk factors, including HCV infection, nonwhite race, older age, and treatment with drugs that affect glucose metabolism. Although currently favored antiretrovirals carry little or no risk of dysregulated glucose, many people with HIV take other drugs that may heighten diabetes risk, including corticosteroids, thiazides, statins, atypical antipsychotics, and niacin. Obesity remains the biggest driver of the U.S. diabetes epidemic. Although a recent CDC study found lower obesity prevalence in people with HIV than in the general population, nearly one quarter of the HIV group was obese. The CDC calculated that 40% of HIV-positive U.S. women are obese. Meta-analysis linked HCV infection to a two thirds higher diabetes prevalence or incidence, and one quarter of HIV-positive people in the United States have HCV infection.

Diabetes has many causes and many consequences (Figure 1). The immediate cause -- upset glucose metabolism -- is solitary. But factors that may contribute to runaway glucose readings are manifold. U.S. Health Resources and Services Administration (HRSA) HIV guidelines list nine HIV risk factors,1 including two HIV-specific factors, use of protease inhibitors (PIs) or nucleoside reverse transcriptase inhibitors (NRTIs), though currently favored antiretrovirals are kinder to glucose metabolism (Figure 1).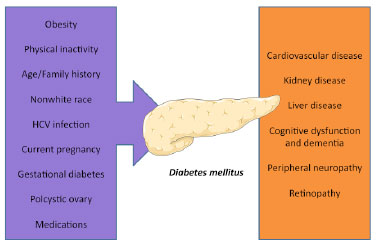 Figure 1. Risk factors for type 2 diabetes (left) may be highly prevalent in HIV populations. Consequences of diabetes mellitus (right) often prove more frequent and severe in HIV groups than in the general population. (Pancreas from Servier PowerPoint image bank.)

Whether HIV itself boosts diabetes risk remains hotly contested, but no one doubts that people with HIV bear a weighty risk burden. Besides taking antiretrovirals, HIV populations often have demographic and clinical features that pose a risk of unruly glucose, including nonwhite race, hepatitis C virus (HCV) coinfection, abnormal lipids, high blood pressure, and lipodystrophy. Older age ranks as an inescapable diabetes risk factor, and HIV populations across the world are aging. Although HIV-positive people in the United States tend to be leaner overall than people without HIV, obesity remains a problem in HIV-positive U.S. women.
Myriad studies in people with and without HIV trace links between diabetes and dire clinical consequences:1-6
Cardiovascular disease (coronary artery disease, stroke, peripheral vascular disease)
Kidney disease
Liver disease
Cognitive dysfunction and dementia
Peripheral neuropathy
Retinopathy
National Institutes of Health (NIH) metabolic experts Colleen Hadigan and Sarah Kattakuzhy counsel that "disorders of glucose metabolism" in people with HIV can culminate in "increased prevalence and worsened outcomes in a diverse array of conditions ranging from neurocognitive changes to renal impairment and albuminuria."2
Diabetes also has a telling impact on the ability of people with HIV to stay on the job, according to a study of 376 working-age HIV-positive people in France.7 Among these people diagnosed with HIV from 2004 through 2010, having diabetes boosted the risk of quitting work almost 6 times (adjusted hazard ratio [aHR] 5.7, 95% confidence interval [CI] 1.7 to 18.8, P = 0.005). The finding may sound self-evident, except that HIV disease severity had no impact on work.7 Neither did antiretroviral therapy or HIV-related discrimination. And diabetes proved a stronger job-ender than hypertension or depression.
Weighty Impact of Body Mass Index
Obesity and overweight stand at the top of any diabetes risk list, yet HIV populations generally weigh less than HIV-negative comparison groups. But HIV-positive women in the United States often do weigh too much. In a nationally representative 2009 sample of people with HIV, the Centers for Disease Control and Prevention (CDC) found that 23% are obese.8 In contrast, obesity prevalence stood at 36% in the U.S. general population. Regardless of that difference, the finding that one quarter of U.S. residents with HIV are obese is ominous.
The CDC calculated that 40% of HIV-positive U.S. women are obese. Only 17% of HIV-positive men met standard obesity criteria in this analysis. Statistical analysis adjusted for age, race, poverty, years since HIV diagnosis, and durable viral suppression determined that HIV-positive women had a twice higher obesity rate than HIV-positive men (adjusted prevalence ratio 2.12, 95% CI 1.13 to 1.89). Almost everyone in this HIV sample, 95%, was taking antiretroviral therapy, 41% were non-Hispanic black, 35% non-Hispanic white, and 19% Hispanic.
Obesity emerges as a routine diabetes risk factor in HIV populations. In a 16,632-person DAD Study analysis, every additional mg/kg2 of body mass index (BMI) independently raised the risk of newly diagnosed diabetes 10% (incidence rate ratio 1.10, 95% CI 1.08 to 1.13, P < 0.001).9 In an Italian comparison of 4249 people with HIV and 9148 healthy controls, diabetes prevalence rose from 3.2% in normal-weight HIV-positive people to 3.9% in overweight people with HIV and to 12.7% in the obese.10 Diabetes prevalence in the control group measured 1.1% in those of normal weight, 3.1% in the overweight, and 7.8% in the obese.
A person with HIV doesn't have to be obese, or even greatly overweight, to run a high risk of insulin resistance and diabetes because of weight abnormalities. Unhealthy visceral and subcutaneous fat build-ups affected insulin resistance in an analysis of 926 HIV-positive people representative of the U.S. HIV population in the Fat Redistribution and Metabolic Change in HIV Infection (FRAM) study.11 Body mass index in this HIV group (73% men, mean age 42.7) averaged only 25.1 kg/m2, on the lower end of overweight spectrum of 25 to 30 kg/m2. Splitting HIV-positive people into three groups with the highest, medium, and lowest visceral and subcutaneous adipose tissue levels (VAT and SAT), FRAM investigators used multivariable analysis to determine that those in the highest VAT tertile had 3-fold higher odds of insulin resistance (HOMA above 4) than those in the lowest tertile (odds ratio [OR] 3.12, 95% CI 2.0 to 4.8, P < 0.0001). HIV-positive people in the highest trunk SAT tertile had twice higher odds of insulin resistance than those in the lowest tertile (OR 2.09, 95% CI 1.36 to 3.19, P = 0.001). A study of 345 antiretroviral-treated adults in Portugal confirmed a link between lipodystrophy and abnormal insulin and glucose.12
Some (but not all) studies buttress these intuitive associations between weight, fat, insulin resistance, and diabetes. A Women's Interagency HIV Study (WIHS) of 178 women with and at risk for HIV traced significant ties between higher BMI (P < 0.001) or more kilocalories from sweets (P = 0.025) and greater HOMA-measured insulin resistance.13 "Heavy-intensity physical activity" was associated with lower HOMA values (P = 0.006). The link between higher BMI and insulin resistance remained significant in an analysis limited to women with HIV (P < 0.001), while heavy-intensity activity proved marginally associated with lower HOMA (P = 0.06).
A cross-sectional Boston study of 207 antiretroviral-treated adults (more than 80% men) found an inverse association between Mediterranean Diet Score and HOMA-calculated insulin resistance -- the higher (better) the score, the lower the insulin resistance (beta = -0.15, P = 0.03).14 The inverse association between Mediterranean Diet Score and insulin resistance held true in study participants with fat redistribution (beta = -0.13, P = 0.02).
But in an Australian study of 84 antiretroviral-treated men with lipodystrophy, dietary fat intake was not tied to total cholesterol, high-density lipoprotein (HDL) cholesterol, triglycerides, fasting insulin, glucose, or HOMA-measured insulin resistance.15 And fat subtypes could not be linked to fasting insulin, insulin resistance, glucose, total cholesterol, HDL cholesterol, or triglycerides.
But no one questions the central role of diet and exercise in maintaining a healthy body weight to avoid or control abnormal glucose. In the section on insulin resistance and diabetes, 2014 HRSA guidelines for HIV care stress the benefits of both a good diet (with advice from a dietician) and regular cardiovascular exercise.1 HRSA lists "habitual physical inactivity" as a diabetes risk factor. For pointers on integrating diet and exercise into a diabetes care program, see the box in this article.