Who has the power to prescribe medications? In the ongoing struggle to cure the estimated 3.2 million people living with chronic hepatitis C virus (HCV) infection in the U.S., the answer may not be who you think. While common sense may suggest that you and your doctor have the final say over what medications you take, HCV treatment advocates warn that a net of restrictions, gatekeepers and business deals are increasingly tying doctors' hands as far as what they can do for their patients who need HCV treatment.
The knots binding prescribers' hands got tighter and more complex as the companies that make the newest (and most expensive) generation of HCV drugs cut exclusive deals with pharmacy benefits managers (PBMs). In the U.S., a PBM is usually a third-party agency that processes and pays out an insurance company's prescription drug claims. It also handles creating formularies, which are the lists of approved drugs available to people with particular health insurance plans.
The current controversy began in December 2014, when Express Scripts, the nation's largest PBM (with access to 25 million patients), agreed to an exclusive deal with AbbVie, maker of the recently approved HCV regimen Viekira Pak (ombitasvir, paritaprevir and ritonavir tablets co-packaged with dasabuvir tablets). The deal made Viekira Pak the sole treatment option for those living with HCV who have Express Scripts as their PBM. Steve Miller, M.D., chief medical officer of Express Scripts, told The New York Times that the deal would yield "a significant discount" over Viekira Pak's sticker price of $83,319 for a standard 12-week treatment course.
Advertisement
Then, in January, a number of PBMs -- including CVS Health, Anthem and EnvisionRx -- reached similar deals with Gilead Sciences for exclusive distribution of its HCV drugs, Harvoni (ledipasvir/sofosbuvir) and Sovaldi (sofosbuvir). Gilead drew the ire of many advocates last year after setting a high retail price for Sovaldi, the first of a new wave of HCV drugs that offer higher cure rates, fewer side effects and a faster course of treatment than older alternatives. Sovaldi's price was set at $84,000 for a 12-week regimen, or $1,000 per daily pill. Harvoni comes in at about $94,500 for a 12-week regimen, or about $1,125 per daily pill. Gilead's exclusive PBM deals suggest lower drug prices for people who are covered by those PBMs, although specific numbers have not been released.
While deals like these are actually common, the arrangements reached by Gilead and AbbVie for their HCV drugs are more restrictive than usual. A deal between a pharmaceutical company and a PBM makes that company's drug the preferred option for people whose insurance plans are handled by the PBM. However, these deals may put access to any HCV drug that is not the preferred regimen out of reach -- and these new drugs are not all equally effective or useful for every person living with HCV.
"This Weird Rube Goldberg Machine"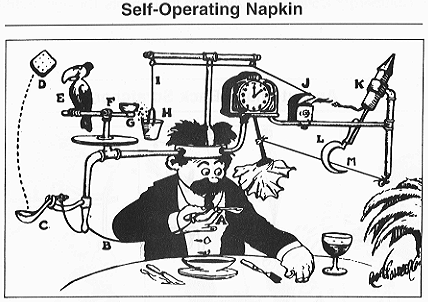 Professor Butts and the Self-Operating Napkin (Credit: Rube Goldberg)
Though most popularly known for its work in fighting the HIV/AIDS epidemic, the AIDS Coalition to Unleash Power New York (ACT UP NY) recently turned its attention to HCV, according to member Annette Gaudino. For Gaudino, these drug access wars are bad news for patients. "The drug that your doctor prescribes should reflect your hepatitis C genotype and the success that the drug's going to have in treating your version of the virus, not the exclusive deal that the PBM that you happen to have has," she said.
In layperson's terms, according to Gaudino, "Competition equals good, exclusivity equals bad. Our demand remains that treatment decisions be guided by the clinical judgment of treating physicians, not cost." Gaudino warned that the growing number of exclusivity deals is adding more complexity to an already complex system that creates "this weird Rube Goldberg machine in which, in the end, what winds up happening is everybody in this clusterf*** daisy chain gets paid -- and we all get screwed."
Proponents of the PBM deals say that they will ultimately drive down the cost of treatment. Gaudino is quick to deny that claim. "The only way that you can argue that exclusivity deals drive costs down is that in pitting two very similar drugs against each other, it incentivizes somewhat of a price war between the two manufacturers and those two drugs," she said. However, "These exclusivity deals are just [about] who gives the biggest discount. CVS got their exclusivity deal and Express Scripts has theirs. And they're happy. I don't really see the pharmaceutical companies coming back with bigger discounts. Because why should they, right?"
"Ultimately, it seems like doctors are really losing their purview to prescribe. ... You're not supposed to say 'Let's see what your insurance company will pay for.'"
With PBMs hoping for a discount rather than an ongoing battle that drives down prices further over time, patients may still be left paying far more for an HCV cure than they should, Gaudino suggests. Advocates also note that while the PBM deals may offer a slight discount, the list prices of the drugs remain exorbitant. As Tracy Swan, hepatitis and HIV project director at Treatment Action Group (TAG), noted in an earlier interview, "We keep hearing, 'This is cheaper than this that and the other,' but that's like saying, 'It's cheaper to buy a Cadillac now than it will be to buy a Cadillac in five years,' and it has nothing to do with what it actually costs to produce the Cadillac."
In that earlier interview, Swan expressed similar concerns to Gaudino's over the scope and power that PBMs exert in deciding patient treatment regimens. "Although anything that increases access to treatment is a great thing, I really am not comfortable with the idea that your insurance company, rather than yourself with your own physician, decides what treatment is right for you," she said. "I think we're walking down a dangerous road when we start going that way."
"Ultimately, it seems like doctors are really losing their purview to prescribe," Swan added. "That's what you're supposed to do when you're a doctor. You're not supposed to say 'Let's see what your insurance company will pay for.'"
Discounts for Insurers, Not Necessarily Patients
So far, little evidence has emerged that those accessing the new generation of HCV cure drugs will feel any monetary relief as a result of the PBM deals. According to The New York Times, the discounts may help with the health care costs for employers, but those living with HCV "will probably not notice an immediate cost difference, such as lower co-payments."
According to InvestorPlace, Gilead's stock took a 20% dip in less than a week after competitor AbbVie announced its exclusive PBM deal with Express Scripts, which the business website called potentially "alarming to investors." To Gilead, the deal meant that its drugs, Harvoni and Sovaldi, would "miss out on a portion of the 3 million patients in the U.S. and 150 million afflicted globally." After Gilead's deal, shares in its company rebounded, "driving up the entire biotech sector," according to CNBC.
Ultimately, though each PBM's move may end up giving its beneficiaries greater access to HCV cure drugs and will satisfy each pharmaceutical company's monetary interests, advocates warn that it may come at a great price: the quality of care a patient with HCV can expect, and the ability for doctors to give a patient what is best for them.