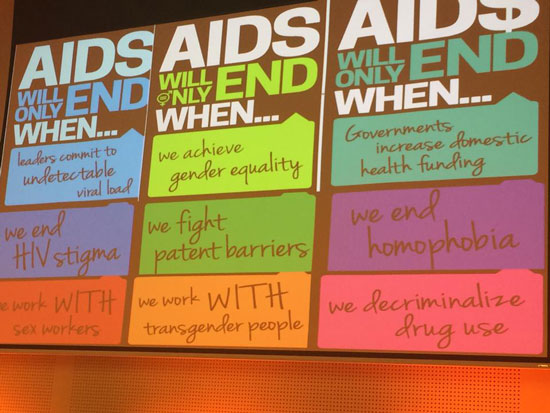 The graphic above was originally shared on the Housing Works Facebook page and comes via Housing Works Senior Vice President of Development and Marketing Andrew Greene, who is at the International AIDS Conference 2014 (AIDS 2014) this week in Melbourne, Australia.
HIV and Social Drivers
The nine items completing that opening phrase "AIDS Will Only End When ..." are the kinds of things that Housing Works President & CEO Charles King is referring to when he says we will only end AIDS when we address the social drivers of the disease.
What does that mean exactly? In brief, it means that while living a healthy, productive life with HIV is possible when people have been tested and diagnosed, and then begin and maintain an effective treatment regimen, we face many challenges and obstacles in addressing and closing the HIV treatment gap (i.e., why the disease continues to spread worldwide and why so many people either are unaware they have HIV or are unable to get and remain on effective treatment).
Social drivers are the social forces beyond the virus itself, such as poverty, homelessness, joblessness, gender inequality, LGBT discrimination, transphobia, and human-rights violations, that influence HIV transmission and promote the spread of the epidemic.
To break that down further:
People with HIV cannot go on and maintain effective treatment if they don't know they have HIV to begin with. And today most people living with HIV outside wealthy countries don't know their viral load -- the level of HIV detectable in the blood -- and too many do not have the treatment they need to control the virus. All too often this is because they do not even have access to testing.
When people live under the threat of being shamed, discriminated against, arrested, assaulted, or killed -- whether that is because of who they are, who they love, how they make their living, because they are open about their HIV-positive status, or because they have the misfortune to live in a chaotic place besieged by regular danger and violence for other reasons -- they are less likely to get tested for HIV and into treatment.
It is for these very reasons that Housing Works and other AIDS advocates staged an action on the first day of the International AIDS Conference (AIDS 2014) a few days ago, demanding that leaders across the world commit to a goal of all people living with HIV achieving and maintaining an undetectable viral load by the year 2020.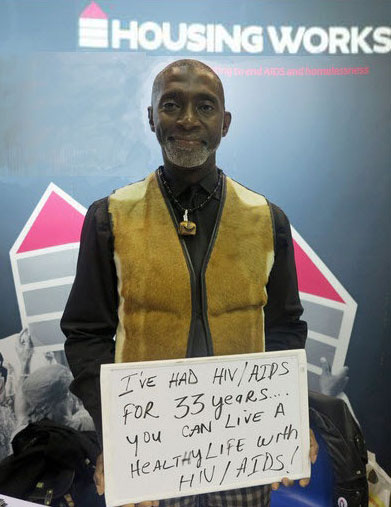 Housing Works advocate, board member and client Eric Bartley at the Housing Works booth during the International AIDS Conference 2014 in Melbourne, Australia.
HIV Stigma
HIV stigma falls under the larger category of social drivers above, but is so prevalent and has such a strong ongoing impact on the AIDS epidemic across the globe that it warrants its own commentary and analysis.
Housing Works President and CEO Charles King has said it many times and in many ways: From New York State, where marriage equality is the law of the land and which recently made history with the Governor's declaration to end the AIDS epidemic in the state by 2020, to Nigeria, where gay marriage and same-sex relationships are illegal and punishable by up to 14 years in prison, stigma remains the biggest driver of the AIDS epidemic.
A case in point: Stigma is a major reason that use of PrEP as an HIV prevention strategy remains controversial, as evidenced by the coining of the slur "Truvada whore."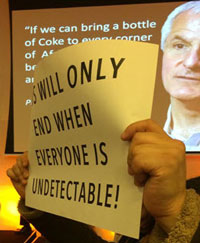 HIV stigma refers to the spectrum of discrimination -- from prejudice and negative attitudes to abuse and mistreatment -- directed at and experienced by people living with HIV and AIDS. In the early days of HIV, it was believed that most stigma stemmed from ignorance and fear -- an ignorance about how HIV is and is not transmitted and a fear of contracting HIV, which was a virtual death sentence before the advent of antiretroviral medications in the mid-1990s. (In those early years, diagnosis of HIV usually took place only when HIV-positive people got sick, became symptomatic, and the virus had progressed to AIDS. Treatments at that time were few and far between, and often expensive and ineffective.) However, despite all the leaps and bounds in prevention, testing, in the medical treatment arena, and even in HIV education, HIV stigma remains a primary driver of the epidemic. How stigma shows up varies widely across nations, different communities, religions, and cultures and can manifest itself in many forms: everything from rejection by family, friends, peers, colleagues, and the wider community to mistreatment in the workplace and in health-care settings to verbal abuse to threats to physical assaults to criminalization. Likewise, the factors that may contribute to HIV stigma will vary from place to place and person to person. In addition to the aforementioned factors (it being a potentially life-threatening disease and the persistence of a lot of misinformation about the virus), stigma may have its sources in any of the following:
HIV is associated with homosexual behavior, drug addiction, sex work, and promiscuity, all behaviors that are already judged and stigmatized in many communities.
Most people become HIV-positive through sex. Sex itself -- who is having it, who is sleeping with who, and when, why, how, and how often people are having it -- is associated with a seemingly endless range of judgments in most communities.
Because of the two factors above, many people regard HIV as being the result of personal irresponsibility and therefore, that the people who have HIV deserve to have it and deserve to be ill because they brought it upon themselves.
Some religious or moral belief systems expand on that judgment of those with HIV and teach their proponents that HIV infection results from moral faults and flaws that warrant punishment, such as "deviant" sex, sex work, promiscuous behavior, or drug use.
HIV stigma often works in tandem with other common types of discrimination, such as racism, misogyny, homophobia, and transphobia.
Irrespective of its forms, what all HIV stigma has in common is the damage it does -- not only to the mental state of people living with HIV, who either feel perpetually beaten down, under threat, or in physical danger on a constant basis, but also on the success of HIV testing and treatment. United Nations Secretary General Kan Bi-moon summed up the massive blow stigma deals to us all as follows:
"One of the biggest hurdles for our global response to AIDS is psychological. ... Stigma remains the single most important barrier to public action. It is the main reason too many people are afraid to see a doctor to determine whether they have the disease, or to seek treatment if so. It helps make AIDS the silent killer, because people fear the social disgrace of speaking about it, or taking easily available precautions. Stigma is a chief reason the AIDS epidemic continues to devastate societies around the world."