Writing about direct-acting antivirals (DAAs) for HCV infection in early 2014 is like writing a World Series wrap-up on the first day of spring training. Compared with the dazzling DAA dawn, the advent of HIV protease inhibitors and nonnucleosides in the mid-1990s seems almost sedate. For both infections, the debut of potent new antivirals transformed treatment. But there the similarities end (Figure 1).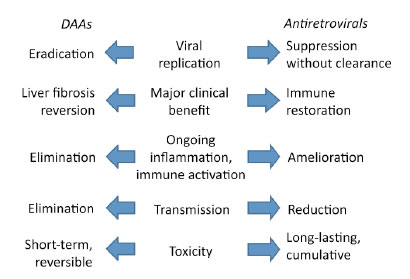 DAAs for HCV infection hold several advantages over antiretroviral for HIV, as indicated in this schematic based on a table by Vincent Soriano and colleagues at Madrid's Hospital Carlos III.10

HIV protease inhibitors and nonnucleosides did not replace nucleosides, the first antiretroviral class. They teamed with nucleosides to create potent triple regimens that could stop HIV replication but not cure the infection. HCV DAAs do cure a remarkably high percentage of patients -- 90% to 100% -- and show every sign of consigning the time-worn anti-HCV duo -- interferon and ribavirin -- to the pharmacologic dustbin.
The antiretroviral classes new in the mid-1990s -- protease inhibitors and nonnucleosides -- were not joined by entry inhibitors and integrase inhibitors until 2003 and 2007. Already four classes of DAAs are on pharmacy shelves or in late stages of development: NS3/NS4A protease inhibitors, NS5A nonenzyme replication complex inhibitors, NS5B polymerase nucleosides and nucleotides, and NS5B polymerase nonnucleosides (Table 1). Other non-DAA agents, such as host cyclophilin inhibitors, also figure in the mix.
Table 1. Abbreviated List of Licensed or Late-Stage DAAs for HCV Infection
NS3/NS4A Protease Inhibitors
NS5A Replication Complex Inhibitors
NS5B Nucleoside/tide Polymerase Inhibitors
NS5B Nonnucleoside Polymerase Inhibitors
Cyclophilin Inhibitors

Simeprevir*
Boceprevir*
Telaprevir*
Asunaprevir
Danoprevir
Faldaprevir
Sovaprevir
ABT-450
GS-9451
MK-5172

Daclatasvir
Ledipasvir
Samatasvir
Ombitasvir (ABT-267)
GS-8516
MK-8742

Deleobuvir
Dasabuvir (ABT-333)
BMS-791325
GS-9669

* Licensed by FDA.

And now that DAAs have (emphatically) arrived, keeping up with new agents, new combinations, and new treatment advice has become a full-time job. Or maybe several full-times jobs. www.hcvguidelines.org, managed by the American Association for the Study of Liver Diseases (AASLD) and the Infectious Diseases Society of America (IDSA), has a home page plastered with provisos about rapidly evolving therapeutic strategies and advice, including a homepage section on "Updates/Changes" where "notable changes are highlighted." This regularly revised website warns that "guidance for hepatitis C treatment is changing constantly with the advent of new therapies and other developments. A static version of this guidance, such as a printout of this website material, booklet, slides, and other materials, may be outdated by the time you read this."1
But read this "static version" of DAA insights anyway, because it tries to outline some larger issues without shackling itself to last week's trial results or last month's treatment advice.
In the hcvguidelines.org section on HCV/HIV coinfection, the two HCV protease inhibitors licensed in 2011 -- telaprevir and boceprevir -- no longer merit a recommendation for treatment-naive people or those in whom pegylated interferon/ribavirin (PEG/RBV) failed.2 Because of their toxicity and manifold interactions with antiretrovirals, these two vanguard DAAs have already been shouldered aside by the protease inhibitor simeprevir and the NS5B nucleotide sofosbuvir in the latest guidelines. But hold onto your hat. An eager army of other DAAs has reached late stages of development and could displace or combine with simeprevir and sofosbuvir for certain patients (Table 1).
Investigational interferon-free regimens, and interferon/ribavirin-free regimens, abound. And fixed-dose combinations of DAAs from different classes are on their way. Gilead Sciences has filed for approval of a once-daily pill melding the NS5A inhibitor ledipasvir with the already licensed NS5B inhibitor sofosbuvir. Ritonavir-boosted ABT-450 is coformulated with ombitasvir (ABT-267).
Advertisement
Early Findings on DAA-Only Regimens: A Sampler
How strong are the new HCV drugs? Very strong. How fast do they work? Very fast. How much do they cost? Very much.
A thorough summary of DAA trials to date would be ponderous and largely pointless for HIV clinicians. Anyone interested in data on this or that drug in this or that trial can probably track it down at www.natap.org, which details results of most consequential trials published or presented at key meetings. A quick summary of some standout results will give a taste of how potent these new compounds can be.
A trial that randomized noncirrhotic HCV treatment-naive or experienced people to ribavirin or no ribavirin plus once-daily daclatasvir plus sofosbuvir charted high sustained virologic responses 12 weeks after therapy ended (SVR12) in previously untreated people with HCV genotype 1 (98%), people in whom boceprevir or telaprevir plus PEG/RBV had failed (98%), previously untreated people with genotype 2 (92%), and untreated people with genotype 3 (89%).3 Response rates stood above 90% for participants with genotype 1a and 1b, those with the CC or non-CC IL28B genotype (which affects response to PEG/IFN), and those who took or did not take ribavirin. Only 2 people stopped treatment because of adverse events -- fibromyalgia and stroke.
In the daclatasvir/sofosbuvir trial,3 treatment lasted 12 weeks in treatment-naive participants and 24 weeks in previously treated people. A trial of two or three DAAs in 60 naive people with genotype 1 charted excellent SVR12s after 6 to 12 weeks of therapy.4 SYNERGY tested the fixed-dose sofosbuvir/ledipasvir pill with or without GS-9669 (a nonnucleoside) or GS-9451 (a protease inhibitor). Those taking only the fixed-dose combination got treated for 12 weeks; those taking triple therapy got treated for 6 weeks. Most trial participants (70%) had an HCV load above 800,000 IU/mL, and most (82%) had a non-CC IL28B genotype, which dims chances of responding to PEG/RBV.
Twenty of 20 in the sofosbuvir/ledipasvir arm, 19 of 20 in the GS-9669 arm, and 20 of 20 in the GS-9451 arm attained SVR12 in an intention-to-treat analysis. No one stopped treatment and no one had a grade 4 adverse event or serious adverse event related to study drugs. The National Institutes of Health team that headed SYNERGY suggested their results offer "a new paradigm of combination therapy to reduce HCV treatment duration, which may be vital to the treatment and eradication of HCV globally."4
A three-drug DAA medley combining once-daily fixed-dose ABT-450/ritonavir/ombitasvir with twice-daily dasabuvir in 419 noncirrhotic treatment-naive people with HCV genotype 1b for 12 weeks yielded 99% SVR12 rates with or without ribavirin.5 Response rates did not differ by gender, race, or IL28B genotype.
These three trials did not enroll people with HIV infection,3-5 but work on DAA medleys in HCV/HIV-coinfected people has begun. Part B of the C-WORTHY trial tested MK-5172 plus MK-8742 with or without ribavirin for 12 weeks in 403 people with HCV genotype 1, including 59 with HIV.6 Part A tested the same regimens in 65 people infected only with HCV genotype 1. Among 58 HIV-positive people who had reached 4 weeks of follow-up after treatment ended in part B, 28 of 29 people taking MK-5172/MK-8742 with ribavirin and 26 of 29 taking MK-5172/MK-8742 without ribavirin had a sustained virologic response (SVR4). There was 1 relapse in the ribavirin arm and 2 virologic breakthroughs and 1 loss to follow-up in the no-ribavirin arm. The two people with virologic breakthroughs had low plasma levels of MK-5172 and MK-8742. Response rates were similar in HCV-monoinfected people in Part A.
Fixed-dose formulation sofosbuvir/ledipasvir yielded 100% SVRs 12 and 4 weeks after treatment of HIV-coinfected people in interim results of the ERADICATE trial.7 Of the 50 study participants, all had HCV genotype 1, none had taken anti-HCV agents, 13 were not taking antiretrovirals, and 37 had an undetectable HIV load with antiretroviral therapy. At the time of this report in May 2014, researchers had SVR12 results for the antiretroviral-untreated people and SVR4 results for the treated people. Regimens in the antiretroviral-treated group included efavirenz, raltegravir, and/or rilpivirine plus tenofovir/emtricitabine. No one discontinued treatment so far. CD4 count and HIV load did not change with sofosbuvir/ledipasvir.
Results like these indicate that DAAs will cure HCV in people with HIV as regularly as in those without HIV, but more enrollment of HIV subgroups in clinical trials -- or more trials recruiting only people with HIV -- are clearly needed.
Which PEG/RBV-free DAA combination(s) will come out on top? The answer may differ by HCV genotype, but hepatitis experts Marie-Louise Vachon and Douglas Dieterich of New York's Mount Sinai School of Medicine offer some guidance by listing five traits of a "perfect" DAA combination:8
High cure rates in all categories of patients (independent of host and viral characteristics)
Good side-effect profile
All oral, once-daily regimen with short treatment duration
Limited drug-drug interactions (especially with immunosuppressant medications*)
Affordable in all countries of the world
* And, for HIV-positive people, with antiretrovirals.
So far no single DAA -- never mind a DAA combination -- comes close to fulfilling criterion number 5. (More on that issue below.) And even experts eschew the task of picking leading contenders for routine use. Jürgen Rockstroh, a top HCV/HIV authority from the University of Bonn, explained why in his review of the 2013 AASLD conference: "With a constantly increasing number of DAAs in development from conference to conference," he wrote, "it becomes increasingly difficult to foresee where and in whom the individual drugs will be used eventually."9
But it's easy to foresee why DAAs will remodel treatment of HCV infection even more than antiretrovirals revamped treatment of HIV (Figure 1).10 In an essay on curing HCV infection, Harvard and Strasbourg University HCV experts Raymond Chung and Thomas Baumert observe that HCV "replicates its genome directly into RNA without traversing a DNA intermediate, so that unlike HIV or hepatitis B virus, it lacks a latent, nuclear form that defies ready immunologic clearance."11 Instead, merely stopping continuous replication snuffs out HCV.
On the basis of DAA data so far, Chung and Beaumert predict that DAA combinations "are capable of bridging most of the performance gap between more conventional populations of previously untreated patients and populations that have historically been difficult to treat" -- including people with HIV infection.11 In April 2014 guidelines, the European Association for the Study of the Liver (EASL) advised that "indications for HCV treatment in HCV/HIV co-infected persons are identical to those in patients with HCV mono-infection."12 EASL guidelines (linked in the reference list) also offer advice on interactions between new HCV agents and antiretrovirals, as does the AIDS Clinical Trials Group Drug Interactions Database.