Table of Contents
Introduction
Abstract
Prescribing tenofovir/emtricitabine (TDF/FTC) as PrEP raises questions about side effect risks in HIVnegative people. Side effects that arise in the first weeks of PrEP -- nausea, abdominal cramping, vomiting, dizziness, headache, and fatigue -- usually resolve without withdrawing TDF/FTC. But providers should alert PrEP candidates to these possible problems so they do not stop PrEP unnecessarily if side effects occur. Cohort studies that enroll HIV-positive people and similar HIV-negative people at risk of HIV infection offer unique insights into risks of two well-known TDF side effects, impaired kidney function and declining bone mineral density (BMD). This research indicates that many HIV-negative PrEP candidates have risk factors for kidney and bone complications, but these people do not appear to have higher than normal rates of kidney and bone problems in published studies. Through 1 to 2 years of follow-up, placebo-controlled PrEP trials found higher rates of declining kidney function and BMD in HIVnegative people randomized to TDF/FTC. But these problems affected only small proportions of people assigned to TDF/FTC during these trials. In HIV-positive people, some research indicates that TDF-linked kidney toxicity improves when TDF stops, but a 10,000-person Veterans Affairs study found that it may not. Another prospective study of HIV-positive veterans figured that every year of TDF use boosts the risk of osteoporotic fracture 12%, while other cohort studies and trials confirmed dwindling BMD with TDF therapy but found no greater fracture risk. TDF/FTC PrEP should not be prescribed for people with creatinine clearance below 60 mL/min, and pre-PrEP DEXA scans of BMD may be prudent for people with a past fracture or other bone risk factors.

"I probably wouldn't take [PrEP] because I know HIV medications are very strong and if you don't have to take them why would you? And I'm healthy, so why would I do damage to my body to protect myself but I still got a chance of getting [HIV], when I can just use a condom and continue what I've been doing?"1
Those keen questions by a gay man in Los Angeles, reported in a study by UCLA investigators,1 neatly encapsulate the dilemma faced by people who may take tenofovir/emtricitabine (TDF/FTC) preexposure prophylaxis (PrEP) and by people who may prescribe it. Plenty of precedent sketches out the risks healthy people face when taking prophylactic agents -- from short-term chloroquine to ward off malaria to regular hormonal agents to prevent pregnancy.
Hormonal contraception, in fact, offers a trenchant reverse analogy for TDF/FTC PrEP. Hormonal contraception, especially injected hormonal agents, may boost the risk of HIV acquisition and transmission.2 But because data on that question are inconsistent and contraception offers such clear family-planning benefits, the World Health Organization decided that women using progestogen-only injectable contraception "should be strongly advised to also always use condoms, male or female, and other HIV preventive measures."3
Advertisement
In contrast, TDF/FTC PrEP clearly cuts the risk of HIV acquisition,4-6 but it does so at the risk of TDFrelated toxicity and so requires pre-PrEP side-effect screening and regular check-ups during PrEP (see Table 2 in the first article in this issue). Like hormonal contraceptives, TDF/FTC PrEP should also be taken "in combination with safer sex practices,"7 because it does not erect an impervious firewall against HIV.
Probably the most hallowed tenet of medicine -- and one echoed often at the FDA hearing on TDF/FTC PrEP -- adjures clinicians trying to help their patients to avoid hurting them first. A PrEP-specific translation of that dictum, penned by Myron Cohen and Lindsey Baden (University of North Carolina and Brigham and Women's Hospital), puts it this way: "Providing a daily medication to healthy, HIV-uninfected persons demands an extraordinarily high degree of safety."8
Emtricitabine ranks among the safest medicines dispensed, but everyone knows TDF poses a threat of serious long-term toxicity to a handful of people taking it to treat HIV infection. Will people without HIV face the same risk?
Because follow-up in PrEP trials generally falls short of 2 years, only informed guesswork can approach an answer to that question. But thanks to round-the-clock HIV research, the guesswork addressing this question is highly informed. Over the years, HIV investigators created and endlessly canvassed cohorts of HIV-positive people paired with HIV-negative contemporaries sharing similar behaviors, lifestyles, sociodemographic nitty-gritties, and -- in the end -- a worrying risk of HIV infection. These well-studied HIV-negative people are among today's top PrEP candidates. The Multicenter HIV Cohort Study (MACS) of US gay and bisexual men with and without HIV and the Women's Interagency HIV Study (WIHS) of US women are eminent examples. PrEP studies of HIV-negative people who run a high risk of getting infected provide another font of plumbable data.
Together, data from this research offer much more than a passing glance at rates and risks of two TDFrelated toxicities in HIV-negative people: impaired kidney function and waning bone mineral density (Figure 1). This article offers a detailed analysis of kidney and bone findings in people without HIV -- as well as in people with HIV who took TDF for years.
Figure 1. Possible Mechanisms of Kidney and Bone Toxicity With TDF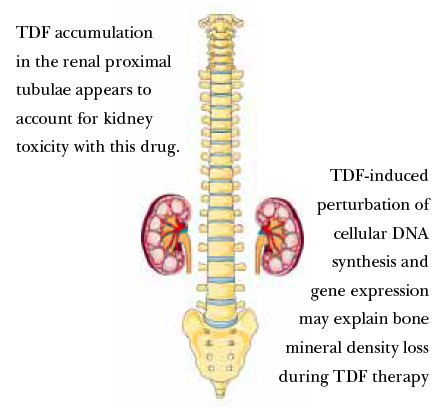 Research suggests possible mechanisms for the much-studied impact of tenofovir disoproxil fumarate (TDF) on kidney and bone mineral density: Kohler JJ, Hosseini SH, Hoying-Brandt A, et al. Tenofovir renal toxicity targets mitochondria of renal proximal tubules. Lab Invest. 2009;89:513-519; Grigsby IF, Pham L, Mansky LM, Gopalakrishnan R, Mansky KC. Tenofovir-associated bone density loss. Clin Risk Manag. 2010;6:41-47. Kidney and spine illustrations from Servier Medical Art.
Short-Term Side Effects of TDF/FTC PrEP
Although providers worry about the long-term risk of compromising kidneys or depleting bone mineral with TDF/FTC PrEP taken for 2 years or more, both clinicians and PrEP candidates should realize that TDF/FTC can have short-term side effects, including nausea, abdominal cramping, vomiting, dizziness, headache, and fatigue.4-6,99 These problems typically arise in the first week or 2 of PrEP, then often disappear in the next few weeks. In an interview in this issue of RITA! Robert Grant, who headed the iPrEx PrEP trial,4 compares these problems to the "start-up syndrome" seen when people start antiretrovirals for treatment. These vexations can have a big impact on care if they sway people to skip doses or stop their drugs altogether.
Clinicians would be wise to alert PrEP novitiates that these ailments may arise and that they usually resolve without stopping TDF/FTC. Robert Grant even suggests that providers schedule a "check-in visit" 2 to 4 weeks after a person plans to start PrEP -- both to see if the person actually started taking the pill daily, and if TDF/FTC caused any aches or pangs.
FDA prescribing information for TDF/FTC lists three adverse reactions reported in at least 2% of people randomized to TDF/FTC PrEP and more frequently than in those randomized to placebo -- headache, abdominal pain, and weight loss.7 A few other problems affected at least 2% of TDF/FTC takers and a similar proportion of placebo recipients: diarrhea, back pain, depression, and anxiety. "Unintentional weight loss" of 5% or more affected 34 people in the TDF/FTC arm of iPrEx and 19 in the placebo group (P = 0.04).4
An Angle on Long-Term Side Effect Risk With TDF/FTC PrEP
How healthy are HIV-negative people who may take TDF/FTC PrEP in the United States? And what's their risk of subpar kidney function and ebbing bone mineral density? Because many sexually active people -- and all injection drug users -- run some risk of picking up HIV, it's impossible to generalize about at-risk people as a monolithic group. But the Multicenter AIDS Cohort Study (MACS), the Women's Interagency HIV Study (WIHS), and other populationbased analyses in high-income countries offer plenty of insight on HIV-negative gay and bisexual men and women in danger of getting HIV infection.
By and large, people who put themselves on a collision course with HIV are not paragons of good health. Because people with the highest risk of picking up HIV during sex are those who have lots of sex -- often without condoms -- this group shoulders a high burden of other sexually transmitted infections, including hepatitis C virus (HCV) infection, an oftnoted risk factor for deliquescing bone density and chronic kidney disease. In the United States, young black men who have sex with men (MSM) account for a burgeoning proportion of new HIV infections,10 and blacks run a higher risk of kidney disease than whites. Young white and black MSM with lots of sex partners often have other habits that threaten their health -- smoking, drinking, and downing recreational drugs that range from the innocuous to the caustic. In the United States, WIHS findings and other data indicate, women with a high HIV risk are often poor, overweight, and members of minorities with off-andon access to health care.
If one compiles a list of classic risk factors for low bone density and chronic kidney disease (Table 1), that catalog includes an array of variables common among US men and women with a substantial risk of HIV infection. Both MSM and high-risk women can claim many of the behavioral risk factors. HCV and other chronic infections occur often among risktaking gay and bisexual men, while disadvantaged women with a high HIV risk are prone to diabetes, hypertension, high cholesterol, and cardiovascular disease. Unbalanced diets in at-risk poor women can result in vitamin D and calcium deficiency. Vitamin D insufficiency and deficiency are virtually endemic in sedentary populations with meager sun exposure.
Table 1. Classic Risk Factors for Low Bone Mineral Density and Chronic Kidney Disease
Low Bone Density Risk Factors
Chronic Kidney Disease Risk Factors
Demographics/family history
Older age
Older age
White race
Black race
Asian race
Asian race
Female sex
Native Americans
Previous fragility fracture
Family history of chronic kidney disease
Family history of osteoporosis
Physical factors
Low weight
Overweight
Anorexia
Low estrogen or testosterone
Thyroid problems
Behaviors
Smoking
Smoking
Alcohol
Methadone/opiates
Physical inactivity
Dietary and related factors
Vitamin D deficiency
Limited sun exposure
Low dietary calcium
Other conditions and medications
Diabetes mellitus
Diabetes mellitus
HCV infection
HCV infection
Chronic infection
High cholesterol
Chronic kidney disease
Hypertension
Corticosteroids (such as prednisone, cortisone)
Cardiovascular disease
Anticoagulants, anticonvulsants, antipsychotics, cyclosporines, glitazones, gonadotropin-releasing hormone agonists, methotrexate, proton pump inhibitors
Kidney stones or kidney infection; sickle-cell anemia; autoimmune disorders (such as lupus, scleroderma)
Sources: Centers for Disease Control and Prevention. National chronic kidney disease fact sheet 2010. Gupta SK, Eustace JA, Winston JA, et al. Guidelines for the management of chronic kidney disease in HIV-infected patients: recommendations of the HIV Medicine Association of the Infectious Diseases Society of America. Clin Infect Dis. 2005;40:1559-1585. McComsey GA, Tebas P, Shane E, et al. Bone disease in HIV infection: a practical review and recommendations for HIV care providers. Clin Infect Dis. 2010;51:937-946. Mayo Clinic. Osteoporosis. Mayo Clinic. Chronic kidney failure. National Institutes of Health. US National Library of Medicine. Medline Plus. Osteoporosis. National Institutes of Health. US National Library of Medicine. PubMed Health. Chronic kidney disease.

The TDF/FTC PrEP dose is the same as the treatment dose -- one Truvada tablet daily, 300 mg of TDF plus 200 mg of FTC. Whether PrEP users will adhere to that prescription remains open to question (as discussed in the preceding review article in this issue). But if they take TDF/FTC PrEP for 2 or 3 years, they may run the same toxicity risk as people who take TDF/FTC daily for chronic HIV infection -- though perhaps not quite. People with HIV may face a slightly higher risk of side effects because HIV itself may affect kidney function and bone density, because HIV-positive people may have higher rates of other conditions that threaten kidneys and bone, and because HIV-positive people may be taking more nonantiretrovirals that pose toxic threats to kidneys and bones. So reviewing the impact of TDF/FTC in HIV-negative people enrolled in PrEP trials -- and appraising kidney and bone health in other PrEP candidates -- should yield some insight into long-term toxic risks with this double drug. After those analyses, this article weighs evidence on long-term TDF toxicity in people taking antiretroviral therapy.