An Interview With Raphael J. Landovitz, M.D., M.Sc.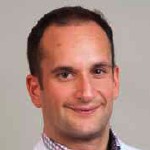 In his 16 years as a physician and clinical investigator, Dr. Landovitz has earned a strong reputation for his research on medical prevention of HIV infection and the impact of such interventions on risk behavior. As co-director of the Combination Prevention Core at the Center for HIV Identification, Prevention, and Treatment Services and the UCLA Center for Clinical AIDS Research & Education, he conducts research through the HIV Prevention Trials Network (HPTN) and the AIDS Clinical Trials Group (ACTG), which awarded him the John Carey Young Investigator Award in 2010. Dr. Landovitz holds an undergraduate degree from Princeton University and earned his MD from Harvard Medical School and his MSc from UCLA. Before moving to Los Angeles, he served as chief resident at Brigham and Women's Hospital in Boston and medical co-director of the Vietnam-CDC-Harvard Medical School-AIDS-Partnership (VCHAP), which trains Vietnamese physicians in HIV care and treatment. (He speaks Vietnamese and Spanish.) Dr. Landovitz heads the Los Angeles County PEP Demonstration Project and collaborates with the City and County of Los Angeles, and Friends Community Center. His innovative work in HIV prevention includes prevention practices among gay men who use GRINDR (a GPS-based networking application MSM use to find sex partners) and combination HIV prevention with postexposure prophylaxis and contingency management for substance use among methamphetamine-using men.
Mascolini: Can you summarize the demographics, sexual behaviors, and substance use habits of HIVpositive and negative populations you care for and study in Los Angeles?
Landovitz: Our clinic cares for about 900 HIVinfected men and women on the west side of Los Angeles. We're broadening the scope of our care and research involving HIV-uninfected individuals at risk for HIV infection. With the medicalization of HIV prevention, we're working to learn how to best deliver prevention and care services as the domain of who provides prevention care continues to evolve.
Our clinic's HIV-infected population is approximately 42% non-Hispanic white, 34% African American, and 22% Latino. Although I don't have aggregate data on sexual and drug use behavior for this patient population, I can give you some data from certain studies we've done in people with HIV: 44% of that population had ever used any illicit substances, and 36% reported ever having used stimulants. In terms of sexual risk behavior, about 30% of that study population reported some unprotected sexual activity with a partner of unknown HIV status in the last year.
For the HIV-negative but at-risk individuals we see, I can cite some data from studies of people who requested HIV postexposure prophylaxis (PEP) at our community-based program. That population is almost 95% male, and 85% men who have sex with men (MSM). Almost two thirds, 62%, sought PEP after receptive anal intercourse. This population is 48% Caucasian, 35% Latino, and 8% African American.
PrEP Interest and Uptake in Los Angeles
Mascolini: Do HIV-negative at-risk men in your area know about PrEP and do they want to try it?
Landovitz: We have had very few requests for PrEP in our clinic. I've surveyed other HIV providers on the west side of Los Angeles, and they too have had precious few requests for PrEP. We were a little surprised by that. The majority of these few requests have come from men who are in serodiscordant relationships and seem to keep their fingers on the pulse of what's current.
Here is Los Angeles we've only recently begun to be involved in clinical trials of PrEP. We were not part of the iPrEx trial in MSM1 or the early open-label study that came out of iPrEx, the iPrEx OLÉ rollover protocol. The HPTN 069 protocol comparing PrEP regimens containing tenofovir/emtricitabine to maraviroc-containing regimens2 (Table) is the first clinical study activity in Los Angeles. In the wake of the iPrEx results, we've had a number of community forums and engagement meetings to disseminate the results and initiate discussion about how PrEP could or should be used in the context of larger prevention programming.
HPTN 069: Safety and Tolerability of Four PrEP Regimens in MSM
Status
Recruiting
Estimated primary completion date January 2014
Primary outcomes
Occurrence of grade 3 or 4 adverse events through 48 weeks
Tolerability as assessed by time to permanent discontinuation of treatment through 48 weeks
PrEP regimen arms
Maraviroc plus emtricitabine (FTC) placebo plus tenofovir (TDF) placebo orally once daily
Maraviroc plus FTC plus TDF placebo orally once daily
Maraviroc plus FTC placebo plus TDF orally once daily
Maraviroc placebo plus FTC plus TDF orally once daily
Key inclusion criteria
Born male and 18 or older at screening
Receptive or insertive anal intercourse without condoms with at least one HIV-infected male partner or male partner of unknown HIV status within 3 months of study entry
Creatinine clearance 70 mL/minute or higher
No alcohol or substance use that the investigator believes would interfere with the study
Key exclusion criteria
One or more reactive HIV test results at screening or enrollment
Use of antiretrovirals for PEP or PrEP within 90 days before study entry
Ongoing intravenous drug use
Weight over 300 pounds
Participating sites
California: UCLA Care Center, Los Angeles; San Francisco Vaccine and Prevention Center
Maryland: Johns Hopkins Adult AIDS Center, Baltimore
Massachusetts: Fenway Institute, Boston
New York: Cornell University, New York City
North Carolina: University of North Carolina, Chapel Hill; Wake County Health and Human Services, Raleigh
Ohio: Case Western Reserve University, Cleveland
Puerto Rico: Puerto Rico-AIDS
Pennsylvania: Hospital of the University of Pennsylvania, Philadelphia; University of Pittsburgh
Washington, DC: George Washington University
Washington State: University of Washington, Seattle
For detailed study information and study site contacts: www.clinicaltrials.gov/ct2/show/study/NCT01505114

We've done some combination prevention work at two community-based sites in Los Angeles, one at the Gay and Lesbian Center and one at the Oasis Clinic, which is in South LA. As part of this work, we developed a community-based 1-year nonoccupational PEP demonstration project that we parlayed into an ongoing public health service delivery program sponsored by the Division of HIV/STD Prevention (DHSP) in the County Department of Public Health. We are ramping up a PrEP demonstration project that will be deployed at those sites, but it has not begun yet.
Our PEP work indicates that 3% to 5% of PEP users asked for PEP more than once, and we think those people are excellent candidates for PrEP. In my mind PEP should be a one-time emergency intervention after a condom breaks or isn't used in a particular situation. The counseling that surrounds an episode of PEP should help prevent someone from ever requiring PEP again, and certainly not to require PEP frequently. I believe recurrent PEP users would be better served by PrEP. At the same time, we have to continue studying this recurrently at-risk population -- to understand how to modify the behaviors that cause them to be persistently at risk and allow potential PrEP users to come off PrEP, because nobody wants to be on PrEP forever.
Mascolini: Have you and your colleagues figured out how to make PrEP part of your practice, and have you established any sort of PrEP use protocol?
Landovitz: We've talked about how PrEP might be part of larger HIV prevention programming. I think we all agree that PrEP should not be seen or promoted as an isolated intervention: PrEP may be an appropriate adjunct to other prevention efforts and may be appropriate for certain targeted populations, but we should not prescribe PrEP and send people off with the impression that PrEP alone is sufficient to mitigate HIV acquisition risk.

We're trying to funnel any PrEP referrals to providers who have kept up on the literature and have a comprehensive understanding of combination prevention programming. Such programming might involve referring people to other services, including mental health services, substance use treatment services, and intimate partner violence services. At the same time, we believe combination prevention includes condom provision and education and adherence counseling. In that context we can do some risk stratification for who appears to be at ongoing risk for HIV acquisition despite other interventions and then consider PrEP as an adjunct to all these other efforts.
I'm one of those people handling PrEP referrals, and so far I've seen two consultations for preexposure prophylaxis since the FDA approval of Truvada for PrEP. So at least in a controlled medical environment on the west side of LA, we're not seeing a lot of demand for PrEP.
Mascolini: Do you think this low demand means PrEP candidates are on an early part of the PrEP learning curve, or does it mean people just aren't interested in taking a pill to prevent HIV infection?
Landovitz: It's probably multifactorial. I think people are probably much less interested in taking a daily pill, and some adherence data from the placebocontrolled iPrEx,1 Partners PrEP,3 and TDF24 trials bear this out. [See the first article in this issue.] Others may believe it's just not feasible to take a daily HIVprevention pill for any number of reasons.
My personal feeling is that there's not going to be widespread uptake and interest in PrEP -- at least in the MSM communities who dominate the epidemic on the West Coast -- until a PrEP agent is available in a depot or sustained-release formulation. My experience talking to patients and interacting with other providers suggests that the analogy to women taking daily birth control does not appear to be a compelling one for gay men. So I think the game changer will be a depot or long-acting formulation -- or at the very least a much more sophisticated understanding of what sort of more intermittent dosing might be effective and safe.
Mascolini: What proportion of PrEP candidates you see have insurance that will pay for PrEP?
Landovitz: In our PEP experience with HIV-negative but at-risk people, 60% of those seeking PEP at our community-based sites are uninsured. Our PEP demonstration project is designed to have no cost to people seeking that service. I suspect this PEP population is similar to our potential PrEP population. People who are well-informed early adopters, who have private insurance and private doctors, will access PrEP in those contexts and aren't waiting for a publicly funded demonstration project.