When Healthy Heart Hopes Go Up in Smoke
"Aside from having a history of cardiovascular disease," write HIV heart expert James Stein and colleagues, "current cigarette smoking is the most powerful predictor of CVD events among patients with HIV."71 Everyone knows that lots of people with HIV smoke more than the most leather-lunged film noir antihero, and everyone knows tobacco sears a deeply corrosive path through many a major organ. The data are so uniform and unequivocal they hardly bear repeating. But this article will detail some of these dreary numbers -- and offer a few suggestions on getting people to quit -- in hopes that some clinician readers will pluck out a fact or two that will scare patients into stopping, or that some clinician readers will recommit themselves to the difficult chore of helping patients quit.
Why so many HIV-positive people smoke remains unclear. An unadorned hunch is simply that the groups most likely to get infected with HIV include a high fraction of smokers. There seems to be no evidence that people start smoking because they learn they have HIV infection.
The first nationally representative estimate of smoking prevalence in US residents with HIV, unveiled in 2013 by the CDC, found that 42% of HIV-positive people in care smoke, compared with 21% of the US general population.72 While 37% of people with HIV never smoked, 58% of the general population never lit up. Men made up the biggest proportion of current HIV-positive smokers (72%), while women accounted for 27% of that group and transgenders for 1%. Blacks accounted for 43% of current HIV-positive smokers, followed by whites (36%), Hispanics (16%), and others (5%). Statistical analysis adjusted for age determined that HIV-positive people in care have a twice higher smoking prevalence than the general population (standardized prevalence ratio 1.9). The prevalence ratio stayed near that mark after individual adjustment for gender (1.9), race/ethnicity (2.1), education level (2.0), and poverty level (1.7).
Advertisement
SMART trial investigators recorded a current smoking rate of 40.5% in 5472 HIV-positive participants from 33 countries73 -- nearly the same as the CDC's US estimate.72 SMART researchers tallied a 24.8% former-smoker rate in this group, compared with 20% in the CDC study. The SMART analysis went on to address a bigger question: what does smoking do to people with HIV? To find an answer they (1) figured hazard ratios for major clinical endpoints by comparing SMART participants who smoked at study entry with participants who never smoked and (2) calculated population-attributable risk percentages (see note 7474) for the same endpoints.
Compared with SMART enrollees who never got a nicotine high, current smokers ran more than a doubled risk of dying from any cause (adjusted hazard ratio [aHR] 2.4, P < 0.001), a doubled risk of incident major cardiovascular disease (aHR 2.0, P = 0.002), more than a doubled risk of bacterial pneumonia (aHR 2.3, P < 0.001), and almost a doubled risk of non-AIDS cancer (aHR 1.8, P = 0.008).73Quitting made a difference. Comparing former smokers with current smokers, the SMART team found significantly higher adjusted hazard ratios for all-cause mortality (1.5, P = 0.04), major cardiovascular disease (1.6, P = 0.02), AIDS-related disease (1.6, P = 0.03), non-AIDS cancer (2.3, P < 0.001), and bacterial pneumonia (1.5, P = 0.01) in current smokers.
Comparing current smokers with former and never smokers indicated that 24.3% of all deaths could be attributed to smoking, as could 25.3% of major cardiovascular diagnoses, 30.6% of non-AIDS cancer diagnoses, and 25.4% of bacterial pneumonia diagnoses (Figure 9).74 The SMART team warns that "significant reductions in morbidity and mortality among HIV-infected patients achieved by advances in HIV therapy may be undercut by increases in adverse clinical outcomes attributable to smoking."73
Figure 9. Percent of Deaths and Major Diseases Attributable to Smoking in SMART Study Groups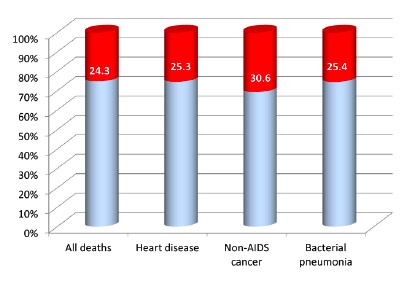 Among START trial participants who died or got diagnosed with a major disease, smoking explained about one quarter of deaths or new diagnoses.73

In a group 6 times bigger than the SMART population, DAD Study investigators linked current smoking to a 2.2 times higher rate of death from non-AIDS cancers, a 90% higher rate of cardiovascular death, and a 44% higher rate of death from any cause.5 Unlike the SMART analysis, the DAD team found that former smokers matched current smokers in adjusted death rates for non-AIDS cancer, cardiovascular disease, or any cause. "Studies in the general population suggest that although smoking cessation leads to decreased risk" of death, the DAD team noted, "ex-smokers remain at an excess risk for a number of years after cessation, with the risk of malignancy in particular remaining raised for up to 10 years."5
How many years do risks of heart disease and death stay elevated after a person stops smoking? Another DAD analysis suggested not too many.75 This study involved 27,136 HIV-positive people with a reported smoking status, divided into never, previous, and current smokers. None had a history of heart disease. The researchers counted how many people had (1) a myocardial infarction, (2) coronary heart disease (MI plus invasive coronary artery procedure or death from other coronary heart disease), (3) cardiovascular disease (coronary heart disease plus carotid artery endarterectomy or stroke), and (4) death from any cause. Poisson regression analysis to determine how quitting affected these endpoints factored in cohort, calendar year, age, sex, family heart disease history, time-updated diabetes and lipids, cumulative cART, cumulative indinavir, cumulative lopinavir, and current abacavir. Every additional year without smoking trimmed the risk of the three cardiovascular endpoints significantly (or nearly significantly, P < 0.06) (Figure 10). This analysis found a nonsignificant trend to lower all-cause mortality with time since quitting.
Figure 10. Waning Heart Disease Risk With Each Year Since Quitting Smoking in DAD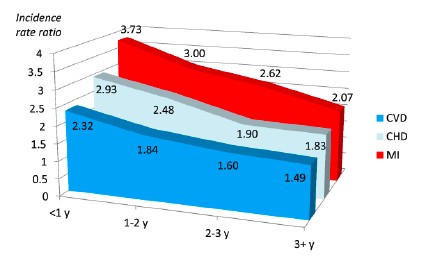 With each year since DAD Study participants quit smoking, incidence rate ratios for myocardial infarction (MI), coronary heart disease (CHD), and cardiovascular disease (CVD) (see text for definitions) declined significantly or nearly significantly.75

A nationwide study of everyone in Denmark with diagnosed HIV infection and a matched group of HIV-negative people figured that a 35-year-old smoker with HIV could expect to live to the age of 62.6, whereas a 35-year-old HIV-positive nonsmoker would probably celebrate his 78th birthday.76 These researchers calculated a much higher death risk due to smoking than figured in the SMART study (61.5% versus 24.3%). Among people without HIV in the Danish study, smoking could explain 34.2% of all deaths. HIV-positive people who smoked had more than a 4.4 times higher risk of death than HIV-positive people who never lit up. The death risk was only 1.7 times higher in HIV-positive former smokers than in people who never smoked.
Smoking appears to abuse arteries more in people with HIV than in HIV-negative people, according to results of a study comparing carotid intima-media thickness (cIMT, Figure 3) in 166 men and women with HIV and 152 healthy HIV-negative people.77 Multivariate regression modeling that considered gender, race, and classic heart risk factors identified a significant three-way interaction between age, smoking burden, and HIV status with respect to cIMT (P < 0.01). This interaction indicated that more smoking and older age had a bigger negative impact on cIMT in people with than without HIV.
How to Make HIV-Positive Smokers Ex-Smokers
Many a clinician will attest familiarity with the foregoing dizzying data -- or similar findings that crowd the medical literature. And most HIV-positive smokers say they're already thinking of quitting.78 Yet HIV providers in a US veterans study were less likely than non-HIV providers even to know if their patients smoked.79 This 143-provider analysis determined that infectious disease specialists were almost 3 times more likely than generalists not to know whether a patient smoked. If findings like these hold true for HIV providers outside the Veterans Affairs system, educating providers seems a good place to start a smoke-ending campaign in people with HIV.
HIV heart maven James Stein and coauthors advise colleagues to take the 5A approach to encouraging patients to break the smoking habit (Figure 11).71 Because effective medications have become available, Stein and colleagues believe "pharmacotherapy is the preferred approach to smoking cessation." Nicotine replacement products now come in gum, lozenges, transdermal patches, inhalers, and sprays.73 In the interview in this issue, Stein notes that dual pharmacologic therapy -- with a nicotine patch and lozenge -- proved most effective in one randomized trial. Bupropion or varenicline may work for people who have no success with nicotine replacement. SMART investigators caution, though, that these drugs may interact with antiretrovirals, so consulting an HIV pharmacologist or a reliable drug interaction website is prudent.73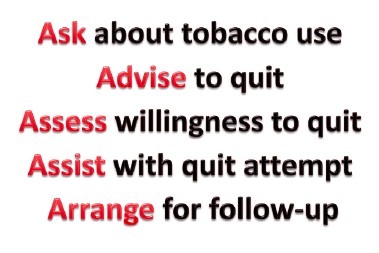 HIV heart sages recommend the 5As for getting patients to conquer their nicotine habit.71

Clinicians may not realize that the Department of Health and Human Services rounded up 24 physicians and scientists who assembled 276 pages of guidelines on treating tobacco use and dependence.80 Providers who prefer not to scour every page of that report would do well to scan the "ten key guideline recommendations" on pages 6 through 8, accessible at the link in the reference list.80 The National Heart Lung and Blood Institute offers a straightforward online patient-directed guide, "Strategies to quit smoking."81
SMART investigators stress that smokers often make many attempts to stop before succeeding.73 Smokers with HIV should know this so they can muster the resolve to try again after one or a few futile tries. And clinicians should know this so they don't quit supporting would-be quitters. Stein and colleagues observe that the best time to campaign against smoking is before a patient starts.71 Avoiding nicotine is easier than subduing the addiction, and years of cumulative damage can be sidestepped. Clinicians caring for adolescents with HIV, take note.
Alcohol, Cocaine, and Coronary Heart Disease
Besides tobacco use, two other substance problems figure mightily in cardiovascular risk. The CDC lists one of them, alcohol,8 but not the other, cocaine.
Alcohol Abuse
Getting drunk boosts chances of transmitting or acquiring sexually transmitted infections, including HIV. The CDC offers a sobering list of long-term health risks from drinking, including dementia, stroke, and neuropathy; depression, anxiety, and suicide; liver, colon, mouth, throat, and esophageal cancer; alcoholic hepatitis and cirrhosis; pancreatitis and gastritis; miscarriage and stillbirth; and cardiovascular disease -- including myocardial infarction, cardiomyopathy, atrial fibrillation, and hypertension.82
Research in the general population shows that, compared with abstinence, low to moderate drinking (20 g daily) eases the risk of coronary heart disease, while heavy drinking (70 g daily) hikes the risk.83 This J-shaped curve describing the relation between alcohol volume and heart risk starts its upward swing into the danger zone between 25 and 50 g daily. Five ounces of wine, 12 ounces of beer, and 1.5 ounces of 80-proof liquor contain about 14 g (1.2 tablespoons) of alcohol,82 so routinely downing four drinks puts one on the road to perdition.
The most illuminating study of alcohol and heart disease in people with HIV found that heavy drinking boosts cardiovascular risk in HIV-positive men -- perhaps more than in HIV-negative men.84 This Veterans Aging Cohort Study (VACS) analysis involved 4743 HIV-positive and negative (and demographically similar) veterans. The analysis excluded women and lifetime abstainers. The VACS team defined infrequent or moderate drinking as 14 or fewer drinks weekly and no binge drinking; hazardous drinking meant more than 14 drinks weekly or binge drinking. The VACS team defined cardiovascular disease by self-report survey and ICD-9 codes. The 2422 HIV-positive and 2321 HIV-negative men both averaged about 50 years in age; about two thirds were black and one quarter white.
Compared with HIV-negative vets, the HIV-positive group had higher proportions of infrequent or moderate drinkers (45.9% versus 42.9%) and current hazardous drinkers (33.2% versus 30.9%), but a lower proportion who ever had an alcohol dependence diagnosis (20.9% versus 26.2%) (P < 0.001). The HIV-positive group included significantly lower proportions with key heart risk factors -- hypercholesterolemia, diabetes, hypertension, current smoking, and high body mass index.
Among HIV-positive vets, hazardous drinking and alcohol abuse and dependence each independently boosted the odds of cardiovascular disease prevalence about 50%, compared with infrequent or moderate drinking, after adjustment for age, race/ethnicity, traditional heart risk factors, HCV and liver disease, kidney disease, exercise, education, CD4 count, and adherence to cART:
Hazardous drinking: adjusted odds ratio 1.43, 95% CI 1.05 to 1.94
Alcohol abuse or dependence: adjusted odds ratio 1.55, 95% CI 1.07 to 2.23
Notably, the links between heavy drinking and heart disease did not hold true in HIV-negative vets, a finding "suggesting the effect of alcohol may be more pronounced among those infected with HIV."84
In HIV-positive vets, a familiar list of classic risk factors also hoisted odds of heart disease in this analysis, including older age, high cholesterol, diabetes, hypertension, and current smoking. Kidney disease (defined as glomerular filtration rate below 30 mL/min) more than doubled chances of cardiovascular disease (aOR 2.39, 95% CI 1.24 to 4.61). Regular exercise lowered odds of heart disease almost 20%, though that association fell short of statistical significance (aOR 0.81, 95% CI 0.62 to 1.05).
Cocaine Use
More than a few gay and bisexual men, injection drug users, and other substance abusers use cocaine. Some clinicians may not realize that many HIV-positive US women also use cocaine and crack cocaine. A study of 1686 HIV-positive women enrolled in the Women's Interagency HIV Study in 1996-2004 found that 29% used crack during the study period.85 An analysis controlling for other risk factors figured that persistent crack users ran more than a 3 times higher risk of AIDS death than nonusers. Persistent crack users also lost more CD4 cells and had higher viral loads than women who did not use crack.
A longitudinal study of 736 gay and bisexual men in San Francisco found that cocaine, methamphetamine, and popper use declined over 48 months in older men but rose during the same period in younger men.86 Compared with men who did not use these drugs, those you used them less than weekly or at least weekly were more likely to have condom-free anal sex with an HIV-positive or status-unknown partner.
HIV clinicians who care for youngsters should realize cocaine habits can start in high school. The national Youth Risk Behavior Survey found that more than 1 in 20 youngsters in the 9th to 12th grades used cocaine at least once in 1993.87 That rate rose to almost 1 in 10 in 1999, then drifted down to about 7% in 2011.
Cocaine is not kind to the heart. A general-population study of 479 people 50 and younger admitted to the coronary care unit at a Barcelona hospital found that cocaine use prevalence vaulted from 6.8% in 2001 to 21.7% in 2008 (P = 0.035).88 People younger than 30 had more than a 4 times higher cocaine use rate by urine testing than people 45 to 50 (18.2% versus 4.1%, P = 0.035). Cocaine users had bigger MIs (by troponin I level) than did nonusers, and more cocaine users died in the hospital (8.3% versus 0.8%, P = 0.030).
Two studies of HIV-positive cocaine users at Johns Hopkins University uncovered evidence linking both HIV and cocaine use to coronary artery calcification, an early stage in plaque development that can culminate in coronary heart disease. A cross-sectional study of 192 African Americans in the Baltimore area found a higher prevalence of coronary calcification (measured by computed tomography) in HIV-positive cocaine users (37.6% of 85) than in HIV-negative people who used cocaine (29.8% of 47), HIV-positive people who did not use cocaine (28.6% of 28), or HIV-negative people who did not use cocaine (18.8% of 32).89 These people averaged about 38 years in age and had no symptoms of cardiovascular disease.
Statistical analysis to reckon the impact of HIV and cocaine use (alone and together) on coronary calcification factored in age, body mass index, LDL cholesterol, triglycerides, mean corpuscular volume, and systolic blood pressure. Compared with total calcification volume in HIV-negative nonusers, the total value was higher in HIV-negative cocaine users (regression estimate [RE] 2.59), higher still in HIV-positive nonusers (RE 2.92), and highest in HIV-positive cocaine users (RE 3.49). Compared with HIV-negative nonusers, the other three groups all had a significantly higher number of lesions and a significantly higher total calcium score.
Later work by this Johns Hopkins team involved 165 HIV-positive African Americans from 25 to 54 years old and recruited from August 2003 through June 2007.90 Median age stood at 44 years, and 36% were women; nobody had cardiovascular symptoms. Computed tomography detected significant (50% or greater) coronary artery stenosis in 24 people (15%). Among people who used cocaine at least 15 years and took antiretrovirals for at least 6 months, that rate reached 42%. Regression analysis determined that using cocaine at least 15 years hoisted the odds of significant stenosis almost 8 times (aOR 7.75, 95% CI 2.26 to 31.2), while cART for at least 6 months more than quadrupled the odds (aOR 4.35, 95% CI 1.30 to 16.4).
Duration of stavudine or Combivir drove the association between longer cART and significant stenosis. At least 6 months of stavudine boosted the odds 18 times, while at least 6 months of Combivir raised the odds almost 6 times. Antiretrovirals not associated with significant stenosis in this 6-month duration analysis were zidovudine or lamivudine alone (that is, not as part of Combivir), didanosine, efavirenz, nevirapine, nelfinavir, indinavir, lopinavir, and atazanavir. Odds for abacavir could not be calculated because not many people had used it. Long-term cocaine use, these researchers concluded, "imposes an alarming risk of coronary artery disease."90