Cardiovascular Risk With HIV: How Different and Why?
On its website the CDC lists nine heart risk factors grouped into four categories (Table 1).8 Besides leaving out a personal history of heart disease, the list omits at least 11 risk factors closely studied in people with HIV, many of which apply to the general population as well (Table 1). The following review considers most of these risk factors, one by one, with special emphasis on variables probed in studies with clinical endpoints.
Table 1. Cardiovascular Risk Factors in the General Population and in People With HIV
CDC List of Risk Factors8
Risk Factors Studied in People With HIV
Conditions
Abnormal lipidsF
High blood pressureF
Diabetes
Conditions

Abnormal lipidsF
High blood pressureF
Diabetes
Personal history of heart disease*
Poor kidney function
HCV coinfection
Vitamin D deficiency or insufficiency
Inflammation
Behaviors
Tobacco useF
Poor diet
Physical inactivity*
Obesity
Excessive alcohol use
Behaviors

Tobacco useF
Poor diet
Physical inactivity*
Obesity
Excessive alcohol use
Cocaine use
Hormonal contraceptive use
Family History*
--
Family History*
HIV-specific factors:
Antiretroviral therapy†
Lower CD4 count†
Higher viral load†

* Not considered in this review article.

† Considered in a separate review article in this issue.

F The Framingham tool for estimating 10-year risk of myocardial infarction considers age, gender, total cholesterol, high-density lipoprotein cholesterol, smoking, systolic blood pressure, and anti-hypertensive therapy in people who do not already have heart disease or diabetes.

This review leaves out male gender and older age, virtually certain predictors of higher heart disease risk in any study including men and women across a range of ages. This analysis also sets aside the knotty question of whether heart disease arises at a younger age in HIV populations. (A recent Veterans Aging Cohort Study audit found it does not.9) This review also excludes analysis of many individual biomarkers because clinicians are unlikely to measure things like D-dimer and sCD14 when reckoning a patient's cardiovascular risk.
A spate of DAD Study analyses piqued interest and stirred controversy with their findings that certain protease inhibitors, abacavir, and didanosine upped the risk of myocardial infarction in people with HIV. But these studies, and countless others, consistently show that classic risk factors weigh heavily in the risk equations of people with HIV. A 2007 DAD inquest found, for example, that age, male gender, a previous cardiovascular event, smoking, diabetes, and dyslipidemia each strongly and independently inflated the risk of myocardial infarction.10
Advertisement
Yet classic cardiovascular risk factors do not hold true across studies of all HIV populations -- they vary with the make-up of the study group and the methods applied. For example, a comparison of 1525 HIV-positive veterans and 843 HIV-negative veterans found that the HIV group shouldered a heavier burden of prevalent cardiovascular disease, hypertension, diabetes, obesity, hazardous drinking, and renal disease.11 But veterans without HIV were more likely to smoke and to have HCV infection and out-of-line lipids.
Statisticians working with the French Hospital Database on HIV figured in 2010 that HIV-positive men have a 40% higher risk of myocardial infarction (MI) than men in the general population, and HIV-positive women have almost a tripled MI risk compared with other women.12 In the United States a comparison of 3851 HIV-positive people in a Boston healthcare system and over 1 million people without HIV also found that HIV-positive men had a 40% higher MI risk than the comparison group, while women again had a 3-fold higher risk.13
A study comparing all 3953 HIV patients in Denmark from 1995 through 2004 and a general-population group of 373,856 people yielded similar results.14 Compared with the general population, HIV-positive people who had not begun combination antiretroviral therapy had a 39% higher risk of getting admitted to the hospital for ischemic heart disease, though this difference stopped short of statistical significance (adjusted relative risk, 1.39, 95% confidence interval [CI] 0.81 to 2.33). After people with HIV started antiretroviral therapy, they had a doubled (and significant) risk of hospital admission for heart disease (adjusted relative risk 2.12, 95% CI 1.62 to 2.76). But this risk did not grow through the first 8 years of antiretroviral treatment.
Although analyses like these12-14 try to account for the impact of critical risk factors, heart disease adepts who scrutinize such studies urge caution in parsing the results. The University of Wisconsin's James Stein, among the top authorities in this field, counsels that most data suggesting heightened heart disease risk with HIV come from observational studies "with important methodological limitations, including short durations of follow-up, low CVD event rates, incomplete ascertainment of risk factors and events, and a lack of HIV-negative controls."15 The Massachusetts study, for example, had an HIV-negative comparison group and adjusted calculations for age, gender, race, hypertension, diabetes, and lipids but couldn't account for one cardinal cardio factor -- smoking.13 Danish investigators were also unable to adjust for smoking in their hospital admission study.14
Meta-analysis of studies assessing heart disease risk in HIV-positive people compared with HIV-negative groups determined that antiretroviral-naive people with HIV ran a 61% higher risk (relative risk [RR] 1.61, 95% CI 1.43 to 1.81).16 Antiretroviral-treated people had a doubled risk of cardiovascular disease compared with the general population (RR 2.00, 95% CI 1.70 to 2.37) and a 52% higher risk than treatment-naive HIV-positives (RR 1.52, 95% CI 1.35 to 1.70).
After considering this study, US antiretroviral guideline writers echoed James Stein in noting that such comparisons of HIV-positive groups and the general population must typically omit a few critical factors like smoking and often cannot tame a statistical bugbear called competing risks.17 Competing risks can skew statistical analyses when people in a study group succumb to some illness or outcome other than the one being analyzed. For example, an HIV group being assessed for incident myocardial infarction may die first from kidney failure (the competing risk), whereas if they had lived they may have ended up in the group with a new MI.
Researchers working with the Veterans Aging Cohort Study (VACS) tried to conjure a relatively unbiased estimate of myocardial infarction risk with HIV by comparing HIV-positive veterans with an age- and race-matched HIV-negative group behaviorally similar to the HIV group.18 Rates of drinking and cocaine use, for example, were similar in vets with and without HIV, and the Framingham risk score was 6 (low risk) in both groups. None of these veterans had heart disease when they joined the study group, and all were in care at some point between April 2003 and December 2009.
Through a median follow-up of 5.9 years, 82,459 veterans had 871 acute MIs, and MI incidence proved consistently higher in vets with HIV in three age brackets (P < 0.05 for all comparisons):
MI incidence (per 1000 person-years) in veterans with and without HIV:
40 to 49 years: 2.0 with HIV versus 1.5 without HIV
50 to 59 years: 3.9 with HIV versus 2.2 without HIV
60 to 69 years: 5.0 with HIV versus 3.3 without HIV

After statistical adjustment for Framingham risk factors (see Table 1 footnote), comorbidities, and substance use, veterans with HIV had almost a 50% higher MI risk (adjusted hazard ratio [aHR] 1.48, 95% CI 1.27 to 1.72). When the researchers focused only on veterans with a viral load below 500 copies/mL, this HIV-positive subgroup still had almost a 40% higher MI risk than veterans without HIV (aHR 1.39, 95% CI 1.17 to 1.66).
Despite the clever plan of this VACS study,18 like all efforts to reckon whether HIV-positive people run a higher risk of heart disease, it falls short in several ways underlined by the authors. From their list of five possible limitations, the most important is that 97% of study participants were men, so the results do not apply to women. Another limitation they do not mention, perhaps because it is so obvious, is that these veterans have ready access to free care for life. So the results may not hold for the many HIV-positive US men who fall in and out of care and have trouble paying for it.
Myocardial infarction and other heart maladies are hardly the only cardiovascular diseases that seem to affect HIV-positive people more than coevals without HIV. A comparison of HIV-positive and negative people in a Boston healthcare system figured that those with HIV had about a 20% higher risk of ischemic stroke (resulting from clots rather than ruptured vessels).19 The study focused on HIV-positive and matched HIV-negative people seen between 1996 and 2009. Over that period stroke incidence measured 5.27 per 1000 person-years in the HIV group and 3.75 in the non-HIV group. After statistical adjustment for demographics and stroke risk factors, people with HIV had about a 20% higher ischemic stroke risk (aHR 1.21, 95% CI 1.01 to 1.46, P = 0.043). The study linked a higher viral load to a heightened stroke risk.
Some evidence suggests swifter vascular disease progression in people with than without HIV. Using noninvasive ultrasonography to measure carotid intima-media thickness (cIMT), a sturdy marker of subclinical atherosclerosis, offers a safe way to track such changes (Figure 3). A cIMT at or above 0.9 mm is abnormal. cIMT is especially useful in HIV populations, James Stein notes, because most HIV groups studied are relatively young and have a low short-term risk of cardiovascular disease.15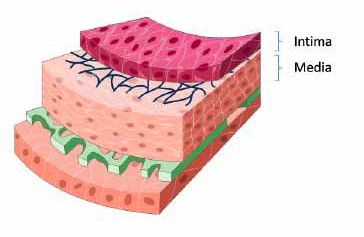 Carotid intima-media thickness (cIMT) measures the two inner layers of the carotid artery, the intima and the media, and offers a noninvasive look at subclinical atherosclerosis and progression. (Illustration from Servier Medical Art.)

Meta-analysis of 19 cross-sectional studies confirmed significantly higher cIMT in people with HIV than in HIV-negative comparison groups.20 A longitudinal comparison of cIMT in people with and without HIV found that 148 HIV-positive people had an abnormal average baseline cIMT (0.91+/-0.33 mm), significantly higher than the average 0.74+/-0.17 mm in 63 age- and sex-matched controls.21 Comparing 121 HIV-positive and 27 HIV-negative people with a second cIMT a year later showed significantly greater progression in the HIV group (0.074+/-0.13 mm versus -0.006+/-0.05 mm). A nadir CD4 count at or below 200 cells/mm3 tended to predict cIMT progression (P = 0.082).
Age averaged a relatively young 45 years in this longitudinal comparison.21 Another longitudinal study tracked cIMT over time in HIV-positive children and young adults from 2 to 21 years old.22 Even at these tender ages, the 35-person HIV group had a significantly higher (and already abnormal) baseline cIMT than did 37 matched controls in both the internal carotid artery (0.90 versus 0.78 mm, P = 0.01) and the common carotid artery (1.00 versus 0.95 mm, P = 0.05). After 48 weeks of follow-up, though, cIMT of both arteries decreased significantly in the HIV group (-0.23 mm and -0.15 mm, P = 0.01 for both). Over those 48 weeks, CD4 percent rose and low-density lipoprotein (LDL) cholesterol fell in people with HIV, findings leading the authors to suggest that "lipid control, immune restoration, and viral suppression with continuous antiretroviral therapy" may prevent cIMT worsening in children and young adults.
Still, the prospect of nearly lifelong HIV infection and cART poses special concerns for children infected at birth or early in life. A 3035-child US study found that cardiomyopathy developed in 99 of them through a median 5.5 years of follow-up.23 Cardiomyopathy incidence stood at 5.6 per 1000 child-years, a rate 40 times higher than in the general population. Triple antiretroviral therapy halved the risk of cardiomyopathy, but taking zidovudine boosted cardiomyopathy risk 90%. (US pediatric antiretroviral guidelines list zidovudine as a preferred first-line antiretroviral for infants, children, and adolescents through puberty.24) Ongoing research on cardiovascular disease in HIV-positive children deserves special attention not only from pediatricians, but also from clinicians who will start caring for these youngsters when they reach their late teens and 20s.
Given the added heart risk burden HIV groups tote, can clinicians rely on risk formulas devised for the general population, like the Framingham Risk Score? The short answer seems to be no -- because the Framingham index does not account for important HIV-specific variables. The DAD Study group fashioned three HIV-specific risk tools -- one for myocardial infarction, one for coronary heart disease, and one for a composite endpoint.25 All three models proved more accurate than Framingham in a 22,625-person analysis. The final article in this issue of RITA! details differences between the Framingham and DAD tools. And in an interview in this issue, James Stein advises HIV clinicians on what they can learn from a Framingham score.