Table of Contents
Introduction
Abstract
Cohort studies show that cardiovascular disease affects HIV-positive people more often than HIV-negative comparison groups. People with HIV carry a heavy burden of classic and HIV-specific cardiovascular risk factors. HIV itself and combination antiretroviral therapy (cART) appear to inflate cardiovascular risk about 50% in adults and children. At the same time, cART eases cardiovascular disease risk in various ways. Hypertension is highly prevalent in HIV populations and has a profound impact on cardiovascular and overall mortality. A Mediterranean diet rapidly cut rates of MI, stroke, and cardiovascular death in a randomized trial of high-risk people in the general population of Spain. But studies of this diet in small HIV-positive groups have yielded mixed results. Smoking prevalence stands twice higher in HIV-positive than HIV-negative US residents, and smoking may account for one quarter of all deaths and new diagnoses of cardiovascular disease, non-AIDS cancer, and bacterial pneumonia in people with HIV. US research shows that many HIV providers do not even know if their patients smoke. Some evidence suggests heavy alcohol drinking may boost cardiovascular risk in HIV-positive men more than in HIV-negative men. More than 7% of HIV-positive people in the United States have stage 3 or worse chronic kidney disease, which has a great impact on risk of cardiovascular events and heart failure.

When someone fashioned the handy acronym HAART in 1996, it seemed an apt and mnemonically friendly way to name the triple-drug strategy that wondrously reversed the course of AIDS. But it took only 2 years of HAART use to discover what a ruefully sardonic moniker HAART would be. In May 2008, fewer than 24 months after the watershed Vancouver AIDS Conference, Keith Henry and colleagues in Minnesota reported "severe premature coronary artery disease" in two men taking protease inhibitors -- one 26 years old and the other 37.1 Looking at 124 people taking PIs, Henry discovered that a third of them had high lipids. He urged colleagues "to be aware that patients receiving protease inhibitors have the potential for accelerated atherosclerosis." (This watershed report appeared as a 1-page letter in The Lancet, after the journal rejected a full-length article with angiograms.)
Everyone knows now that Henry's two young men were no anomalies, but instead harbingers of a heart disease surge that dogs HIV clinicians and disables or kills their patients to this day. In March 2013 a PubMed search for "cardiovascular disease" and "HIV" returned 5225 entries in a remorseless crescendo more than doubling from 163 citations in 1998, the year of Henry's study, to 389 in 2012 (Figure 1).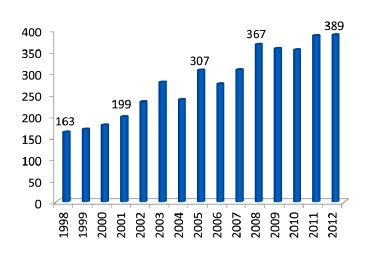 Published reports on cardiovascular disease (CVD) and HIV swelled from 163 in 1998, only 2 years after the introduction of HAART, to 389 in 2012.

Today only the most forbearing experts mapping the interlacings of HIV and cardiovascular disease can resist the heart/HAART homophone. But whatever their rhetorical indiscretions, after 15 years these experts -- and allied pathophysiologists, epidemiologists, and statisticians -- have offered some solid answers to questions posed by Keith Henry's 1998 case reports:1 Did HIV infection cause heart disease in these young men? Or was it the protease inhibitors? Or both? Or something else? Unfortunately for those preferring clean causal pathways, the answer to all four questions seems to be yes.
At the same time, HIV heart experts hasten to caution, a causal relationship between HIV or combination antiretroviral therapy (cART) and cardiovascular disease can be established only in a randomized controlled trial, and such a trial -- were it even feasible -- would have to be large and long.2 This particular HIV/heart brain trust propose that HIV and antiretrovirals can flick the risk of cardiovascular disease (CVD) in three ways (Figure 2)2:
HIV may be a marker of a subgroup in the general population that has a heightened prevalence of one or more risk factors unrelated to HIV or cART per se, such as smoking and drinking alcohol.
HIV or cART may sway the risk of traditional risk factors, such as abnormal lipids.
HIV or cART may affect the pathogenic process via nonclassic routes, such as relentless immune activation and smoldering inflammation.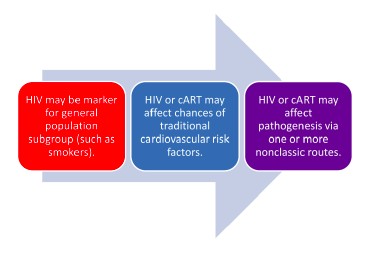 An international panel of experts on heart disease in HIV-positive people outlined three routes by which HIV, its treatment, or both may contribute to development of cardiovascular disease.2

"Importantly," these authorities add, "there is substantial evidence to suggest that all 3 mechanisms are in operation and affect the risk of cardiovascular disease in patients infected with HIV."2 In other words, it's hard to figure out what's going on. But steadfast research since those first case reports has afforded HIV clinicians a firm footing from which to evaluate, test, counsel, and treat people with HIV who may be headed for heart trouble. The thousands of studies addressing these issues can hardly be boiled down to tidy take-home ABCs, but several points -- discussed in detail throughout this issue -- are clear:
Cardiovascular disease has emerged as a leading cause of non-AIDS death in large international and US cohort studies.
Cardiovascular disease affects HIV-positive people more often than HIV-negative comparison groups.
People with HIV carry a heavy burden of classic and HIV-specific cardiovascular risk factors.
Advertisement
Heart Disease Mortality in People With HIV
Cardiovascular disease kills more people in the United States than any other malady, felling 600,000 people a year,3 a number higher than the population of Luxembourg. For every 3 people in the United States who die of something else, 1 dies of heart disease. So maybe we shouldn't be surprised that so many Americans with HIV get heart disease and die from it. But when one considers the grisly array of mortal threats people with HIV face -- still led by AIDS in most analyses -- heart disease exacts a stunning toll in the United States and Western Europe.
A EuroSIDA study with follow-up starting in January 2001 tracked death rates and causes in 12,844 HIV-positive people.4 During follow-up AIDS arose in 1025 people and 339 (33%) of them died. In the same period 1058 people had a serious non-AIDS diagnosis and 462 (44%) died. Of the 1058 non-AIDS diagnoses, heart disease accounted for 384 (36%), more than attributed to non-AIDS cancer (380), liver-related disease (183), pancreatitis (81), or end-stage renal disease (35).
The Data Collection on Adverse Events of Anti-HIV Drugs (DAD) Study gathers and deciphers stats on more than 49,000 HIV-positive people in Europe, the United States, and Australia. Parsing input from 33,308 cohort members with data culled up to February 2008, the DAD team counted 2482 deaths, with AIDS causing the highest proportion (29.9%).5 Cardiovascular deaths accounted for 11.6% of the tally, just behind liver-related deaths (13.7%) and ahead of deaths from non-AIDS cancer, invasive bacterial infection, kidney disease, and pancreatitis.
The HIV Outpatient Study (HOPS) has tracked HIV-positive people in 10 US cities since 1993. An analysis of 6945 patients seen from 1996 through 2004 logged 702 deaths.6 In 2004 cardiovascular disease, liver disease, and non-AIDS cancers each accounted for 23.5% of non-AIDS deaths. Rates of cardiovascular death did not rise significantly over the study period. And in one analysis figuring non-AIDS diseases as primary or secondary causes of death with or without an AIDS disease, the cardiovascular death rate fell significantly from 1996 through 2004 (P = 0.01).
In contrast, French researchers canvassing a larger, national HIV cohort charted a burgeoning trend in heart deaths.7 Surveys in 2000, 2005, and 2010 saw the proportion of deaths caused by heart trouble balloon from 8% to 10% to 14%, a highly significant jump (P < 0.0001). In 2010 AIDS retained its top mortality ranking, accounting for 25% of deaths, followed by non-AIDS non-liver cancers (22%) and cardiovascular disease (14%). Heart disease vaulted from fourth place in 2005 to third in 2010, swapping spots with liver disease.