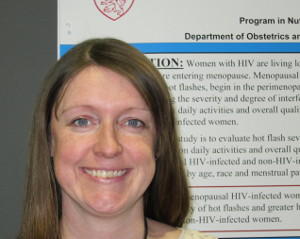 Sara Looby, Ph.D., ANP-BC
At the 20th Conference on Retroviruses and Opportunistic Infections (CROI 2013), we spoke with Sara Looby, Ph.D., ANP-BC, a research nurse practitioner with the Program in Nutritional Metabolism at Massachusetts General Hospital in Boston. Dr. Looby summarizes her study, which found greater severity of hot flashes in HIV-infected women experiencing menopause than in an HIV-uninfected matched control group.
Can you start by telling us a little bit about what led you to be interested in this topic?
My background in the Neuroendocrine Unit at Massachusetts General Hospital has been looking at metabolic indices among men and, predominantly, women with HIV. As we know, and as we've learned in the study, women are living longer with the virus. And many of them are entering menopause.
My poster today is part of several aims of an ongoing longitudinal study that's looking at both metabolic indices and vasomotor symptoms that are associated with menopause among carefully matched perimenopausal women with and without HIV.
Advertisement
Specifically, what I was interested in in this study was to look at the presence of hot flash severity, and whether or not women with HIV have more severe hot flashes, and whether or not these hot flashes have a greater overall interference with mood, relationships, and overall quality of life.
For this study, we recruited perimenopausal women, carefully matched by age, race and menstrual patterns. We administered to them a scale known as the Menopause Rating Scale (MRS). This is a collective scale to assess severity of menopause-associated symptoms, including hot flash severity.
We also had them complete the Hot Flash Related Daily Interference Scale. This scale assesses the impact of hot flashes on daily activity and quality of life. We ended up using Item 1 of the MRS to evaluate hot flash severity in this population. That instrument in particular asks women if they are experiencing hot flashes, and to rate them as: none at this time; mild; moderate; severe; or very severe.
In terms of our study results, we ended up recruiting 33 HIV-infected and 33 non-infected women in perimenopause. As planned, they were matched by age, race and menstrual patterns. They were perimenopausal, with the mean number of periods in the last year about six. The HIV-infected women who were perimenopausal did experience greater hot flash frequency; and they also experienced greater hot flash severity. When we compare this difference between the two groups, the HIV-infected women reported more moderate severe hot flashes, compared to mild severe hot flashes reported in the matched controls.
Also, the HIV-infected women reported greater collective symptom severity, as indicated by higher MRS total scales. And they reported significantly higher interference by hot flashes in daily activities, work, social activities, sleep, mood, relationships with others, and overall quality of life.
The study is underpowered -- or, it is cross-sectional in nature; so it's difficult to determine causality. However, I think the take-home message for providers is that, although we need further research in this area, especially to determine causality, it's important as more women with HIV approach menopause that they are assessed for hot flashes, degree of hot flash severity, and how much these hot flashes are interfering in their daily life, mood, and overall quality of life -- particularly because many of these women already experience high indices of depression and reduced quality of life because of HIV-related issues.
For these women who are experiencing these more severe hot flashes, what are you thinking about in terms of treating that particular symptom? Because if this is about quality of life, then hot flash severity that can affect daily activities of living such as sleep or mood could be stressful to women living with HIV. And we know stress is not good for people who are not HIV infected; but it's particularly bad for people who do have HIV. I would imagine this might be a very stressful period in these women's lives.
Absolutely. And we know that from several studies done in non-HIV-infected women that perimenopause is a very challenging time for many women, because of hormone fluctuations, stress and other complications to quality of life, and psychological and physical well-being, for that matter.
In terms of treatment, obviously we do need further investigation of the use of hormone replacement therapy in women with HIV. That used to be the gold standard in treating hot flashes, up till the early 2000s. However, we don't have any current studies evaluating the safety of the use of hormone therapy among HIV-infected women.
However, there have been several studies conducted in perimenopausal, menopausal, and postmenopausal women without HIV on the use of medications in categories of SSRIs (selective serotonin reuptake inhibitors) and SNRIs (serotonin-norepinephrine reuptake inhibitors), as well as other medications such as gabapentin, that have very favorable results in reducing hot flashes.
We also know that hot flashes can be influenced in non-HIV-infected perimenopausal women by smoking; also by lack of exercise, or sedentary lifestyle. And some studies, although conflicting, have showed the relationship between diet and hot flash severity.
So I would recommend, in addition to looking at SSRI or SNRI use in this population to treat hot flashes, also reducing modifiable risk factors -- smoking, improving diet and exercise -- to see the impact that these things may have.
There are also several studies looking at the use of omega-3 fatty acid supplements and soy products in this population of perimenopausal women. The use of these has not been specifically evaluated in HIV-infected women, but this would certainly be interesting and helpful to look at in the future.
Do you have plans to continue looking into this topic?
Yes. This is baseline data here, a snapshot of one of a couple aims for an ongoing longitudinal study, and following these women over the course of a year. The study will be completed in May of this year, 2013. My next step is to look at the baseline and 12-month data, and see what's happened over time, if there are any differences, if these differences sustain among HIV-infected women. And, based on the findings of the longitudinal data, I'm hopeful I will attain grant funding to pursue exactly what you mentioned: potentially interventions to help improve these symptoms and overall quality of life in this population.
This transcript has been lightly edited for clarity.
Terri L. Wilder, M.S.W., is a director of HIV/AIDS education and training in New York City.
Copyright © 2013 Remedy Health Media, LLC. All rights reserved.