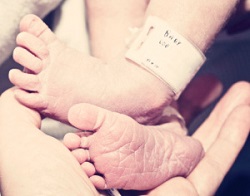 At the 20th Conference on Retroviruses and Opportunistic Infections (CROI) in Atlanta this past week, the announcement of the "functional cure" of a baby who tested positive for HIV in Mississippi captured the attention of the world. The baby, now two and a half, has an undetectable viral load despite not having taken medication in ten months. After being born prematurely at 35 weeks to a mother who tested positive for HIV at the hospital, the infant was also tested for HIV at 30 hours of age. The test results found a fairly low level of virus in the infant, suggesting the infection occurred in the womb. The test results were duplicated five times, giving the researchers working on the case confidence that the baby was actually infected. Dr. Hannah Gay of the University of Mississippi Medical Center started the infant on liquid antiretroviral treatment consisting of three anti-HIV drugs: zidovudine, lamivudine, and nevirapine prior to receiving confirmation of HIV. This is a more aggressive course of treatment than is usual for newborns with infected mothers, who would normally only receive one or two drugs as part of a prophylactic measure. However, after one month of this aggressive treatment regimen, the baby had an undetectable viral load. The baby maintained an undetectable viral load until 18 months of age, at which point the mother and child fell out of care and the child was no longer on antiretroviral therapy. Nearly six months later, the child returned to care and was found to have no detectable viral load and no HIV-specific antibodies. Furthermore, what tiny amounts of viral genetic material remain are unable to replicate.
While controversy and excitement have surrounded this case, it is important to remember that this is a single study that has not yet been peer-reviewed or published. Dr. Deborah Persaud of Johns Hopkins University School of Medicine announced the case at CROI and reported that efforts are currently underway to investigate whether such a functional cure is possible for larger numbers of infants. Until further research including clinical trials has been conducted, Dr. Eric Goosby, U.S. Global AIDS Coordinator, advises that clinicians continue to follow the established guidelines for the testing and treatment of infants.
What is perhaps most unsettling about this case is that the mother of the child had not received any prenatal care whatsoever before arriving at the hospital and giving birth prematurely. If the mother had accessed prenatal care, she would have been tested for HIV prior to giving birth and placed on AZT to greatly lower the risk of transmission to her child. Furthermore, both the mother and child fell out of care for nearly six months, highlighting the need to prioritize retention in care in order to ensure better health outcomes. From AIDS United's view, it is unacceptable for an expectant mother in the United States today to not have access to prenatal care, and we must continue to advocate for services that may be lacking in rural areas to ensure that all woman have competent and comprehensive access to necessary resources. We must also work to ensure that woman around the world have access to prenatal care.
(Please note: Your name and comment will be public, and may even show up in
Internet search results. Be careful when providing personal information! Before
adding your comment, please
read TheBody.com's Comment Policy
.)