We have known for years that antiretroviral therapy can significantly improve the health outcomes of people living with HIV. More recently, research has revealed the important role that antiretroviral therapy plays in preventing the transmission of the virus. As HIV treatment and prevention have converged, attention has turned to how well we are engaging people living with HIV in the continuum of services, including testing, care and, ultimately, effective treatment. The concept of an HIV treatment cascade has emerged as a way to identify gaps in the continuum, which are preventing people from realizing the treatment and prevention benefits of antiretroviral therapy.
This article takes a closer look at the cascade, why it's important for HIV prevention and how it can be improved.
Steps in the HIV Treatment Cascade
Antiretroviral therapy is normally considered successful when it reduces the viral load of a person living with HIV to undetectable levels. Research shows that people who have an undetectable viral load in their blood are more likely to live a long and healthy life1 and are less likely to pass HIV to others.2
For a person living with HIV to achieve an undetectable viral load, they need access to a continuum of services: HIV testing and diagnosis, linkage to appropriate medical care (and other health services), support while in care, access to antiretroviral treatment if and when they are ready, and support while on treatment. This sequence of steps is commonly referred to as the HIV treatment cascade or the HIV care cascade. Unfortunately, the cascade isn't seamless and some people "leak" out and are lost at each step, due to barriers to getting tested, staying in care, and starting or adhering to antiretroviral treatment. These barriers include:
poor access to services;
stigma and discrimination;
poverty, food insecurity and homelessness; and
mental health and addiction issues.3
As a result of these leaks at different points in the continuum, only a small proportion of people living with HIV are engaged in all the steps needed to achieve an undetectable viral load. For example, in the United States it is estimated that only 19% to 28% of people living with HIV have an undetectable viral load (see Figure 1).4,5
Figure 1. Engagement in the HIV Treatment Cascade in the United States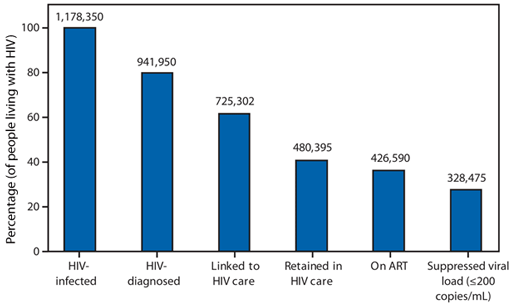 Source: Adapted from the Centers for Disease Control and Prevention -- Morbidity and Mortality Weekly Report, December 2nd, 2011.

There are currently no official estimates for the number of people engaged in the treatment cascade in Canada; however, preliminary data suggest that there are also significant leaks in the cascade in Canada and that the proportion of people with an undetectable viral load may be similar to that in the United States6 (although it likely varies across regions and for different populations).
Advertisement
Patching the Cascade to Improve Treatment and Prevention
Poor engagement of people living with HIV with healthcare and social services limits the effectiveness of our HIV programs and our response to the HIV epidemic. Increasing the number of people engaged at all levels of treatment and care may both improve the health of people living with HIV and reduce new HIV transmissions. Increasing engagement in the cascade requires programs that address the multiple barriers.
However, we do not know what the "ideal" cascade should look like and aiming to get everyone living with HIV on successful treatment is not realistic, nor would it be ethical. It's critical that efforts to better engage people in services do not come at the cost of individual rights and that we make sure clients and patients are ready and willing to take each step. To ensure informed consent, the risks and challenges that come with testing positive for HIV and starting treatment need to be explained to clients and patients before they make these important decisions.
Let's take a look at each step of the cascade, its importance for treatment and prevention, and how we might be able to better engage people in each step.
HIV Testing and Diagnosis
An estimated 26% of people living with HIV in Canada do not know they have HIV.7 Reducing the number of people who are unaware of their HIV status requires increased uptake and frequency of HIV testing.
Increasing the frequency and rates of HIV testing will help diagnose people sooner after they have become infected with HIV. Currently, many people in Canada are not learning about their HIV status until late in their HIV disease, when they start to develop symptoms or opportunistic infections.8 At this point, antiretroviral treatment can help improve their health, but not as effectively as when treatment is started earlier.9,10 Furthermore, research suggests that a disproportionate number of HIV transmissions originate from people who are unaware of their HIV status because they are less likely to take measures to prevent transmitting the virus to others11 and are more likely to have a higher viral load, particularly if they have recently become infected and are in the acute stage of HIV infection.12 Earlier diagnosis is therefore important for both the health of a person living with HIV and for preventing the transmission of the virus.
These are some of the interventions being used in Canada to promote HIV testing and diagnose people earlier:
Campaigns to improve awareness of HIV risk and encourage people to get tested regularly. Campaigns such as Get on it in Ontario, Find out where you stand in Montreal, and What's your number? and Hottest at the Start in Vancouver encourage gay men and other men who have sex with men to test regularly for HIV. Some of these also aim to improve awareness of acute HIV infection and its role in HIV transmission.
Improving access to more acceptable types of HIV testing, such as point-of-care (POC) antibody testing and peer testing, to increase options for people who want to get tested. For example, POC testing is now more widely available in large Canadian cities. Peer outreach and testing in gay bathhouses is offered by some organizations, such as Toronto's Hassle Free Clinic. In Montreal, the SPOT Project offers gay men anonymous HIV rapid testing and counselling as well as a full range of tests for sexually transmitted infections (STIs) from a storefront site.
Improving access to tests that have shorter window periods and can detect HIV infection earlier than antibody tests. These tests can help identify people in the acute stage of HIV infection. For example, P24 antigen testing has been used in Ontario since 2010 and a pilot study using nucleic acid amplification (NAAT) testing is currently underway in Vancouver.
Making HIV testing a routine part of healthcare to increase the number of people offered an HIV test. For example, Vancouver is scaling up HIV testing; primary care facilities, acute care hospitals and a few dental clinics in the city are now routinely offering HIV tests to patients.
Integrating HIV testing with testing for other STIs. Some organizations, such as the Hassle Free Clinic, offer an HIV test to anyone seeking STI testing. This greatly increases opportunities for HIV testing since people are more likely to seek testing and treatment for other STIs than for HIV.
Enhanced partner notification services to better identify and diagnose people who may have been exposed to HIV. Some regions, such as Vancouver, are re-examining how they perform partner notification to improve the effectiveness of the service.