This interview was conducted in June 2012.
As part of my work as an HIV cure and salvage treatment activist, I am constantly searching for treatment options that could serve two purposes: help patients with multidrug resistance, and at the same time be used as an approach to cure HIV. Since my nonprofit, Program for Wellness Restoration (PoWeR), has a very small budget for me to attend conferences, I rely on the summaries that Jules Levin and his group at National AIDS Treatment Advocacy Project (NATAP) publish after he attends conferences. I am glad Jules can serve as eyes and ears for those of us who are unable to attend so many important scientific meetings.
Rarely do I come across information about a drug that is already available and that can treat HIV and hopefully also help decrease its reservoirs. While reading one of NATAP's great summaries about the International Workshop on HIV and Hepatitis, which was held in Sitges, Spain, from June 5-9, I came across a completely new approach that could meet the two goals.
One of the abstracts presented by Raymond F. Schinazi, Ph.D., D.Sc., and colleagues was on the topic of a novel series of inhibitors of HIV replication called JAK inhibitors. The JAK-STAT pathway is routinely stimulated in HIV-infected cells and can therefore be perceived as a logical target for drug development. Dr. Schinazi's proof-of-concept study showed that two compounds termed tofacitinib (trade name: Xeljanz; approved by the U.S. Food and Drug Administration [FDA] for rheumatoid arthritis in November 2012, after this interview was conducted) and ruxolitinib (trade name: Jakafi; approved by the FDA for myelofibrosis) demonstrated excellent inhibition of HIV replication at very low concentrations in vitro, as well as against replication of SIV in rhesus macaques. Moreover, these compounds were not toxic at the very low doses required for virus control. The data also suggest that these compounds might interfere with the ability of HIV to achieve latency in a variety of target cell types, and that they were active against all of the variety of forms of drug-resistant HIV that were tested. In addition, these compounds seem to re-activate latent virus hidden in reservoirs, which may help with the "flush-and-kill" approach being studied as part of HIV cure research.
Advertisement
Dr. Schinazi is the Frances Winship Walters Professor of Pediatrics and director of the Laboratory of Biochemical Pharmacology at Emory University. Dr. Schinazi is the founder of several biotechnology companies focusing on antiviral drug discovery and development, including Pharmasset, Triangle Pharmaceuticals, Idenix Pharmaceuticals, and RFS Pharma. He has published over 400 peer-reviewed papers and seven books, and holds more than 100 U.S. patents. He is best known for his innovative and pioneering work on emtricitabine (FTC, Emtriva), lamivudine (3TC, Epivir), stavudine (d4T, Zerit), telbivudine (LdT, Tyzeka), and DAPD (amdoxovir), drugs that are now approved by the FDA or are at various stages of clinical development. His inventions now sell more than US$2.0 billion per year and more than 94% of HIV-infected individuals take at least one of the drugs he invented. Dr. Schinazi has served on the Presidential Commission on HIV and currently serves on the board of trustees of amfAR. Due to his many business accruals and notable academic accomplishments, Dr. Schinazi is internationally recognized as one of the most influential persons in the life science sector.
I contacted Dr. Schinazi and he was happy to speak to TheBodyPRO.com about his findings.
Dr. Schinazi, thank you so much for taking the time to talk to us at TheBodyPRO.com. When I did a search on the Internet about your work, I was blown away. I'm just blown away by all the work, all the patents, published papers and the books. So thank you, because I know you must be a busy person.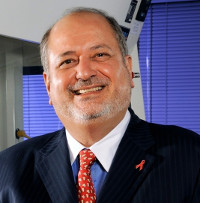 Raymond F. Schinazi, Ph.D., D.Sc.
It's no problem. I'm well known actually in the scientific world, not in the public. I try to keep a low profile, usually, which is hard because when you search my name on the Internet, you probably find so much, but not everything there is true.
I have to say I've been positive for 27 years, and your work has definitely made a difference in my life.
Well, if you're HIV infected, it's very likely you're taking one of my drugs. So I am happy to have been of assistance to you personally.
Yes, of course, you definitely have.
I'm also the founder of Pharmasset, which is the company that has one of the best phase 3 HCV [hepatitis C] drugs which was sold in January 2012 for $11.4 billion to Gilead. I believe this drug will also save a lot of lives and cure a lot of people from this devastating infection that affects 3% of Americans.
Now we're working on curing HIV, so that's why I think what we're doing here with this JAK inhibitor is really important.
Copyright © 2011-2016 Remedy Health Media, LLC. All rights reserved.