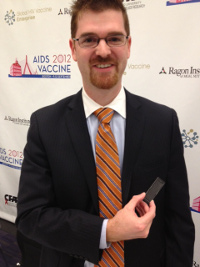 J. Christopher Love, Ph.D., holding one of his miniaturized microtiter plates.
New advances in engineering are helping scientists gauge how human cells respond to HIV and vaccine candidates. One of these advances is a type of microtechnology that can single out specific cells of the immune system, a tool being developed by J. Christopher Love, Ph.D., associate professor of chemical engineering at the Massachusetts Institute of Technology, and his lab.
Conventional approaches to evaluate cell populations rely on microtiter plates, which contain about 200 raindrop-sized wells. Love has taken that concept and miniaturized the plate so that each well is now one-millionth of the size of a rain drop. These plates, which look like regular glass slides, allow Love and his lab (appropriately dubbed "The Love Lab") to screen tens of thousands of individual human cells in a single afternoon. This provides researchers with an opportunity to actually watch a cell as, for instance, it becomes infected with HIV or interacts with another HIV-infected cell (or an HIV vaccine candidate).
During a press conference at the AIDS Vaccine 2012 conference, Love discussed the importance of being able to monitor individual cells. Two specific areas where the technology betters our understanding of the immune system are in dynamic cell responses and the ability to look at limited, small clinical samples.
"The dynamic cell responses are important because it allows us to follow cells with new resolution in how they interact. We can now monitor dynamics with these types of microtechnology, where we can put cells together, look at how they react when they encounter infected cells and how they respond to that. In doing so, we start to better understand the rules of the game of how the system works in response to a vaccine or infection," Love explained.
Advertisement
He offered the analogy of looking at an overhead photograph of a soccer match versus watching live confrontations between individual players up close. The level of magnification provides a better understanding of the rules of the game and roles of the players.
In addition, Love notes, this type of technology allows researchers to better understand how HIV behaves in areas of the body outside of the bloodstream, which is where most research tends to focus. "If you think about it, diseases like HIV or cancers often reside in tissues, yet the clinical samples that we really have the easiest access to are blood," he said. "We can look in blood, but that's not really where the disease is occurring in its primary site of infection."
However, while tissue samples (especially those from the principal sites of HIV replication, such as lymph nodes) provide a clearer picture of HIV and the immune system response, the sampling process is invasive and painful. "If you have a small tissue biopsy, most people don't want to give up a large section of tissue to study something. The conventional technologies really are not well suited to ask multi-part questions about how parts of the immune system will respond," he explained.
This is where the microtechnology utilized in the Love Lab comes into play. "These types of microtechnologies, where we can isolate cells in very small volumes and put them in places where we want them to be able to look at them more closely, gives us the opportunity to actually learn new biology about the site of infection for HIV or how a vaccine might be altering the overall response of the immune system in those compartments," Love explained. "If you gave that [tissue sample] up and it was painful, I want to make sure I get as much information as I can from it. Existing tools don't let you do that, but that's what we're trying to address in the technology we're building."
Love plans to apply this technology in identifying HIV reservoirs, the rare cells that are estimated to be one in a million. His hope is that they can find cells with defined characteristics that would identify them as part of the reservoir. If markers are identified, this could potentially lead to direct targeting of the reservoir.
In addition to its applicability to HIV research, Love and his lab are looking forward to making these technologies available in everyday clinical settings, particularly by basing them off of form factors and instruments already found in regular clinics. He hopes the technology can be applied in cancer research, viral immunity and drug development.
Watch J. Christopher Love explain his new miniature microtiter plate:
Watch video of a CD8 cell (blue) attacking and killing an HIV-infected cell (red):
Warren Tong is the research editor for TheBody.com and TheBodyPRO.com.
Follow Warren on Twitter: @WarrenAtTheBody.
Copyright © 2012 Remedy Health Media, LLC. All rights reserved.