Mayan prophesies of doom in 2012 are, fortunately, false (although newly discovered stone fragments find that the ancients were actually predicting catastrophe for the Tea Party sometime in early November rather than the cessation of life on Earth). This has not stopped clinicians, researchers, policy-makers and a certain Secretary of State from ardently declaring that the end is near -- however, in this case, it is the last days of AIDS being predicted.
This is an unprecedented optimism that is fueled by a stream of good news: Therapies are getting better and better, effective prevention -- once wishful thinking -- is a reality that is evident in the downward slope of new HIV diagnoses in many parts of the globe, and there has even been less bad news from the HIV vaccine development effort. Who can blame battle-weary veterans of the war against HIV/AIDS for starting to see distant tunnel lights?
Below are some of the stories from the past year that left us feeling good -- or that showed what work still needs to be done.
Table of Contents
The Cascade, the Cascade!
A review of:
U.S. Centers for Disease Control and Prevention (CDC). Vital Signs: HIV prevention through care and treatment -- United States. Morb Mortal Wkly Rep. 2011 Dec 2; 60:1618.
Ideas flow easily and instantaneously in our hyper-connected, socially networked age, but some concepts split from the cacophony: They resonate clearly and singularly, spreading in a way that can only be described as viral. Ed Gardner and colleagues created such a meme in a simple graph last year, illustrating for us the proportions of those living with HIV in our midst who are (and are not) aware of their infection, engaged in care, receiving HIV therapy and achieving viral suppression. At the exhausting end of the exercise, we are left with an embarrassingly small percentage of infected folks who have achieved HIV nirvana.
Their staircase image is simple and brilliant. With each step, there is failure -- but also opportunity: Get more into care, and every bar downstream should get higher.
This year the CDC updated Gardner's original calculations, finding a slightly rosier picture and spreading the "cascade" concept far and wide.
We are now blessed and cursed with The Cascade. Experts debate whether raising the left side or the right side should be the focus of our attentions (how about the middle?). Regardless, The Cascade is an important visual totem of where we stand and what we have to do -- a visual reference that we can use to conceptualize the state of the HIV epidemic and our responses. And, it is here to stay.
Tenofovir/FTC/Elvitegravir/Cobicistat (The Drug Previously Known as the QUAD)
A review of:
Paul Sax, et al. Co-formulated elvitegravir, cobicistat, emtricitabine, and tenofovir versus co-formulated efavirenz, emtricitabine, and tenofovir for initial treatment of HIV-1 infection: a randomised, double-blind, phase 3 trial, analysis of results after 48 weeks. Lancet. 2012 Jun 30;379(9835):2439-48.
Edwin DeJesus, et al. Co-formulated elvitegravir, cobicistat, emtricitabine, and tenofovir disoproxil fumarate versus ritonavir-boosted atazanavir plus co-formulated emtricitabine and tenofovir disoproxil fumarate for initial treatment of HIV-1 infection: a randomised, double-blind, phase 3, non-inferiority trial. Lancet. 2012 Jun 30;379(9835):2429-38.
Okay, yes, the Quad was on last year's top stories list, and it does seem odd to recycle a "top 10," but in 2012, the story for the third single-tablet regimen got better. Foremost, the results of head-to-head trials of the drug (versus efavirenz/TDF/FTC and atazanavir/ritonavir/TDF/FTC) were published.
These trial results showed efficacy for the Quad that was non-inferior to these two first-line therapy workhorses. The studies also made clearer the effects of the drug on measures of renal function and lipids, as well as gastrointestinal tolerability.
Advertisement
Importantly, in August, the Quad was considered by the U.S. DHHS guidelines panel and was designated an "alternative" to the preferred agents. The rationale for alternative status included relatively short-term data (only 48-week clinical trial information was available), as well as lingering questions regarding the renal effects of the combination.
The cobicistat component is known to block MATE-1, a transporter of creatinine from the blood to the urine across the proximal tubule. Inhibition of this and similar transporters lead to less clearance of creatinine. This in and of itself does not cause any reduction in kidney function or harm, but it does mess with the most commonly used assessment of kidney health, the serum creatinine, by causing an artificially elevated value. With tenofovir also part of the Quad's four-drug mix, confusion regarding serum creatinine bumps is a worry.
The new clinical trial data helped a bit, showing that the artifactual increase in serum creatinine occurs within first two to four weeks of therapy and generally plateaus. The study comparing the Quad to atazanavir/ritonavir demonstrated how a similar but smaller increase in serum creatinine also occurs with the boosted protease inhibitor, as ritonavir has some (albeit weaker) inhibitory effects on MATE-1.
Still, some study participants did develop true tubulopathy, and although the numbers were small, this was more common among those on the Quad. As to longer-term data, we now have 96 weeks of follow-up from these trials presented at the 11th International Congress on Drug Therapy in HIV Infection in Glasgow, and this affirms the one-year results. (You read the abstracts for the 96-week comparison to atazanavir/ritonavir/TDF/FTC as well as the 96-week comparison to efavirenz/TDF/FTC.)
It is notable that there has not been more enthusiasm for this four-drugs-in-one therapy, despite it being a marvel of drug engineering and the finding that it is as efficacious as NNRTI- and boosted PI-based regimens. That said, there are many existing options for the treatment of treatment-naive patients, including two other once-daily, single-tablet regimens, so the field is increasingly crowded. It could also be that there remains some apprehension regarding the longer-term renal picture: In addition, in some states, the pace of adding the drug to AIDS Drug Assistance Program formularies has been slow, and a few insurance companies are now starting to require prior authorization for certain HIV therapies, including the Quad. Lastly, the absence of the "preferred" imprimatur from the DHHS guidelines can't be helping.
As more data emerge, it is likely we will see more attention paid to this drug -- but the competition is only getting stiffer (read on).
Dolutegravir
A review of:
Sharon Walmsley, et al. Dolutegravir (DTG; S/GSK1349572) + abacavir/lamivudine once daily statistically superior to tenofovir/emtricitabine/efavirenz: 48-week results -- SINGLE (ING114467). ICAAC 2012; Abstract H-556b.
While the Quad is finding its place in the HIV treatment landscape, the excitement regarding dolutegravir, an integrase inhibitor that is not yet FDA approved, is looming over the horizon. In the final phases of development, the drug made a splash at ICAAC, where the 48-week results of the SINGLE trial were presented.
The SINGLE results showed statistical superiority of dolutegravir paired with abacavir/3TC over efavirenz/TDF/FTC in treatment-naive patients. Tolerability of the drug was excellent -- in fact, it drove the difference in the primary outcome between the study arms, as there were more patients who experienced treatment-limiting toxicities with the efavirenz-based therapy (10%) compared to the dolutegravir-based therapy (2%).
Advertisement
Most impressive was the complete absence of detected integrase or reverse transcriptase (RT) resistance mutations among the few participants experiencing virologic failure while on dolutegravir. In vitro data suggest a relatively high bar to drug resistance for this new integrase inhibitor. However, it should be noted that the study procedures regarding monitoring and responding to increases in viral load may have allowed for virologic failure to be caught early, reducing the time that resistance could be selected for and emerge on testing.
Earlier in the year, 48-week data from the SPRING-2 study, which compared dolutegravir plus two NRTIs to raltegravir plus two NRTIs, were presented. They found no significant difference in rates of viral suppression between the arms. Again, integrase and RT resistance was not seen in those on dolutegravir while 1 of 18 and 4 of 19 participants in the raltegravir arm with paired baseline and failure samples available had integrase and RT mutations detected, respectively.
It is expected that a stand-alone dolutegravir tablet will be approved and available in the first half of 2013, with a fixed-dose combination with abacavir/3TC to follow. A potent, once a day integrase that behaves like a boosted protease inhibitor when it comes to resistance may be too good to be true, but it seems is something that providers are yearning for. It certainly will spice things up for 2013.
Simplify
A review of:
Frank J. Palella Jr., et al. SPIRIT Study: switching to Emtricitabine/Rilpivirine/Tenofovir DF (FTC/RPV/TDF) single-tablet regimen (STR) from a Ritonavir-boosted protease inhibitor and two nucleoside reverse transcriptase inhibitors (NRTIs) maintains HIV suppression and improves serum lipids in HIV-1 infected subjects at week 24. 19th International AIDS Conference; Washington, DC; July 22-27, 2012; Abstract TUAB0104.
Calvin J. Cohen, et al. Switching from efavirenz/emtricitabine/tenofovir disoproxil fumarate (EFV/FTC/TDF) single tablet regimen (STR) to emtricitabine/rilpivirine/tenofovir disoproxil fumarate (FTC/RPV/TDF) STR in virologically suppressed, HIV-1 infected subjects. 13th European AIDS Conference; Belgrade; 2011; Abstract LBPS10/4.
I have never been one to mess much with success. In the past, I have played with the HIV therapies of patients doing well, and on more than a few occasions I have been burned. The viral load may go up despite the greater convenience and potency of the newer regimen. Maybe there is a pharmacy mixup, or the patient -- despite instructions that include pictures of suns and moons -- misunderstands and takes the medication wrong. I thought folks who did stuff like induction therapy followed by more compact maintenance regimens were meshuga, or had patient populations as obedient as border collies.
But I am now getting more adventurous. Mostly, I have had no choice: I could not stand by while patients on more cumbersome regimens labored on with twice-a-day dosing and a fistful of meds, while those entering care could walk out of their pharmacy with a three-month supply of HIV therapy that could fit in a Flintstones vitamin bottle. Plus there were the low-rumble side effects. So, out went the AZT/3TC. And those lopinavir/ritonavir refills? Replaced with once-a-day PI therapies. And it was good.
Advertisement
This year we have seen simplification go to a new level -- and, I must admit, I am hooked. Several studies show us that, in addition to moving from twice-a-day to once-a-day PI therapies, we can also take advantage of sleek new formulations for many (but certainly not all) of our patients.
For example, the SPIRIT study has, so far, showed us that taking folks on stable boosted PI-based therapies and switching them to TDF/FTC/rilpivirine can work. At 24 weeks, 94% of those who switched to TDF/FTC/rilpivirine had a viral load below 50 copies/mL compared to 90% of those who stayed on their entry regimen (achieving non-inferiority). Historic baseline viral load (i.e., before initiating the entry regimen) above or below 100,000 copies/mL did not influence the efficacy results, indicating that pre-treatment viral load (a prickly problem in the ECHO Trial) is not an issue when switching stably suppressed patients to this regimen. As expected, gastrointestinal symptoms and lipids improved with the switch from PI therapy. Another study looked at a switch to the same regimen from TDF/FTC/efavirenz, with similar reassuring results.
Now, these swaps are not for everyone, and we must recall our oath: primum non nocere. Those with, or likely to have, significant NNRTI mutations archived away -- as well as those who are either not adherent or on proton pump inhibitor therapies -- are not candidates for this particular switch.
With the Quad, we have an additional switch option, but less data to guide us. Again, common sense is advised. New drugs come with new risks for side effects, and drug interactions make combining the Quad with other HIV meds a setup for tears.
But, there will be more drugs to come. The availability of cobicistat as a stand-alone tablet in early 2013 will shake things up at the pharmacy. Ditto for the release of dolutegravir, a once-a-day integrase inhibitor. Coformulations will soon abound, making for even more seductive switches. It is all enough to make this reluctant switcher more of a cowboy when it comes to messing with my patient's meds.
Hepatitis C (HCV) Therapy: Game On
It is as if some noble hepatologist found a bottle, rubbed it, got some wishes and "poof": Amazingly better cures for HCV appeared. Well, almost. It does not take much to improve upon the archaic, toxic and only modestly effective combination of interferon and ribavirin. The recent approvals of boceprevir and telaprevir are upgrades as far as response rates go, but they also pile on more side effects and complexity.
The genie, though, is on it: This year, we saw a maddening array of HCV drugs in development. It portends a future for HCV therapy that looks a lot like what we have for HIV now -- except we are talking cure here, people.
Pharmaceutical companies you have and have not heard of are conducting studies of potent molecules. Some of these agents play well with others, don't rely on interferon, and have been presented or described in press releases with rates of sustained virologic suppression that can make one giddy. Jeez Louise, some of these may even be able to lose the ribavirin and be coformulated! If even two or three of the drugs in later-stage development come to market, we are in for a revolution in HCV care.
There are less data regarding most of these promising agents in those who are coinfected with HIV, but what we have seen so far looks good. Drug interactions will need to continue to be investigated, certainly, but could the situation be much worse than what we have now?
That we are so tantalizingly close to a major medical breakthrough is exciting for our patients and us. Almost certain to make it to the FDA approval finish line will be sofosbuvir, the tongue-punishing name of an NRTI in the final phases of clinical study, including in HIV coinfection. Daclastasvir, an NS5A inhibitor, also looks potent and promising.
Learning how to best use these new drugs will be our task over the next couple of years, but it was in 2012 that the notion of short-course, well-tolerated, highly active, interferon-free HCV therapy became more than wishful thinking.
Screening for HCV
A review of:
Recommendations for the Identification of Chronic Hepatitis C Virus Infection Among Persons Born During 1945-1965, Morb Mortal Wkly Rep, Aug 2012.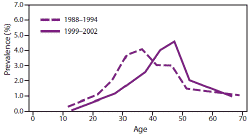 "Prevalence of hepatitis C virus antibody, by age at time of survey -- National Health and Nutrition Examination Survey, United States, 1988-1994 and 1999-2002," from MMWR 61(RR04);1-18.
While we are on the cusp of a new era of HCV care, we have long been in the dark ages when it comes to screening for this infectious disease. There are an estimated 5 million people with HCV infection in the U.S. -- five times the prevalence of HIV. The bulk of these individuals were infected in the 1970s and 1980s, although we still see new infections, particularly among men who have sex with men (MSM).
With about 1.5% of the population infected with a virus that can cause liver failure and hepatocellular carcinoma, one would think we would have a coherent national strategy for detection and linkage to care. Guess again.
Conservative estimates find that more than half of those with HCV infection are unaware they are infected. Even among people with a history of injection drug use who have HCV infection, an estimated three quarters don't know they are HCV positive. The prevalence of infection is particularly high among men of color in their 40s and 50s -- people who are least likely to be engaged in care. We are talking about high proportions of individuals who are infected, as shown in the table below.

What accounts for this incredible malaise regarding screening for HCV? In part, there has been limited national consciousness-raising regarding HCV. Baby boomers and their clinicians have been more preoccupied with lowering LDL cholesterol than screening for a virus that was acquired during a decade of bell bottoms, boom boxes and lines of Bolivian marching powder that most would rather forget. Data also suggest that primary care clinicians have been largely ignorant of HCV testing recommendations and procedures for serologic diagnosis. In addition, the aforementioned prehistoric therapies for HCV have hardly acted to motivate an enthusiastic effort to test and treat.
This year, the CDC came around to issuing a set of recommendations regarding HCV screening that match the reality of the problem. They clearly state that: "Adults born during 1945-1965 should receive one-time testing for HCV without prior ascertainment of HCV risk."
That is right: All people in the U.S. in this birth cohort should be tested for HCV. This recommendation is based on simple math: It is worth doing given the prevalence of infection in this population, as well as the measures that can be taken to reduce their risk of transmitting HCV to others and to adopt behaviors that reduce their risk of liver damage.
(Of course, while we are at it, most of these folks should also be tested for HIV, in accordance with prior CDC HIV screening recommendations.)
Testing for HCV does not stop with the baby-boomers. In addition to that age group, routine HCV testing is recommended for the following:
Advertisement
Persons who ever injected illegal drugs, including those who injected once or a few times many years ago and do not consider themselves as drug users.
Persons with selected medical conditions, including persons who received clotting factor concentrates produced before 1987.
Persons who were ever on chronic (long-term) hemodialysis.
Persons with persistently abnormal alanine aminotransferase levels.
Prior recipients of transfusions or organ transplants, including persons who were notified that they received blood from a donor who later tested positive for HCV infection.
Persons who received a transfusion of blood or blood components before July 1992.
Persons who received an organ transplant before July 1992.
Persons with recognized exposures, including health care, emergency medical, and public safety workers after needle sticks, sharps, or mucosal exposures to HCV-positive blood and children born to HCV-positive women.
Of course, as we all know, all HIV-infected patients should be tested routinely for evidence of chronic HCV infection.
Pretty clear-cut and reasonable, no? Well then: What should we make of the U.S. Preventive Services Task Force (USPSTF), who in a draft of its own set of proposed guidelines, recommends HCV screening for those with high-risk histories -- BUT states that screening of those in the 1945-to-1965 birth cohort only be "considered," and suggests that clinicians "offer or provide this service only if other considerations support offering or providing the service in an individual patient." In other words, HCV screening for this cohort can be done if you want, but we are not pushing for it.
The task force's rationale for this lukewarm stance on testing is based on the absence of data showing that testing and curing people of HCV leads to benefits in terms of reduced morbidity and mortality. As one could imagine, many are not pleased. The American Liver Foundation and the American Association for the Study of Liver Diseases have taken strong positions opposing the USPSTF recommendations.
As an infectious diseases clinician with an appreciation for the benefits of early detection of pathogens that can cause a chronic, subclinical, damaging infection and is transmittable to others, my view is that the USPSTF's recommendations are not only extremely conservative, but also dangerous. There is a very real probability that failure to detect HCV will lead to disease and death. Given that there is minimal harm that can be imagined with HCV screening -- unlike, say, PSA testing -- why not be more aggressive, even without a 20-year longitudinal study to back up a strong recommendation rating?
If you feel likewise, please go here and click on the box in the upper-right-hand corner to express your view to the USPSTF on their draft recommendations. You have until Dec. 24 to do so.
Also in the news, this same USPSTF came out this November with a strong recommendation for HIV screening for those 15 to 65 years of age. That is only six years after the CDC issues the same recommendations. Really?
"The Hopkins 87%": Reduced Racial Disparities in HIV Outcomes
A review of:
Richard D. Moore, et al. Improvement in the Health of HIV-Infected Persons in Care: Reducing Disparities. Clin Infect Dis 2012;55(9):1242-51.
This was a year of percentages. We had "The 99% " and, infamously, "The 47%." In HIV, HPTN 052's findings of the level of protection afforded by treatment of the HIV-infected half of a serodiscordant couple led to the bandying about of "The 96%" at our conferences. I would like to add a new pithy, numeric stand-in to the lexicon, and that is "The Hopkins 87%."
This is the proportion of patients at Johns Hopkins' Baltimore-based HIV clinic that was receiving HIV therapy in 2010. That same year, the median plasma HIV RNA level across the 6,366 patients cared for at the clinic was less than 200 copies. Likewise, median CD4 cell counts were high -- at almost 500/mm3 by 2010, with slightly lower counts seen among injection drug users compared to MSM and among men compared to women.
Importantly, by the last year of the study, there were no differences by race or risk group in receipt of antiretrovirals or suppression of viremia. Opportunistic infections became virtually extinct by 1998, and there were no differences between groups seen in more recent years.
Advertisement
Lastly, there was no significant difference in mortality among the groups. Life expectancy computed for the entire sample found that, for a 28-year-old HIV-infected patient in their care in 2009, remaining life expectancy was calculated to be 45.4 years (95% confidence interval, 39.6-51.3 years). That is, a 28-year-old patient -- regardless of race, gender or risk category -- could be expected to live to 73 years of age.
That 87% of individuals in this clinic -- patients with a generous share of challenges -- are receiving HIV therapy is remarkable. That the vast majority has an undetectable viral load is extraordinary; it is a testament to the potency and convenience of our antiretrovirals, but also to the strong system of support that has been created to assist people with HIV.
These results fly in the face of health disparity trends in the U.S., wherein African Americans and those with lower socioeconomic status having higher rates of morbidity and mortality. Although HIV disproportionately affects those same populations that are at risk for worse outcomes and could be expected to compound these disparities, this study finds the opposite.
So, why do populations vulnerable to disparities in health care outcomes fare better when it comes to HIV care? Two words: Big Government. While that term may be slung in a political scrap, in the case of HIV, it is public funding through the Ryan White Care Act that provides the primary care, supportive care and medications assistance that is critical to achieving the very outcomes studied by the Hopkins investigators.
HIV is a complex and expensive disease to manage, yet the results coming from Baltimore are mirrored in clinics across the U.S. precisely because we have a national safety net that sets up those with HIV for success rather than failure.
While the investigators tout their finding of little to no difference in HIV outcomes across populations, what they also discovered is how different HIV is from other serious conditions in achieving this degree of parity. This lesson should be Exhibit A when the Ryan White Care Act comes up for reauthorization and as we look at the ways in which the Affordable Care Act will be implemented.
The Cure Agenda
A review of:
Steven Deeks, et al. Towards an HIV cure: a global scientific strategy. Nat Rev Immunol. 2012 Jul 20;12(8):607-14.
Nancie M. Archin, et al. Administration of vorinostat disrupts HIV-1 latency in patients on antiretroviral therapy. Nature 2012 Jul 26; 487:482.
There is an intensive effort to develop feasible strategies to eradicate HIV from latently infected cells, which could leading to a "functional," "complete" or "sterilizing" cure. Much of this work may not be apparent to the busy clinician still trying to figure out how to get a patient to take their once-a-day, single-tablet antiretroviral. But progress is being made -- so much so that a cure has moved from being a topic of speculation to a major item on the HIV scientific agenda.
Success in this area has been incremental, as tools are developed and standardized to better measure the effects of interventions. However, this year we saw a push forward, with a small study demonstrating the effects of an inhibitor of histone deacetylase (HDAC) on expression of virus in latently infected cells. HDACs serve to suppress expression of virus, and their inhibition can disrupt latency.
Advertisement
The study, conducted by my University of North Carolina colleague David Margolis and his team looked at the HDAC inhibitor vorinostat, which has been used to treat malignancies. To examine the effects of the drug in vivo, the team first harvested resting CD4+ cells from 16 HIV-infected patients with suppressed viremia and exposed them to vorinostat. In 11 of the cell samples, HIV expression was induced with vorinostat exposure; eight of these patients were selected to receive the drug. After a single dose of vorinostat, each of these eight individuals had an detectable increase in HIV expression in their resting CD4 cells without an increase in HIV RNA levels in the blood.
This proof-of-concept study is important, as it shows that the theoretical effects of HDAC inhibition are real in actual people living with HIV. Extended doses of the drug are planned, and other agents that may carry less risk of toxicity are being studied by other groups. Overall, though, the clinical findings provide a shot in the arm for the cure effort. A group of international investigators produced their own cure manifesto, outlining where they see the field moving and what needs to be done to pave the way.
Many challenges remain before we start dialing up our patients to come in and get the cure. However, we are closer today than we were a year ago. The success we saw this year and the remarkable example of the "Berlin patient," who is experiencing a functional cure of his HIV following a bone marrow transplant from a donor who was homozygous for the CCR5 delta 32 deletion, buoy this effort and our hopes.
Black MSM and HIV: The News Is Not Good
A review of:
Kenneth Mayer, et al. An evolving concentrated epidemic: comparison of socioeconomic, behavioural and biological factors among newly diagnosed, previously diagnosed and HIV-negative black men who have sex with men in six U.S. cities (HPTN 061). 19th International AIDS Conference; Washington, DC; July 22-27, 2012; Abstract MOAC0105.
Beryl Koblin, et al. Correlates of HIV incidence among black men who have sex with men in 6 U.S. cities (HPTN 061). 19th International AIDS Conference; Washington, DC; July 22-27, 2012; Abstract MOAC0106.
One of the most striking, if not horrifying, stories of 2012 comes from HIV Prevention Trials Network (HPTN) 061, a.k.a. the BROTHERS study. This is a longitudinal study of black MSM (BMSM) recruited in Atlanta, Boston, Los Angeles, New York City, San Francisco and Washington, D.C., to determine the feasibility of a risk reduction intervention. More than 1,500 men were enrolled, a third of whom under the age of 30. The findings of this study starkly reveal where HIV is and where it is heading.
An incredible 11% of the men recruited were known to be HIV infected at entry. Another 10% were newly diagnosed with HIV on study entry (including 3 with acute infection).
So, let's stop there: Over 20% of BMSM in recruited in these cities were HIV infected. It should be acknowledged that, to get into the study, a man must have had unprotected anal intercourse with a man in the prior 6 months. But still, this is an incredibly high number.
It gets worse.
Advertisement
Of the 1,009 men who were uninfected at baseline and had follow-up data over a year, 26 became HIV infected during the study (annual incidence of 2.8%). Your jaws should be dropping.
Of these 26 young men, 20 were between the ages of 18 and 30 years, 19 had sex exclusively with men and 20 had an income less than $20,000 per year. In addition, those who self-identified as gay or homosexual were at greater risk of seroconversion -- and, not surprising, so were men reporting unprotected sex and those with a sexually transmitted infection at baseline. A separate report found that 60% of the HPTN 061 cohort had been incarcerated and that 24% were locked up during the study, providing another potential opportunity to intervene.
These are extremely concerning results. The prevalence and incidence of HIV among the men studied was astounding, about an order of magnitude greater than that seen in a similar HPTN study of women living in areas where poverty and HIV prevalence were common.
Our reflexive demands for action need to be accompanied by realistic and scalable interventions that can meaningfully reduce the transmission of HIV by and to BMSM. The HPTN study provides a roadmap. The correlates of infection (youth, poverty, gay identity) reveal points to leverage. The fires are burning. Will we respond?
Obama Wins
No matter whether you are red, blue or purple in the face, the re-election of President Barack Obama is a big deal if you treat HIV infection. Foremost, Jan. 20, 2013 will not be Day 1 of a renewed effort to repeal the Affordable Care Act (ACA). The ACA will proceed.
Meanwhile, get those Medicaid application forms ready, because a few more million people will become eligible for this public health program. Practically, this may mean more people living with HIV, especially men, will be able to get their medications at no cost. It could also promote health care engagement for people such as young MSM, who generally don't see doctors; this may allow for more testing and counseling.
What happens to ADAP? Will HIV-infected patients be shunted to Federally Qualified Health Centers? Will states make up their own sets of care packages that short-change patients? These and many other questions will need to be answered. However, this is a big deal -- and we will all begin to deal with it over the year to come.
David Alain Wohl, M.D., is an associate professor of medicine in the Division of Infectious Diseases at the University of North Carolina and site leader of the University of North Carolina AIDS Clinical Trials Unit at Chapel Hill.
Copyright © 2012 Remedy Health Media, LLC. All rights reserved.