Screening for HCV
A review of:
Recommendations for the Identification of Chronic Hepatitis C Virus Infection Among Persons Born During 1945-1965, Morb Mortal Wkly Rep, Aug 2012.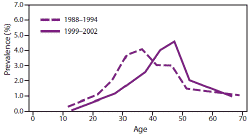 "Prevalence of hepatitis C virus antibody, by age at time of survey -- National Health and Nutrition Examination Survey, United States, 1988-1994 and 1999-2002," from MMWR 61(RR04);1-18.
While we are on the cusp of a new era of HCV care, we have long been in the dark ages when it comes to screening for this infectious disease. There are an estimated 5 million people with HCV infection in the U.S. -- five times the prevalence of HIV. The bulk of these individuals were infected in the 1970s and 1980s, although we still see new infections, particularly among men who have sex with men (MSM).
With about 1.5% of the population infected with a virus that can cause liver failure and hepatocellular carcinoma, one would think we would have a coherent national strategy for detection and linkage to care. Guess again.
Conservative estimates find that more than half of those with HCV infection are unaware they are infected. Even among people with a history of injection drug use who have HCV infection, an estimated three quarters don't know they are HCV positive. The prevalence of infection is particularly high among men of color in their 40s and 50s -- people who are least likely to be engaged in care. We are talking about high proportions of individuals who are infected, as shown in the table below.

What accounts for this incredible malaise regarding screening for HCV? In part, there has been limited national consciousness-raising regarding HCV. Baby boomers and their clinicians have been more preoccupied with lowering LDL cholesterol than screening for a virus that was acquired during a decade of bell bottoms, boom boxes and lines of Bolivian marching powder that most would rather forget. Data also suggest that primary care clinicians have been largely ignorant of HCV testing recommendations and procedures for serologic diagnosis. In addition, the aforementioned prehistoric therapies for HCV have hardly acted to motivate an enthusiastic effort to test and treat.
This year, the CDC came around to issuing a set of recommendations regarding HCV screening that match the reality of the problem. They clearly state that: "Adults born during 1945-1965 should receive one-time testing for HCV without prior ascertainment of HCV risk."
That is right: All people in the U.S. in this birth cohort should be tested for HCV. This recommendation is based on simple math: It is worth doing given the prevalence of infection in this population, as well as the measures that can be taken to reduce their risk of transmitting HCV to others and to adopt behaviors that reduce their risk of liver damage.
(Of course, while we are at it, most of these folks should also be tested for HIV, in accordance with prior CDC HIV screening recommendations.)
Testing for HCV does not stop with the baby-boomers. In addition to that age group, routine HCV testing is recommended for the following:
Advertisement
Persons who ever injected illegal drugs, including those who injected once or a few times many years ago and do not consider themselves as drug users.
Persons with selected medical conditions, including persons who received clotting factor concentrates produced before 1987.
Persons who were ever on chronic (long-term) hemodialysis.
Persons with persistently abnormal alanine aminotransferase levels.
Prior recipients of transfusions or organ transplants, including persons who were notified that they received blood from a donor who later tested positive for HCV infection.
Persons who received a transfusion of blood or blood components before July 1992.
Persons who received an organ transplant before July 1992.
Persons with recognized exposures, including health care, emergency medical, and public safety workers after needle sticks, sharps, or mucosal exposures to HCV-positive blood and children born to HCV-positive women.
Of course, as we all know, all HIV-infected patients should be tested routinely for evidence of chronic HCV infection.
Pretty clear-cut and reasonable, no? Well then: What should we make of the U.S. Preventive Services Task Force (USPSTF), who in a draft of its own set of proposed guidelines, recommends HCV screening for those with high-risk histories -- BUT states that screening of those in the 1945-to-1965 birth cohort only be "considered," and suggests that clinicians "offer or provide this service only if other considerations support offering or providing the service in an individual patient." In other words, HCV screening for this cohort can be done if you want, but we are not pushing for it.
The task force's rationale for this lukewarm stance on testing is based on the absence of data showing that testing and curing people of HCV leads to benefits in terms of reduced morbidity and mortality. As one could imagine, many are not pleased. The American Liver Foundation and the American Association for the Study of Liver Diseases have taken strong positions opposing the USPSTF recommendations.
As an infectious diseases clinician with an appreciation for the benefits of early detection of pathogens that can cause a chronic, subclinical, damaging infection and is transmittable to others, my view is that the USPSTF's recommendations are not only extremely conservative, but also dangerous. There is a very real probability that failure to detect HCV will lead to disease and death. Given that there is minimal harm that can be imagined with HCV screening -- unlike, say, PSA testing -- why not be more aggressive, even without a 20-year longitudinal study to back up a strong recommendation rating?
If you feel likewise, please go here and click on the box in the upper-right-hand corner to express your view to the USPSTF on their draft recommendations. You have until Dec. 24 to do so.
Also in the news, this same USPSTF came out this November with a strong recommendation for HIV screening for those 15 to 65 years of age. That is only six years after the CDC issues the same recommendations. Really?