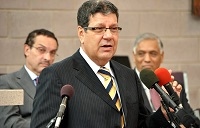 Gregory Pappas, M.D., Ph.D.
On Monday, December 3, the D.C. Developmental Center for AIDS Research (D-CFAR) hosted a seminar with Dr. Gregory Pappas, Senior Deputy Director of the HIV/AIDS, Hepatitis, STD and TB Administration at the D.C. Department of Health. Entitled "New Responses to the D.C. HIV/AIDS Epidemic," Dr. Pappas's presentation focused on trends in D.C.'s HIV/AIDS epidemic, including current systems of health and care and major policy approaches.
According to Dr. Pappas, D.C. has eliminated many of the traditional barriers to care and treatment, including lack of transportation and cost of medicine. It has the second highest rate of insurance coverage in the nation after Massachusetts due in part to early implementation of the Affordable Care Act. He highlighted the correlation between the increased number of clean needles distributed since local funding for syringe exchange was legalized in 2007 along with the decreased number of cases of HIV transmission through needle sharing. Despite many successful programs, HIV prevalence in D.C. remains high at 2.7%, and only 29% of those who are HIV positive have maintained viral suppression. Because of stigma, African-American men who have sex with men (MSM) are less likely to be tested, get into treatment, and be virally suppressed; in fact, 25% of African-American MSM in D.C. are HIV positive.
One of the most interesting aspects of Dr. Pappas' presentation was his discussion of gentrification in D.C. as an independent risk factor for HIV for vulnerable populations, as these populations' social capital is strained and displaced by the disruption of social networks due to the effects of renovation and restoration. In fact, he tracked rates of HIV incidence and gentrification and found that 55% of the variance in case rate distribution of HIV can be explained by gentrification alone.
Advertisement
In terms of policy approaches, Dr. Pappas suggested the idea of a "domestic PEPFAR," a kind of program that would invest large amounts of money into prevention, treatment and care with coordination across the federal and jurisdiction levels. He also discussed the importance of HIV medical homes, which could be used as the national model for patient-centered medical homes for people living with chronic diseases once the Affordable Care Act is implemented. In February, his office will be hosting a training focusing on achieving coordination between community based organizations and clinical caregivers to ensure the highest quality of care and support for people living with HIV.
Many of the points that Dr. Pappas discussed, while specific to D.C., can be adapted and applied to regions across the country. For example, his data on the correlation between syringe exchange programs and decreased rates of HIV transmission should serve as evidence for a greater number of these programs. His focus on policies like gentrification at the micro-level has proven to be extremely valuable, and we must consider how social structures and programs around the country have an effect on HIV. As Dr. Pappas and his office continue to build policy that ensures the greatest quality of care and support for people living with HIV across the country, we should look to D.C. to learn valuable lessons about our own programs and policies.
To learn more about the D.C. D-CFAR, you can visit their website by clicking here.