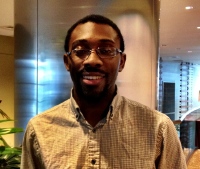 Matthew Rose
Matthew Rose is an HIV advocate and a strong voice for young black gay men in the United States. Based in Washington D.C., Matthew does independent consulting on HIV/AIDS policy. He also works at AVAC (AIDS Vaccine Advocacy Coalition), where he is the Policy Chair for the Young Black Gay Men's Leadership Initiative. He himself is currently enrolled in an HIV vaccine trial. I had the pleasure of meeting Matthew at AIDS Vaccine 2012, where he was a presenter and journalist fellow. There he told me about his experience being part of a vaccine trial.
Matthew, you're a participant for a vaccine trial. Tell us about that.
Yeah, it's been about two years now. I've been enrolled in the HIV Vaccine Trials Network (HVTN) 505 trial, which recruits men who have sex with men (MSM) and transgender women into an HIV vaccine trial to test a new product.
Why did you choose to get into that?
It's interesting. Unlike most trial participants, it took me about a year to decide. I had reviewed the protocol. I had started as an advocate in the field before I could enroll. What it came down to was that I had the means and the ability to and I felt like it was something I can give, so I chose to give.
How did you hear about it?
In 2009, I started a fellowship with AVAC doing HIV biomedical research prevention advocacy. Actually, that was when 505 was just rolling out and we had all the criticism about its community engagement and the whole recruitment process. So going through that process, working with the researchers and being on the community advisory board of the vaccine research center, we went through it all. I talked about it, heard about it, learned a whole about the study, probably more than any community person needs to know. Then I made my decision.
Advertisement
What's the process like?
Generally what happens is you either call in or book one of their appointments, and then they give you a phone screen. They ask a little bit about your sexual behavior. They ask you about your circumcision, which they'll verify later. If you check all the things off in the phone screen, they'll bring you in. You can go and meet someone at the mobile unit, which is what I ended up doing.
So I went and they drew a little blood. They have to confirm that you're HIV negative. And they need to test this for adenovirus 5 to make sure that you're adenovirus-5 negative as well. Then they talk to you a little bit more about the trial. They give you the consent, so that you can read about the trial, which I had already read about before. Then they send you away.
If they call, you come back in to get your HIV test results and your adenovirus-5 test results. If both of those are negative, you can go into a trial. They'll do a full physical and at that point, they'll have a nurse practitioner or doctor verify that you are indeed circumcised, and fully circumcised, by the definition that they use for it. From there, you get to go consent with them. They have a whole process. You take a little test in the end to make sure you are fully consented and understand it. Then they schedule a date for you to come into the clinic.
You have what's about a four-hour visit your first time, in which you go in, they draw blood, they do vitals and then they order vaccine product. They have you take a digital survey about your sexual behavior practices. Then they give you the first injection, which is via biojector. Biojector is a needleless syringe process that basically activates the product into your body faster than you would with needle and syringe. Then they hold you for an hour, just to make sure you don't have any adverse reactions, and they send you on your way.
They send you home with this little booklet and a thermometer to take your own temperature every morning. And you need to see if the site they did the injection on gets big or not, or if it's decreasing from swelling, because it will swell originally. About five days later from that, they'll call you and check in to see what your results were and if you were having any adverse events. They schedule you in for a blood draw, which is usually about two weeks later. When you show up two weeks later, they draw a whole bunch of blood. I say a whole bunch, but it's actually less than when you donate blood, which is always funny to me because they're like, "Don't donate blood products while you're in the study." And I'm like, "It's a study for men who have sex with men. I can't donate blood products, but OK, whatever."
So you then chill out for three months, come back in and rinse and repeat that whole process again. The second time you go in for biojector though, it's a lot shorter because they just have you fill out the ACASI [audio computer-assisted self-interview]. Of course during the blood draw, I should say, they do some risk-reduction counseling. They talk about what are your risk behaviors, what are you doing. They give you more condoms and lube than you can shake a stick at. Then you wait three more months and do it one more time.
You come in six months later and they give you another shot with a needle and syringe. Then they have a really big blood draw, which is still less than what you'd donate, but it just seems like a lot of vials. But they're really good to you. They'll lay you down. They talk about anything that happens. With me, they gossiped about what's going on in the field. Then they say, "We're done with injections. From now on you're going to come in every three months, where you'll get a blood draw, smaller or bigger blood draw on alternating visits every three months."
Two weeks later, you come back and get your results. They always give you your results in person. They'll never tell you over the phone, no matter what your results are. Obviously, if your results are positive, they'll link you to care. If not, they'll give you risk reduction counseling. Then every third time you come in, you do the ACASI to do kind of like a, "What are your sexual practices? What are your risk behaviors? What's your drug use? Who are your sexual partners?"