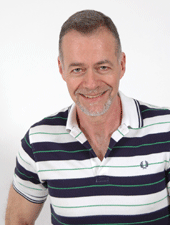 David Fawcett, Ph.D., L.C.S.W.
International HIV/AIDS meetings can be overwhelming, and this summer's Washington, D.C.-based venue was no exception. Thousands of researchers, providers and representatives of non-governmental organizations and drug companies, along with people living with the virus, gathered for the first International AIDS Conference to take place in the U.S. in over 20 years. An abundance of data, updates and networking opportunities swirled in an atmosphere fueled by star power: Hillary Clinton, Elton John, Bill Gates.
Between plenaries, or when I could absorb no more findings, or simply to escape the constant sounds and stimulation, I sought refuge in the humble food court. Not being particularly outgoing, I was frustrated by the inadequate seating and the need to share a table with strangers. Despite my grumbling, this ultimately provided a unique opportunity to briefly interact with other citizens of the world engaged in the challenge of HIV, resulting in some of my most memorable moments of the conference.
On the first day I sat down with a young woman earnestly typing on her laptop. She had just completed medical school in Europe and was returning to the U.S. to begin her career -- the path for which, she admitted, was unclear. For her, the conference was both professional and personal. She had tested HIV positive while in Europe and was concerned, for very practical reasons, about the mechanics of insurance here. She also had a burning desire to jump into advocacy and inquired about how she could receive some advocacy training.
Advertisement
It was clear that her passion, along with her medical education, would make her a powerful activist. I shared some contacts with her and, in exchange, received a renewed sense of hope that, even after 30 years, such enthusiastic and energized individuals will constantly revitalize efforts to defeat HIV.
On another occasion I shared a table with a young prevention worker from Bolivia. Knowing virtually nothing about the HIV situation there, I inquired about prevalence and access to medications. Although Bolivia has one of the lowest rates in Latin America, HIV is a serious problem among men who have sex with men and sex workers there, particularly in La Paz. International assistance, along with cooperative agreements with other countries for bulk purchasing of meds, has resulted in improved and affordable access, but political and social forces continue to complicate outreach, prevention and treatment.
These additional hardships, articulately described, clearly accepted and deftly handled by him and his colleagues in Bolivia, left me inspired at the level of commitment required to fight HIV/AIDS, sometimes against great odds.
Now, several months away from the conference, these short, very human moments seem at least as important as the scientific revelations. Such gatherings produce countless serendipitous meetings wherein strangers from diverse cultures and with very different experiences share an immediate and almost unnerving familiarity. During that brief and very concentrated week in July, I became intensely aware of the vast talent, passion and wisdom that unifies the global effort against HIV/AIDS, and I was very encouraged.
Copyright © 2012 Remedy Health Media, LLC. All rights reserved.