Several sessions looked at abuses that put sex workers at risk for HIV -- and we're not talking sex.
Instead, it's police actions around the world -- including here in the United States -- to confiscate condoms and to use them as evidence of prostitution that puts sex workers at risk for HIV. Advocates said the situation is such that many sex workers are afraid to carry condoms because of the police harassment this can cause. In fact, even outreach workers have been followed by the police so that sex workers can be arrested when they take the condoms offered. As advocates pointed out, it is not illegal to carry condoms. Rather, confiscation serves as another avenue of illegal detention and intimidation.
Moreover, criminalization of consensual sex work keeps workers under dangerous conditions. In the "Criminalizing Condoms and Sex Work" session, Acasia Shields, author of Criminalizing Condoms, a report from the Open Society Foundation, said, "Police routinely search sex workers to confiscate and destroy condoms. This affects their ability to practice safe sex and they know it."
Of the U.S. sex workers surveyed, 52% said they were afraid to carry condoms because of fear of police harassment. Shields said other abuses include threats of arrest to exhort sex, and beating or raping sex workers.
Discussing the findings from the first national congress of sex workers in Bangladesh, Simon Risen, M.D., M.P.H., Ph.D., of Save the Children, said, "Violence against female sex workers spreads far beyond individual incidents and factually is gender-based violence." Among other recommendations, Save the Children in Bangladesh says behavioral change campaigns should be aimed at changing community perceptions and creating acceptance of sex workers in mainstream society, and that maternal and child services should focus more on issues related to sex workers.
Darby Hickey of the Best Practices Policy Project, said, "We think sometimes that countries like the United States are a world apart from countries like Bangladesh, but unfortunately, we face the same issues. It is about law and about policy change, but also about how police operate outside the range of law. So we need to change policies, holding police accountable, and address the wider societal indifference and downright hostility." She said efforts to "rescue and save" sex workers should be called "arrest and abuse."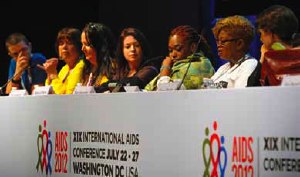 My body, my business: Discussing sex workers' issues.
In the session titled "The Oldest Profession: Is Sex Work Work?," Naomi Akers said equating sex work with human trafficking is insulting and hurts both sex workers, who are targeted by raids, and victims of trafficking, who aren't helped at all. "When you're doing sex work, of course you see it as work. It buys you food and helps you take care of your family," she said, calling trafficking "horrible."
Deanna Kerrigan of the Johns Hopkins Bloomberg School of Public Health in Baltimore detailed findings of higher HIV risk among sex workers around the world, and said support for sex workers' groups, as well as human and health rights is critical for all sex workers, including men and transgender people. Labor rights, the focus of the session, would help to eliminate stigma and discrimination and increase HIV prevention efforts for this group of workers, she said. Richard Howard of the International Labour Office (ILO) said, "Decent work [as outlined by ILO] should exist for all human beings, regardless of whether it's legal or not, whether it takes place in a formal or informal environment."
Underscoring the human rights issues affecting sex workers were protests against the U.S. Consulate for denying them visas to attend the conference.
In the final analysis, the sex workers movement advocates for decriminalization of sex work as the most important way of protecting their human rights.
"The epidemic is not driven by the lack of a pill or a gadget, the epidemic is driven by repression," said plenary speaker Cheryl Overs, Senior Research Fellow at the Michael Kirby Centre for Public Health and Human Rights at Monash University in Melbourne.
She founded a sex workers' rights organization in Australia in the '80s and the Global Network of Sex Work Projects in the '90s. She has worked in HIV policy and programming for male, female, and transgender sex workers in more than 20 developing countries. "And that brings me to law and policy," she continued. "Sex workers from Sweden to Singapore to Swaziland all say that the greatest threat to their health and human rights is the law that makes it impossible to find safe places to work, and prevents them from having the same protections as other workers and other citizens."