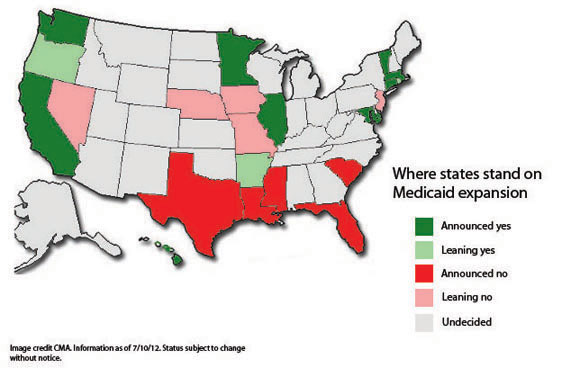 Image courtesy of California Medical Association.
Unlike gender rights and GENDA, in terms of health care coverage, New York stands poised to lead the country by delivering a wider array of health care services through the Medicaid Expansion as outlined in the Affordable Care Act. Medicaid, a federal program whose benefits are distributed by the states, is one of the major sources of health care coverage for low-income people and those living with HIV/AIDS.
Traditionally, however, eligibility for Medicaid was very limited, precariously pivoting on age requirements, income levels, and proof of a disability, e.g. an AIDS diagnosis and/or HIV and an opportunistic infection. Populations that were already living on the margins -- particularly people of color, homeless people, and LGBT folks -- who have higher rates of chronic illnesses and face the most barriers to accessible and affordable health care, were frequently denied coverage due to these requirements, further deepening the cycles of racial and sexual inequities, health disparities, and poverty.
But this all may change within the next few years. The Medicaid Expansion plan has enormous potential to help New York state residents who are homeless and/or living with HIV/AIDS, as well as help reduce the number of new infections nationally, as strategized in the National HIV/AIDS Prevention Plan.
But unless you really enjoy reading dense policy reports or have the time to read a 50-page report, you might miss these important provisions for populations that have largely been disregarded under previous federal and state programs.
So here are the top 5 things you should know about New York's plan and the Medicaid Expansion plan under the Affordable Care Act.
In fact, a number of states have shamefully already decided to opt out of expanding their Medicaid coverage, including Texas and Florida, two states that have some of the highest HIV/AIDS rates in the country. (The others states claiming to opt out include South Carolina, Wisconsin, and Louisiana). Moreover, Texas has the highest rate of uninsured residents in the nation, with over 25% lacking health insurance, or 6.2 million people, yet this guy thinks he is doing his state a favor.
Sadly, the move to transform the state of health care delivery and access in this country will have to be done piece by piece, state by state, with California and New York leading the way.
Stay tuned for more updates on New York's Medicaid Expansion and its implementation.