Table of Contents
Introduction
Abstract
After reaching historically low levels in the 1990s, syphilis prevalence began to climb in the United States, Western Europe and elsewhere, largely because of a surge in new infections among men who have sex with men (MSM). In the United States, a large proportion of people with newly diagnosed syphilis also have HIV infection. Like other sexually transmitted infections, syphilis can heighten the risk of HIV transmission. Because signs and symptoms of primary and secondary syphilis may be innocuous or hidden, experts advise routine syphilis screening in sexually active HIV-positive people. HIV infection complicates the course of syphilis and can lower rates of serologic response to syphilis therapy. Some evidence indicates that antiretroviral therapy lowers the risk of neurosyphilis and is associated with a better response to syphilis therapy. CDC treatment advice for syphilis does not differ for HIV-positive people and the general population, although some authorities believe people with HIV may need more intense therapy. Notifying sex partners of people with recently diagnosed syphilis -- and perhaps presumptive treatment of sex partners -- may slow the spread of syphilis.

France's Charles VIII, called "the Affable," didn't win many Italian friends when he invaded the peninsula with 25,000 men, eyeing Naples as his prize and subduing Florence along the way. And his troops probably found Charles less than likable when they left Naples with genital or oral sores and, soon enough, rash on the hands and feet.
They had syphilis, or the Neapolitan disease, or -- from the Neapolitan point of view -- the French disease. And while the French occupation of Naples in 1495 barely earns a footnote in geopolitical history, it marks day 1 of the European syphilis epidemic that claimed Schubert, Napoleon, Nietzsche, and countless less celebrated victims before penicillin offered a cure.
Thanks to Charles's transalpine excursions, syphilis ranks as one of the oldest recognized sexually transmitted infections (STIs). Whether Columbus brought it back from San Salvador, as some speculate, or whether it reached Naples by land, remains unknown.1,2 But epidemics of the Great Pox (so called to distinguish it from smallpox) soon flared in China, Japan, and India.
Advertisement
Within 50 years of the Neapolitan outbreak, Verona's Girolamo Fracastoro, a physician, geographer, and mathematician, published the epic poem "Syphilis sive morbus gallicus" ("Syphilis or the French disease," a title suggesting where Fracastoro's epidemiologic sympathies lay).3 The poem featured a hapless shepherd named Syphilus who ran afoul of Haiti's sun god and got cursed with "disfiguring sores." Sixteen years after penning this edifying epic, Fracastoro advanced the spore theory of epidemic disease, arguing that these vaguely defined entities can transmit infection through direct or indirect contact.4
Because no one knew what caused syphilis -- much less how to treat it -- this three-stage pox spread unabated for centuries. And it spread with great efficiency. Fracastoro's 20th century scions figure that half of sex partners whose bed mate has primary or secondary syphilis get the disease.5 You don't have to pull down your partner's pants, either: Treponema pallidum jumps from oral chancres to oral abrasions with acrobatic ease. Among men who have sex with men (MSM), who spearhead today's syphilis resurgence, researchers estimate that 20% in Chicago, 25% in Sidney, 37% in Brighton, and 46% in Northern Ireland owe their infection to oral sex.6
The 21st century syphilis epidemic has its center among gay and bisexual men with and without HIV, though heterosexual men and women play their part. In the United States, for example, 36% of reported primary and secondary syphilis cases in 2006 involved women or heterosexual men, and new cases of congenital syphilis -- a legacy of T pallidum-positive mothers -- inched up from 339 in 2005 to 349 in 2006.7 But syphilis incidence has climbed most steeply among MSM in North America and Europe, surely in part because of relaxed sexual prudence following the success of combination antiretroviral therapy in the mid-1990s. And the easy oral transmissibility of T pallidum means even men who practice "safer sex" (from an HIV perspective) are not so safe (from a syphilis perspective). Because primary and secondary syphilis can run their course unnoticed, the risk of latent and deadly tertiary syphilis cannot be ignored.
This article analyzes recrudescent syphilis prevalence and incidence in the late 20th and early 21st century, the impact of syphilis on HIV and vice versa, and HIV-specific testing, diagnosis, treatment, and prevention. A companion article in this issue of RITA! takes the same approach with an even more prevalent bacterial pathogen in people with HIV, Chlamydia trachomatis.
An Epidemic Ends -- Then Resumes
Syphilis prevalence in the United States peaked at around 600,000 cases in the last year of World War II,8 40 years after German scientists discovered that the spirochete now called T pallidum causes syphilis9 and 2 years after research showed that penicillin cures it.10 By 1953 Eisenhower administration seers proposed mothballing the Public Health Service venereal disease program because its work was done.11 Primary and secondary syphilis cases in the United States hit a low of 5976 at the turn of the millennium, the nadir since reporting began in 1941.12
Then everything changed.
From 1999 through 2005, California endured over a 700% jump in primary and secondary syphilis cases, 80% of them in MSM.12 Across the country, prevalence climbed from the 5976 low in 2000 to 8724 in 2005, with more than 80% in gay and bisexual men.12 Over the past decade syphilis prevalence rose among MSM in Chicago, Seattle, San Francisco, Southern California, Miami, and New York City, and 20% to 70% of men with syphilis had HIV.13 By 2006 the South accounted for 47.1% of primary and secondary syphilis cases.14 From 2005 to 2006, rates of primary and secondary syphilis rose 15.2% in the West, 13.2% in the South, and 13.0% in the Northeast, while staying flat in the Midwest.14
In 1995 all European Union countries except Germany reported fewer than 300 syphilis cases;1 after 1996 Austria, Belgium, Denmark, France, Germany, Ireland, the Netherlands, the UK, Canada, Australia, and New Zealand all reported big jumps -- and most new cases involved MSM.1 Across the world, researchers estimate that 50% to 60% of MSM with early syphilis have HIV.15
What accounts for the resurgent syphilis epidemic among gay and bisexual men? Research summarized below (see "Syphilis risk factors in gay and bisexual men,") identifies specific risk factors for syphilis in MSM, which researchers group into a few broad categories (Table 1).1,12
Table 1. Factors that May Contribute to Resurgent Syphilis Among MSM1,12
Sexual disinhibition following success of combination antiretroviral therapy
Perception that oral sex is safe
Use of illicit drugs (such as crystal meth) and prescribed drugs (such as sildenafil)
Increased serosorting (limiting sex to partners with the same HIV status, but disregarding other STIs)
Growing use of Internet to meet partners
Increased global travel and migration
Underinvestment in public health

Besides prompting gay men and others to abandon safer sex, the advent of potent antiretroviral medleys may have helped spark today's syphilis epidemic by damping the AIDS death rate, the Centers for Disease Control and Prevention (CDC) suggests.16 Before the era of combination antiretroviral therapy, syphilis rates were probably lower in HIV-positive people because they died of other causes before syphilis could be diagnosed -- or before they could get syphilis. So prolonged survival thanks to triple therapy could contribute to the surge in syphilis diagnoses over the past 15 years.
Modeling studies suggest that an interaction between T pallidum and natural immunity may cause cycles in epidemic syphilis, but some analysts are skeptical.1,17 In fact, analyzing longitudinal CDC data in 2008, some experts proposed "it is quite possible that the CDC could be successful in eliminating syphilis within the next few decades."17 But research reviewed in this article suggests eliminating syphilis will require -- for starters -- a tectonic shift in sexual behavior among MSM.
Syphilis Prevalence and Incidence Climbing
CDC officials chose 1999 to launch their National Plan to Eliminate Syphilis. The timing could not have been better -- or worse. The timing looked good, the CDC explained, because efforts could "capitalize on a decade of declining rates of syphilis" with a strategy focused on groups that seemed most affected at that point -- "heterosexual minority populations, particularly African Americans."18 And between the 1999 launch date and 2004, progress looked promising: primary and secondary syphilis rates among blacks plunged 37%, from 14.3 to 9.0 cases per 100,000 people, and the black-to-white syphilis rate ratio shrunk from 28.6-to-1 to 5.6-to-1.
But the time could not have been worse for a reason few, if any, divined in 1999 -- the surge in syphilis incidence among gay and bisexual men. In the summer of 1999 -- just as the CDC rolled out its elimination plan -- San Francisco saw a spike in early syphilis among MSM who corralled sex mates on the Internet (Figure 1).19 Over the next 4 years, syphilis incidence in San Francisco ballooned from 44 to 522 cases a year.20 The CDC revised its National Plan to Eliminate Syphilis in 2006.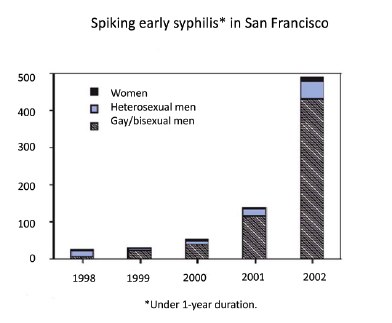 Figure 1. Just as the CDC launched a 1999 campaign to eradicate syphilis in the United States by focusing on heterosexual African Americans, incidence of this easily transmitted STI surged among San Francisco MSM prowling the Internet to meet sex partners. (Graph from MMWR.19)
By 2002 San Francisco earned the kind of first-place accolade cities hope to avoid -- most cases of primary and secondary syphilis in any US metropolis.19 MSM accounted for 22% of early syphilis cases in 1998 and 88% in 2002. Among 151 MSM with early syphilis, 67 (44%) said they met sex partners online. Analysis of early-syphilis risk factors in this outbreak determined that having recent Internet partners independently doubled the odds of syphilis (odds ratio [OR] 2.1, 95% confidence interval [CI] 1.0 to 4.3).21 Having HIV infection quadrupled the odds of syphilis (OR 3.9, 95% CI 2.0 to 7.7). The CDC cautioned that Internet access makes it much easier to meet sex partners when traveling, a development that could contribute to the US and pan-European spread of syphilis. But San Francisco public health authorities turned this new partnering tool to their advantage, using e-mail addresses collected by men with early syphilis to alert recent sex mates.19,20
A 27-state CDC analysis of primary and secondary syphilis reported from 2005 through 2008 figured that absolute increases in syphilis prevalence were 8 times higher in black MSM and 2.4 times higher in Hispanic MSM than in white MSM.22 The biggest prevalence jumps in this survey involved MSM from 20 to 29 years old, whereas US studies in the early 2000s found most syphilis cases in men in their 30s.
A CDC study of 73 US metropolitan areas with a population over 500,000 and at least 500 black men between the ages of 13 to 24 cataloged big jumps in new HIV and syphilis diagnoses over the 2004-2008 study period.23 Compared with 2004-2005, HIV diagnoses among young black MSM rose in 62 areas (85%) and new primary or secondary syphilis diagnoses in these men jumped in 51 areas (70%). Average HIV incidence among young black MSM rose 68.7% over the study period, while syphilis incidence vaulted 203.5%.
A 2011 systematic review of STI coinfections in people already positive for HIV focused on 37 studies reported since 2000 from Africa, Asia, Europe, and North and South America.24 Trichomoniasis proved the most prevalent STI at 18.5%, with syphilis and gonorrhea tied for second at 9.5%. Coinfection occurred most often in people with newly diagnosed HIV.