An Interview With Khalil G. Ghanem, M.D., Ph.D.
When to do Lumbar Puncture
Mascolini: When should lumbar puncture be done for HIV-positive people with syphilis?
Ghanem: That remains an area of huge controversy for HIV-infected patients with syphilis. There are physicians who feel that all HIV-infected patients should undergo lumbar puncture. The CDC addressed this topic in its 2010 STD treatment guidelines.1
There are three categories of patients in whom lumbar puncture is clearly indicated (Figure 1). First, anyone who has syphilis and any neurologic sign or symptom needs a lumbar puncture. The second and third categories involve patients who are neurologically asymptomatic. The first of these groups consists of patients with evidence of tertiary syphilis -- such as cardiovascular syphilis or late skin manifestations of syphilis. These patients should have a lumbar puncture, but this category of patients is extremely rare in the antibiotic era.
Deciding When to Do Lumbar Puncture in Patients With Syphilis and HIV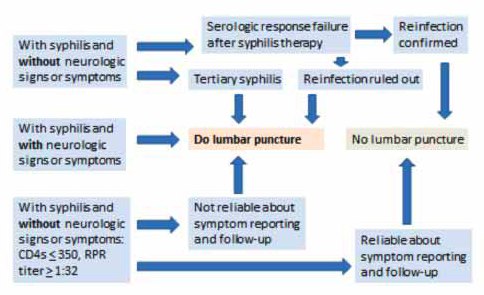 Figure 1. A simple algorithm suggests when to do lumbar puncture in an HIV-positive patient with syphilis.

The other category of patients without neurologic symptoms who should probably undergo a lumbar puncture consists of patients who get the appropriate treatment for syphilis and don't respond serologically to that treatment. If you rule out reinfection in these patients, they should probably undergo a lumbar puncture to make sure they don't have underlying asymptomatic neurosyphilis.
If you treated a patient for syphilis and their serological RPR titer has not declined, and if they say they had unprotected sex again and they noticed a lesion, you know they got reinfected and they don't need a lumbar puncture. But if a treated patient comes back with titers that didn't decline appropriately or even increased, and if that person says they've had no sex partner since starting syphilis therapy, they should undergo a lumbar puncture.
Advertisement
We know that patients with HIV and a CD4 count less than 350, or patients with HIV and syphilis and an RPR titer greater than or equal to 1:32, appear to be at increased risk of asymptomatic neurosyphilis. The problem is that in the antibiotic era we don't have any data to show that doing a lumbar puncture on these individuals ultimately improves their outcomes. It doesn't mean that lumbar puncture will not improve their outcome; it just means that we don't have any data. Because of that, and because there are risks associated with a lumbar puncture, the CDC recommendations aim to highlight the issue and not to make any formal recommendations beyond explaining when lumbar puncture should be considered.1
I'll tell you what I do: If I have an HIV-positive patient who is completely asymptomatic neurologically but has either a low CD4 count or a high RPR titer, I try to base my decision about lumbar puncture on how reliable that patient seems. If I think the patient is reliable and likely to come back for follow-up to make sure that they're neurologically well, or if they're likely to call me should any neurologic symptoms develop, I'm less inclined to do a lumbar puncture. But if I have a patient who's shown clearly that they're not reliable, they're not going to call, I try to get a lumbar puncture just to make sure I rule out asymptomatic neurosyphilis. It's not a perfect approach because sometimes it's hard to tell who's going to be reliable and who's not. But at the same time it's very difficult for us to schedule lumbar punctures on all our HIV patients. It's just not feasible.
Watching for Poor Syphilis Treatment Response in People With HIV
Mascolini: Do syphilis treatment response rates in people with HIV differ from rates in the general population?
Ghanem: Several studies, including the only randomized trial addressing this issue,2 show that HIV-positive patients are slightly less likely to respond serologically to syphilis treatment than people without HIV. [See "Syphilis treatment response in people with HIV" in the review article, "Slowing resurgent syphilis in people with HIV."] That's why the CDC recommends close follow-up of HIV-positive patients treated for syphilis. To me, that is the single most important recommendation the CDC makes on syphilis because close follow-up lets you quickly identify individuals who don't respond appropriately to therapy. When you identify a poor response, you can retreat those patients or work them up more fully. Closer follow-up of treated patients would prevent many of the complications that could occur in poor treatment responders.
The problem is that it's hard to follow these patients up. For example, when we looked at rates of followup for HIV-positive patients in the Baltimore City Health Department, we found that about 65% of our patients treated for syphilis don't have a followup RPR titer in the next year.3 And we're confident in our results because we have access to RPR titers done throughout the state of Maryland. That's a huge number. I think close follow-up of treated patients is the most important thing we can do because it allows us to identify patients who are not responding adequately in a timely manner.
Mascolini: In your systematic review of syphilis treatment in people with HIV,4 you conclude that "guideline recommendations in this population are based on little objective data." How do you advise HIV clinicians to treat patients diagnosed with syphilis?
Ghanem: We found that the published data are limited in terms of suggesting the best syphilis treatment approach for our HIV-infected patients. We didn't intend to cause clinicians anxiety by stating this, because we have decades of experience in treating syphilis in people with HIV. What that experience tells us is that the vast majority of our patients coinfected with HIV and syphilis do very well on standard therapy.
Physicians can take heart in knowing that and in following the CDC recommendations, which state that the treatment of syphilis is virtually identical in HIV-infected and uninfected patients.1 The only difference is that HIV-infected patients should be followed up more aggressively after treatment. If we do that we could quickly identify the small subset of patients who don't respond well to therapy and treat them more aggressively.
Mascolini: Can you summarize your research on how antiretroviral therapy affects syphilis treatment response?
Four Common Clinical Mistakes in Managing Syphilis in HIV-Positive Patients
Not screening high-risk patients frequently enough for syphilis
Failing to follow up patients aggressively after syphilis therapy to ensure adequate response and absence of reinfection
Overlooking the possibility of neurosyphilis after appropriate syphilis therapy
Overlooking the possibility of early neurosyphilis
Ghanem: We looked at our HIV cohort at Hopkins to see whether the immunologic status of our HIV-infected patients had an impact on the course of syphilis.5 We found that patients whose immunological status was impaired -- in other words, those whose CD4 count was less than 350 -- had an increased risk of neurosyphilis if they had syphilis. We also found that they were less likely to respond as well serologically to syphilis therapy than patients whose CD4 count was above 350. And we found that use of highly active antiretroviral therapy tended to improve responses to syphilis therapy in these patients and to reduce the risk of neurological complications.
These findings were not really surprising because we already knew that successful treatment of syphilis depends on two things: You need a functioning immune system, and you need antibiotics. One without the other is not enough to control syphilis. In the pre-antibiotic era most syphilis patients had a good immune system, but we didn't have any effective drugs, and it was hard to manage syphilis. In the pre-HIV antibiotic era, we had patients with a good immune system and we had good drugs; as a result, the number of syphilis cases dropped and people did very well with syphilis treatment. Then came the HIV era. We still had good drugs for syphilis, but in people with HIV we didn't have an intact immune system. Clearly, what this tells us is that to manage syphilis we need good drugs and a good immune system. Clinician mistakes in managing syphilis