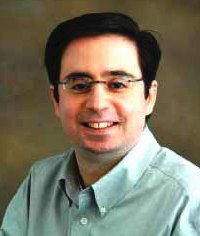 Khalil G. Ghanem, M.D., Ph.D., Associate Professor of Medicine, Johns Hopkins University School of Medicine; Director, STD/HIV/TB Clinical Services, Baltimore City Health Department
Dr. Ghanem is Associate Professor of Medicine in the Division of Infectious Diseases at the Johns Hopkins University School of Medicine, Baltimore, Maryland, and Director of Sexually Transmitted Diseases/HIV/Tuberculosis Clinical Services for the Baltimore City Health Department. He earned his M.D. at Baylor College of Medicine and his Ph.D. at the Johns Hopkins Bloomberg School of Public Health. Dr. Ghanem has authored reviews on syphilis and gonorrhea for leading journals and has contributed 11 book chapters on sexually transmitted infections.
Mascolini: Are syphilis rates changing in your patient population with HIV and at risk for HIV?
Ghanem: I'll first give an overview of the US, then focus on Baltimore to give you a sense of how syphilis rates are changing. Within the US for the last 10 years we've seen increasing rates of syphilis in men. In 2010, which is the year with the latest nationwide data, overall syphilis rates went down for the first time in 10 years. But rates of syphilis in men and particularly among men who have sex with men (MSM) continued to go up.
The male-to-female ratio of syphilis was 1-to-1 or 1-to-2 back in 1996, and now it's essentially 7-to-1 male to female, largely because syphilis rates in MSM have increased dramatically. If you look at early syphilis cases -- the cases used to calculate syphilis incidence per year -- almost 70% of new cases in 2010 are among MSM.
Of course, MSM are also at risk for HIV. We don't have population-level data in the US on HIV and syphilis coinfection, but results of studies in different locales indicate that rates of HIV coinfection among people with early syphilis are anywhere between 20% and 70%. In other words about 20% to 70% of patients who have early syphilis are HIV infected.
So syphilis is a huge problem, particularly among MSM with or without HIV.
Mascolini: And what's going on in your cohort?
Ghanem: Baltimore has had very high rates of HIV and syphilis for a long time. Heterosexual men and women had accounted for most syphilis cases in Baltimore until the last 5 to 7 years, when we saw a dramatic shift in the epidemiology of syphilis. Now the vast majority of our cases are occurring among men, particularly young men who have sex with men. And about 30% to 35% of our cases are occurring among HIV-infected men who have sex with men.
Thus Baltimore essentially mirrors the great shift that we've seen in syphilis epidemiology across the country over the last 10 years. For a while Baltimore lagged behind other major cities like New York and San Francisco in terms of this shift. It happened more recently in Baltimore, but the shift to MSM here has also been dramatic.
Mascolini: I know there's a large HIV-positive injection drug-using population in Baltimore. Have you noticed anything about syphilis trends in injection drug users?
Ghanem: Gender is the most distinguishing feature of our syphilis cases -- in other words young MSM and not so much underlying IV drug use. There is a strong association between meeting partners on the Internet and syphilis, and there is a strong association between syphilis and the use of drugs like crystal meth. But the typical IV drug population that we see has not been the main focus of these new syphilis infections.
Syphilis Screening Frequency in People With HIV
Mascolini: How often should HIV-positive and at-risk people be tested for syphilis?
Ghanem: I think the CDC has it down pat: The most important thing that we can do as clinicians is to screen our HIV-positive patients to make sure they're not infected, because we have excellent drugs to treat syphilis and thereby prevent its downstream complications. The recommendation that says screen your at-risk and HIV-positive patients for syphilis at least once a year is an excellent recommendation. But here the key words that a lot of clinicians forget are at least. It doesn't mean you should screen for syphilis on a yearly basis for everyone. You should do it at least on a yearly basis for everyone. There are patients I screen for syphilis monthly.
Advertisement
Screening frequency really depends on patient risk factors and behaviors. Based on these factors you can make a decision on how frequently to screen for syphilis. Patients with new sex partners, patients who meet anonymous sex partners on the Internet -- these types of patients need to be screened much more frequently for syphilis than once a year. I don't think anybody would accuse you of screening too frequently. I think most clinicians don't screen their patients nearly enough.
Mascolini: How do you get patients to come in for screening more often than they might for regular HIV checkups?
Ghanem: One thing we can do is remind our patients regularly about syphilis and about the risks associated with syphilis. And remember that patients don't have to be seen by the physician to be screened for any STD. They can just stop by the clinic and get their blood drawn. I've done that with some patients who come for a regular checkup every 3 months but get screened for syphilis every month. They come by in the morning, get their blood drawn, and go to work.
The other option is to send them to the STD clinic for regular screening. I run the STD clinic here in Baltimore, and we see a lot of people who come in and request syphilis testing. We screen them without asking any questions or seeing how often they've been tested for syphilis. So I think the issue of inconvenience can be bypassed because the clinician doesn't necessarily have to see the patient.
I think every 2 to 3 months is usually fairly adequate for someone who has very high risk. And I think yearly is pretty adequate for people who have a low to moderate risk.
Mascolini: Do you get good screening adherence from people you want to test every 2 or 3 months?
Ghanem: No. That's the tough part. If you plan to test someone every 2 to 3 months, you're lucky if you get them twice a year. When you try to test people yearly, you wind up actually testing them every other year. I feel by pushing it -- by aiming for the ideal -- you're much more likely to get a reasonable screening frequency. I push to get very high-risk people tested every 2 to 3 months; I wind up getting them tested maybe once or twice a year. But I can live with that.
Mascolini: Do you have a handle on the syphilis reinfection rate in the people you see with syphilis?
Ghanem: In our population our reinfection rate in the 3 years after initial syphilis treatment is about 30%. It varies depending on the population and the locale, but reinfection rates between 10% and 40% have been documented. Of course someone who gets syphilis once is much more likely to get a new syphilis infection than a person who has never had syphilis. That's why it's really important to follow these patients up, not only to determine their response to therapy but also to make sure they didn't get reinfected.
This is a common theme with almost all sexually transmitted diseases. That's why the CDC recommends rescreening 3 months after treating for gonorrhea, chlamydia, or trichomoniasis. And it makes sense because someone who comes in with syphilis is telling you they have sex in a network that has a high rate of syphilis, and usually networks don't change significantly after a person gets treated. As a result, they run a high risk of getting reinfected if they've already been infected once. It makes perfect sense on the network level, and it makes perfect sense on the biological level.