Table of Contents
Introduction
Abstract
Every year nearly 3 million people in the United States get infected with Chlamydia trachomatis, the most frequently reported bacterial sexually transmitted infection (STI ) in this country. An international review and a US study determined that about 5% of HIV-positive people have chlamydia infection. Because chlamydia -- the silent STI -- often causes no symptoms, regular screening of sexually active people is essential. Risk factors for chlamydia infection include prior chlamydia, multiple sex partners, unprotected sex, drug use during sex, younger age, and a CD4 count below 200 cells/mm3. Rectal chlamydia infection can boost the risk of HIV infection in MSM nearly 9 times, and chlamydia doubles the risk of HIV shedding in the genital tract. Treating chlamydia significantly lowers cervical HIV shedding. Various strategies for getting antibiotics to sex partners of people diagnosed with chlamydia -- without requiring partners to visit a clinic for an exam -- have proved effective in treating more partners and preventing reinfection in index cases. But such strategies have some drawbacks. Chlamydia treatment guidelines are the same for people with and without HIV. Some research suggests that the simplest regimen -- single-dose azithromycin -- may be less than optimal for people with asymptomatic rectal chlamydia.

Chlamydia poses an insidious and ongoing threat to HIV-positive people -- insidious because it usually causes no symptoms and so can easily go undetected, ongoing because people with HIV often remain sexually active and so risk picking up or passing along another STI.
Chlamydia trachomatis accounts for the highest proportion of reported bacterial STIs in the United States, about 3 million new infections yearly,1 representing about 2.7% of adults between 18 and 44 years old. And people with HIV do their share in sustaining that high rate. A systematic review of HIV-positive people across the world (but mostly in North America and Europe) figured that 5% have chlamydia.2 Chlamydia proved the fourth most prevalent STI in this review, following Trichomoniasis (at 18.8%) and syphilis and gonorrhea (tied for second at 9.5%).
Advertisement
Chlamydial urethritis usually does provoke symptoms in men,3 but most women with chlamydia-induced pelvic inflammatory disease have symptoms so mild or nonspecific that they never seek medical care.4 (A handout for patients at the end of this article lists chlamydia symptoms and other chlamydia prevention and care pointers.) Yet 20% of women with pelvic inflammatory disease become infertile, 18% succumb to "debilitating, chronic pelvic pain," and 9% face life-threatening tubal pregnancy.4C trachomatis infection during pregnancy can lead to postpartum endometritis in mothers and to conjunctivitis or pneumonia in infants.4
Gay and bisexual men with and without HIV run a risk of asymptomatic rectal chlamydia if they practice receptive anal intercourse. A 3076-man study in Britain charted a 38% prevalence of HIV and rectal chlamydia coinfection, and two thirds of rectal infections caused no symptoms.5 Those findings prompted the investigators to call rectal chlamydia "a reservoir of undiagnosed infection" in men who have sex with men (MSM).
Besides causing pelvic inflammatory disease in women and epididymitis in men, chlamydia can trigger conjunctivitis or sexually acquired reactive arthritis in adults.4 And as with most STIs, chlamydia heightens the risk of acquisition or transmission of HIV and other sexually transmitted pathogens.
Chlamydia Care Reminders for HIV Providers
Chlamydia is the most prevalent bacterial STI in the United States and may affect 1 in 20 people with HIV.
Because chlamydia infection may remain asymptomatic, routine screening of sexually active people is often the only way to detect it.
All sexually active HIV-positive people should be screened for chlamydia at their first HIV visit. Men should be retested every 3 to 6 months and women every 6 to 12 months, depending on their risk of acquiring STIs.
Screen all sites of possible chlamydia exposure, including urethral, cervical/vaginal, and rectal samples. Urine-based screening alone is inadequate.
Besides younger age, multiple sex partners, and unprotected sex, other factors associated with chlamydia in people with HIV include a prior STI, substance abuse, drug use during sex, smoking, and sharing sex toys.
Chlamydia can be transmitted during oral, vaginal, or rectal sex or during vaginal delivery.
STI prevention interventions do not have to be costly or complicated. Watching a 23-minute video in an STI clinic waiting room lowered incidence of chlamydia, HIV, and other STIs in a randomized trial. (To access and preview this video, go to www.safeinthecity.org.)
Because many health departments do not have routine partner notification programs for patients with chlamydia, many providers will have to perform this essential service themselves.
Partners of chlamydia patients should be treated empirically if they have had sex with the diagnosed patient in the past 60 days.

Although the CDC and other agencies and professional groups offer lengthy and detailed advice on chlamydia screening, diagnosis, and treatment in people with and without HIV, chlamydia experts acknowledge big holes in understanding the natural history of this pervasive infection. In 2008 the CDC gathered an advisory group to sort out what's known -- and not known -- about the course of chlamydia in infected people.6 They homed in on four "key questions" whose answers bear heavily on chlamydia prevention and care guidelines. After parsing available data, the panel agreed that no one knows the answers (Table 1).
Table 1. Key Questions About the Course of Chlamydia Remain Unanswered
Key Question
What Data Say So Far
What is the duration of untreated, uncomplicated genital chlamydial infection in humans?
"Ethical considerations are a major challenge in studying the natural history of untreated chlamydia. ... Taking these ethical challenges into consideration, designing longitudinal studies on the natural history of chlamydia will be difficult."
Which clinical factors influence resolution of untreated, uncomplicated genital chlamydial infection in humans?
"... we have limited knowledge about the clinical factors that influence the duration of untreated, uncomplicated genital chlamydial infections in humans."
Which host immune responses occur in uncomplicated genital chlamydial infections in humans, and which genetic determinants of the host modulate these immune responses?
"... there are few studies of host immune responses in humans with uncomplicated genital chlamydial infections."
Which biological properties of C trachomatisinfluence resolution of uncomplicated genital chlamydial infections in humans?
"... we have very limited knowledge of the impact of biological characteristics of C trachomatis on outcomes of uncomplicated genital chlamydial infection in humans, including most importantly, the duration of infection."

Source: Geisler et al.6

With those limits in mind, this review analyzes chlamydia risk factors, prevalence, and incidence in people with HIV; the impact of chlamydia on HIV risk and progression; screening for and diagnosing chlamydia in people with HIV; preventing chlamydia; and treating chlamydia in people with HIV. The article is limited to C trachomatis serovars that cause urethritis, pelvic inflammatory disease, and the other conditions mentioned above. Three C trachomatis serovars can cause lymphogranuloma venereum, a lymphatic system infection that spawned a concerning spate of outbreaks among MSM over the past decade,7,8 but this article will not cover lymphogranuloma venereum.
Almost 3 million in US (many with HIV) have chlamydia.
CDC case counters tallied 1,307,389 chlamydia infections in 2010.
1
They note that this number underestimates the actual total because most people with chlamydia don't know they're infected, so their case doesn't get reported. The CDC estimates the actual number of new chlamydia infections yearly (chlamydia incidence) at 2.8 million.
1
Among women and girls, chlamydia rates are highest among teens (2536 per 100,000) and 20- to 24-year-olds (2447 per 100,000), while among men and boys prevalence peaks in the 20-to-24 age group (605 per 100,000).
4
Because the cervix of teenage girls and young women is not fully matured and is probably more susceptible to chlamydia, the CDC notes, this age group runs a higher risk of infection than older sexually active women.
1
In 2011 a 37-study systematic review of STIs acquired after people became infected with HIV figured chlamydia prevalence at 5%.2 The analysis embraced 708,296 HIV-positive people, and 27 of the studies were from North America, Europe, or Australia. The highest STI coinfection prevalence came among people with newly diagnosed HIV, a result possibly reflecting a heightened HIV acquisition risk in people with an STI. Overall STI prevalence did not differ between men and women or between people taking or not taking combination antiretrovirals. The latter finding, these researchers cautioned, "suggests that STI co-infections could undermine efforts to use HIV treatments for prevention by increasing genital secretion infectiousness."2
A study of 235 HIV-positive gay men seen in Sydney in 2004 and 2005 found that 2% had urethral chlamydia and 6% had anal chlamydia, and these rates did not differ from prevalence in an HIV-negative cohort of gay men.9 At four HIV/STI clinics in London, a study of 3076 MSM seen in 2005 and 2006 recorded rectal and urethral chlamydia rates of 8% and 5%.5 Rectal rates reflected chlamydia variants causing lymphogranuloma venereum (LGV) as well as non-LGV variants. Of the 247 rectal infections, 171 (69%) evoked no symptoms and so would have been missed without screening.
Although chlamydia and most other STIs reach their highest prevalence in teens and young adults, an eye-opening 1996-2003 study of people attending genitourinary medicine clinics in the British Midlands shows that people over 44 years old contribute their share to STI prevalence.10 These investigators counted 4445 STI episodes in people 45 and older during the study period, including 801 chlamydia diagnoses (18%). Compared with 1996, the chlamydia rate was 3.6 times higher in 2003 (95% confidence interval [CI] 2.55 to 5.06, P < 0.0001). That jump was bigger than the overall 2.27 times rise in STI prevalence. Over the study period, the overall STI rate rose more in men (rate ratio [RR] 2.51, 95% CI 2.14 to 2.94, P < 0.0001) than in women (RR 1.85, 95% CI 1.50 to 2.28, P < 0.0001). The researchers did not report HIV rates.
Chlamydia incidence remains poorly studied in HIV populations. The largest recent study involved 4461 HIV-positive people in the US Military Natural History cohort monitored 6 months or later after their positive HIV test.11 Through an average follow-up of 7.08 years, 278 people (6%) picked up chlamydia, a rate similar to the 5% chlamydia prevalence recorded in the 37-study systematic review of 708,296 people with HIV.2 In the military study, chlamydia or gonorrhea rates were significantly higher in younger, male African Americans with a history of either STI.
A 2004-2006 study of 557 HIV-positive people in four US cities detected new chlamydia infections only in 365 MSM, not in 73 men who have sex with women or 119 women.12 In MSM, incidence 6 months after they entered the cohort stood at 5% for anorectal chlamydia and at 2% for oropharyngeal chlamydia (Table 2).
Table 2. Chlamydia Prevalence and Incidence in 527 HIV-Positive U.S. Adults
Baseline Prevalence
Incidence at 6-Month Visit
MSM (n = 365)
MSW (n = 73)
Women (n = 119)
MSM (n = 365)
MSW (n = 73)
Women (n = 119)
Anorectal
7%
0%
2%
5%
0%
0%
Oropharyngeal
1%
1%
2%
2%
0%
0%
Genitourinary
2%
0%
3%
1%
0%
0%

MSM, men who have sex with men; MSW, men who have sex with women.

Source: Mayer et al.12

A single-center nurse-led self-screening program for chlamydia and gonorrhea in Brighton, UK, involved 976 screens done over 8 months in HIV-positive people with no STI symptom.13 Screening detected 143 infections that would have been missed without this program. In MSM incidence measured 9.8% for rectal chlamydia, 2.6% for urethral chlamydia, and 1.7% for pharyngeal chlamydia. Chlamydia incidence in heterosexual men and women was 2.1%.
In the general US population, yearly chlamydia case rates among women vaulted 54% from 2000 to 2010 (Figure 1).14 The CDC cautions that this inexorable case-rate inflation could reflect more intense screening, more sensitive diagnostic tests, or improved surveillance and reporting systems,4 but "persistently high infection rates" probably figure heavily in the equation.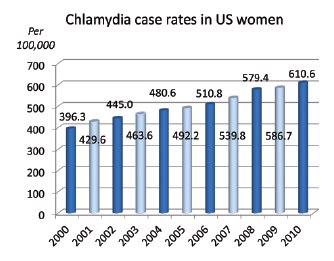 Figure 1. Chlamydia case rates in US women rose every year from 2000 through 2010, the last year for which the CDC has data.14

A prospective study of 1427 HIV-negative MSM recruited from 2001 through 2004 in Sydney recorded urethral and anal chlamydia incidence rates of 7.43 and 4.98 per 100 person-years, higher than the 3.49 and 2.96 rates for urethral and anal gonorrhea.15 Chlamydia incidence in these HIV-negative MSM far outstripped incidence in the general population of US women in 2010 -- 610.6 per 100,000 in the US women14 and 7430 and 4980 per 100,000 for urethral and anal chlamydia in the Australian MSM. In these men unprotected anal intercourse with HIV-positive partners and frequent insertive oral sex raised the risk of urethral gonorrhea or chlamydia, and receptive unprotected anal intercourse made anal infections more likely.
Researchers have not directly tried to gauge the impact of active chlamydia infection on HIV incidence, though evidence from a systematic review described above supports that intuitive association.2 One should not assume, however, that wider chlamydia control measures will necessarily trim HIV incidence. A 2011 Cochrane Database review of four trials "failed to confirm the hypothesis that STI control [through biomedical intervention] is an effective HIV prevention strategy" in the general population.16 However, all these trials took place in rural Africa. The Cochrane team did find "other compelling reasons why STI treatment services should be strengthened."