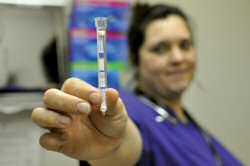 Photo by steamboattoday.com.
During an early session last Tuesday morning, The Association of Nurses in AIDS Care (ANAC) presented at the International AIDS Conference in DC. Sadly, however, out of a sea of programs listed in a several-hundred page directory of conference sessions, only a handful represented the perspectives of healthcare workers. The ANAC session sought to remind conference participants about the utter importance nurses and other integral healthcare staff play in the fight against AIDS, as they continue to wage the battle on the frontlines of the epidemic.
If you caught the past few posts from us this week, you will see an underlying theme addressing the inequities that we observed at the conference this year. One that hit especially close to home was the underrepresentation of healthcare workers featured, particularly nurses who make up a sizeable percentage of folks who are integral in the fight against HIV/AIDS. As you may know, Housing Works has been providing lifesaving services to the HIV/AIDS community since 1990, and healthcare is at the core of our mission today (for more about this, click here). Healthcare workers allow organizations like ours to deliver cost effective ways to provide patients with access to medical and dental services, care management, behavioral health (mental health and substance use), housing resources, and supportive services. These workers help prolong the lives of those infected, and give them individualized care, as well as resources to become self-sufficient in their journey to live long and healthy lives.
The contribution of healthcare workers is paramount, and cannot be undervalued or even overstated. That is precisely why we are so disappointed to see a coalition of nurses having to organize at the conference to demand for better recognition. D. Sabatino spoke on behalf of ANAC, and mentioned that not once in the opening ceremony of the AIDS conference did anyone even mention the contributions of nurses.
Here are some interesting facts presented by ANAC that will give you a fuller perspective on this discrepancy:
Nurses provide 90% of healthcare services worldwide
In 25 years of the International AIDS Society, there has only been one nurse who has sat on the Governing Council
This year's International AIDS Conference had a underrepresentation of nurses instituting programming and presenting on conference sessions
The President's Emergency Plan for AIDS Relief (PEPFAR) awarded $130 million throughout 12 countries for the next 5 years to the Medical Education Partnership Initiative, but only funded $26 million in comparison for the Nursing Education Partnership initiative, spread across 6 countries.
How can we begin to tackle the next leg of the AIDS fight without championing the voices of healthcare workers, advocates, and especially people living with HIV/AIDS? I think that the obvious answer is that it can't. The International AIDS Conference as a microcosm of the bigger movement -- will need to be more inclusive to the full spectrum of people in the field, outside of policy makers, scientists who work for big pharmaceutical companies, and celebrity AIDS philanthropists -- when the rest of the field starts first. Fortunately, we ended on a somewhat hopeful note when President Clinton gave healthcare workers a more than deserved shout out during his closing remarks. It's not enough to redeem the rest of the week, but it's a good place to start in gearing up for Melbourne in 2014.