HIV-positive people in a 2860-person San Francisco study had sudden cardiac death at a rate 4.5 times higher than would be expected in a local HIV-negative population.1 Sudden cardiac death explained 13% of all deaths in this HIV group and 86% of deaths due to heart disease.
As HIV-positive people live longer thanks to improved antiretroviral therapy, the risks of cardiovascular disease and death rise. Sudden cardiac death causes anywhere from 5% to 15% of all deaths in the United States, often in people who do not know they have heart disease.2
People with HIV have higher heart disease rates than HIV-negative people, probably for a combination of reasons: standard heart risk factors (like high blood pressure and smoking), inflammation due to HIV infection, and higher lipids (blood fats) caused by antiretroviral therapy.
However, rates of sudden cardiac death had not been examined in HIV-positive people until this study of 2860 HIV-positive adults in San Francisco. Researchers planned the study to see how many HIV-positive adults die from sudden cardiac death from year to year. The researchers also wanted to define the features and predictors of sudden cardiac death in this group.
Advertisement
How the Study Worked
The study focused on 2860 HIV-positive people at least 18 years old. All these people were in care for HIV between April 2000 and August 2009 at a large public HIV clinic in San Francisco.
Researchers figured how many people died by checking clinic records and the National Death Index. They determined the cause of death by reviewing clinic records and checking death certificates and the National Death Index. The researchers defined sudden cardiac death according to terms set out by the International Classification of Diseases and the World Health Organization.
The research team classified causes of death as (1) sudden cardiac death, (2) AIDS, (3) natural causes, or (4) trauma, suicide, drug overdose, or other. They searched all death records for evidence of heart disease and its risk factors.
For comparison with HIV-positive people who died of sudden cardiac death, the researchers determined the expected sudden cardiac death rate in the overall adult San Francisco population according to age, race, and gender, based on a previous thorough determination of the city's sudden cardiac death rate.3
What the Study Found
Of the 2860 study participants, 2478 (87%) were men and 1515 (53%) were white. Among 2482 study participants with a known HIV risk factor, 72% were gay, 7% were injection drug users, and 21% became infected during sex between men and women.
Median age when people entered the study group was 39, median CD4 count was 353, and median viral load was about 12,000 copies. About 1 in 5 people had a viral load below 200 copies. Median follow-up for each study participant was 3.7 years.
The researchers counted 230 deaths, 30 of them (13%) due to sudden cardiac death, 131 (57%) due to AIDS, 25 (11%) due to other natural causes, and 44 (19%) due to trauma, suicide, overdose, or other causes (Figure 1).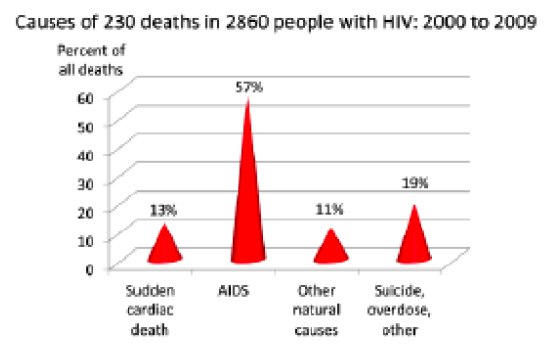 Figure 1. Sudden cardiac death caused more than 1 in 10 deaths among 2860 people in care for HIV between 2000 and 2009. Sudden cardiac death caused 86% of all heart-disease deaths. "Suicide, overdose, other" also includes trauma.

People who died of sudden cardiac death did not differ from those who died of AIDS in race or gender. But people who died of sudden cardiac death were an average 4.1 years older than people who died of AIDS, and they had a higher CD4 count (312 versus 87) and a lower viral load (about 6000 versus 65,000 copies).
Thirty-five people died of heart disease, so the 30 sudden cardiac deaths accounted for 86% of all heart-disease deaths. Over the 2000-2009 study period, sudden cardiac death became the leading non-AIDS cause of death in 2003 and remained a leading non-AIDS cause in each following year.
More than half of the people who died of sudden cardiac death had smoked, drank alcohol, or used drugs. Five of these 30 people had a close family member with heart disease. Twenty-four of 30 people with sudden cardiac death (80%) had known heart risk factors. Twenty-five of these 30 people had a prescription for a heart drug.
Compared with people who died of AIDS and other natural causes combined, people who died of sudden cardiac death were more likely to have evidence of a prior heart attack (17% versus 1%), heart muscle disease (23% versus 3%), heart failure (30% versus 9%), abnormal heart rhythms (20% versus 3%), high blood pressure (67% versus 27%), and high cholesterol or triglycerides (20% versus 6%).
Compared with people in the general population of San Francisco, these HIV-positive people had a 4.5 times higher rate of sudden cardiac death.