HIV-positive people with depression and those with wider waists ran a higher risk of insomnia (difficulty falling asleep or staying asleep) in a study of people cared for by the U.S. military healthcare system.1 Compared with people without insomnia, those with insomnia were 3 times more likely to have declines in activities of daily living.
Insomnia and daytime sleepiness are common problems in people with and without HIV. In people with HIV, several factors may cause or contribute to sleep disturbances: (1) ability of HIV to infect the central nervous system (brain and spine), (2) HIV-related central nervous system infections, (3) antiretroviral side effects, (4) mental health problems like anxiety and depression, and (5) drug or alcohol abuse. Several other factors (Table 1) may cause insomnia in people with or without HIV. Depression is marked by ongoing feelings of sadness, loss, anger, or frustration.
Table 1. Major Causes of Sleep Disturbance and Risk Factors for Sleep Disturbance
Possible Causes of Sleep Disturbance
Possible Risk Factors for Sleep Disturbance

Stress
Anxiety
Depression
Medications
Caffeine, nicotine, or alcohol
Medical conditions
Changes in environment or work schedule
Poor sleep habits
Eating too much late in the evening

Being a woman
Age over 60
Mental health disorders
Stress
Work at night or in changing shifts
Long-distance travel

Source: Mayo Clinic Health Information. Insomnia. See reference 2 below for a link with more information on this topic from the Mayo Clinic.

One study of people with HIV found that three quarters suffered from insomnia.3 But that study was done more than 15 years ago, before use of current antiretroviral combinations greatly improved the health of HIVpositive people. And the earlier study did not compare sleep patterns in HIV-positive people and HIV-negative people.
To provide up-to-date insights into sleep disturbances in people with HIV, researchers conducted the following study.
Advertisement
How the Study Worked
Researchers invited 18- to 50-year-old people at three U.S. military HIV clinics to join the study. Participants could be active members of the military, retired from the military, or the dependents of military personnel. Everyone is HIVnegative when entering the military and gets tested for HIV regularly.
The 200 HIV-positive people invited to join this study had tested positive for HIV while in the military, and all had free access to medical care for their infection. People who said they had thoughts of suicide or who had a major illness could not enter the study. The researchers created a comparison group of 50 people without HIV who matched the HIV group in age, gender, race, and military rank.
All study participants completed a series of question-and-answer tests to assess (1) insomnia, (2) daytime sleepiness, (3) depression, and (4) activities of daily living. The researchers also collected other information on each person's health (including information related to weight) and habits (such as smoking and use of alcohol or illegal drugs).
The study team compared sleep disturbance patterns in the HIV-positive group and the HIV-negative group. Finally, the researchers used standard statistical methods to single out risk factors for sleep disturbances.
What the Study Found
The study involved 193 adults with HIV and 50 without HIV. In the HIV group, average age was 36 years, 95% were men, 50% white, 29% black, and 13.5% Hispanic. One quarter of the HIV group was obese, and one half had HIVrelated body fat abnormalities (lipodystrophy). Only 1 person had less than a high-school education; 7% had depression (based on a standard test called the Beck Depression Inventory).
People with HIV had relatively well-controlled HIV infection. The group CD4 count averaged 567, and only 15% ever had a CD4 count below 200. Two thirds of HIV-positive study participants were taking combination antiretroviral therapy, and 55% had an undetectable viral load.
Test results showed that 89 HIV-positive people (46%) had insomnia, and 59 (29.5%) had daytime sleepiness. The HIV-positive group included 103 people (53%) who said sleepiness interfered with regular daily activities.
Testing determined that 19 people (38%) in the HIVnegative comparison group had insomnia and 10 (20%) had daytime sleepiness. These rates did not differ significantly from rates in the HIV-positive group.
Despite these relatively high rates of sleeping difficulties in people with and without HIV, only a small proportion of study participants said they took sleeping pills: 17% of HIV-positive people and 16% of HIV-negative people reported taking sleeping pills at least once a week.
There was a strong link between insomnia and symptoms of depression: insomnia affected 31% of people without depression, 71% with mild depression, 89% with moderate depression, and 93% with severe depression.
People with depression had a higher chance of having insomnia than people without depression (Figure 1). Increased waist size and illegal drugs also increased chances of insomnia, and people with fewer years of education had a higher chance of insomnia. No HIVrelated factor (including HIV infection itself) affected chances of insomnia.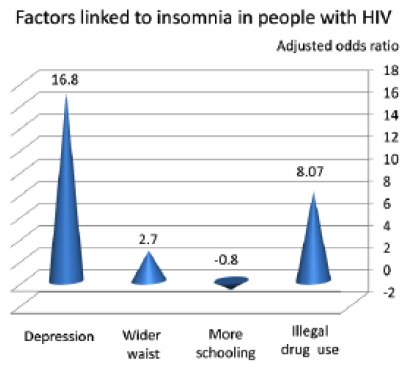 Figure 1. Depression raised chances of insomnia almost 17 times in a study of 243 people with and without HIV. Higher waist size almost tripled the odds of insomnia, while each additional year of schooling lowered the odds 20%. Illegal drug use raised the odds of insomnia 8 times, though this association fell short of statistical significance (adjusted odds ratio 8.07, 95% confidence interval 0.91 to 74.41, P = 0.06).

Increased waist size also independently raised chances of loud snoring 4 times, while doubling chances of daytime sleepiness and poor daytime function (Figure 2).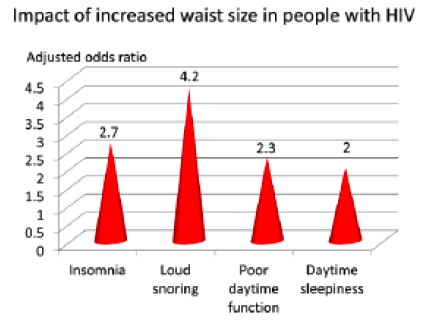 Figure 2. Increased waist size raised chances of insomnia, loud snoring, poor daytime function, and daytime sleepiness in a study of 193 adults with HIV and 50 without HIV.

Among people with insomnia, 22% reported a decline in activities of daily living, compared with 9% without insomnia. Statistical analysis determined that insomnia tripled chances of a decline in activities of daily living.