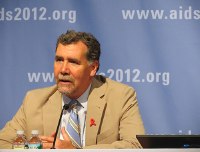 Chris Beyrer
The idea of "turning the tide" against the AIDS epidemic will prove to be no more than a slogan if more is not done to address the growing number of gay/bisexual men infected with HIV worldwide, experts said today.
Speaking at an afternoon press conference today, a panel of experts presented new research -- recently published in a series in the medical journal, The Lancet -- that confronted the reality of HIV prevalence among MSM (men who have sex with men). The series concluded that, in addition to medical and scientific advances, more must be done to eradicate the cultural and societal impediments of homophobia and discrimination. Until that happens, ending the AIDS epidemic is unlikely, said Chris Beyrer (at right), a professor at Johns Hopkins Bloomberg School of Public Health.
"Unfortunately, what we've identified is the global epidemic of HIV among MSM is a consistent pattern of expanding prevalence, whereas other populations have leveled off," said Beyrer, a lead writer on The Lancet series.
There are several reasons for that, he said, including the biological and the societal. HIV is a virus more easily transmitted through anal sex as opposed to vaginal intercourse. But there is also the fact that gay/bisexual men, particularly African-American MSM in the United States, and throughout Africa, tend to face homophobia and discrimination that hinders their access to prevention services and heath care.
On average, MSM are 19 times more likely to be infected with HIV than the general population in low- and middle-class countries, according to Dr. Kevin Fenton, director of the National Center for HIV/AIDS.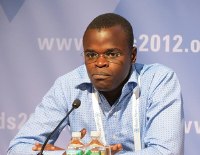 Paul Semugoma
Many African countries do not accurately report numbers of MSM and some do not even acknowledge they have MSM among their population, said Paul Semugoma (at left), an Uganda physician who serves on the steering committee for the Global Forum on MSM &HIV (MSMGF).
Homophobia is rampant in such countries, he said.
"If we don't start solving these impediments for MSM, we're not going to do much about the epidemic," Semugoma said.
In a recent study in Jamaica, 82% of Jamaicans self-identified as homophobic, largely out of fear of HIV prevalence among gay/bi men, said Maurice Tomlinson, legal advisor on marginalized groups for AIDS-Free World, an international advocacy group.
Such homophobia has engendered a climate where gay mean are afraid to buy condoms for themselves, Tomlinson said. Their female friends often buy condoms for them, he said, but refuse to buy lube, as that would imply a female "deficiency."
And so many gay/bisexual Jamaicans use petroleum jelly, saliva or even hairspray as a lubricant, he said.
"In those cases, it would be better if they used nothing at all," Tomlinson said.
To address this dire reality, the International Rectal Microbicide Advocates (IRMA) -- led by the AIDS Foundation of Chicago's Jim Pickett -- has been promoting "And Lube - The Global Lube Access Mobilisation" (GLAM), an global initiative designed to increase the accessibility of lubricants for anal sex, throughout the conference. Read more about GLAM here.
To learn more about how HIV affects MSM throughout the world and possible solutions to problem, read the full series in The Lancet titled "HIV in Men Who Have Sex With Men."