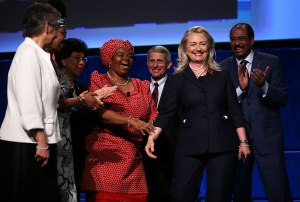 Photo courtesy of Zimbio.
Secretary of State Hillary Clinton entered the opening session of the International AIDS Conference today to a standing ovation -- which then faded into the loud shouts of a band of banner toting activists from ACT UP and other orgs denouncing an opaque and massive new trade agreement that could potentially ravage international access to generic drugs. The varied welcome highlighted the nature of the current fight to end AIDS, and the tone of many an IAC speech, including Dr. Anthony Fauci's, head of NIAID, who spoke shortly before Clinton: How far we've come, but how far we've yet to go in making the structural changes regarding human rights and treatment access required to allow all our stunning biomedical advances to fulfill their potential to save lives. In a jovial response to the shouts, typical of her strong and progressive speech dedicated to comprehensive science based prevention, improving treatment access, and reaching women and other high risk populations, Clinton quipped, "What would an AIDS conference be without a little protesting," then added sincerely, "So much progress we've made is because so many are not satisfied that we've done enough." She spent the rest of her speech outlining how she would follow through on her historic pledge last year and do more to achieve an AIDS-free generation internationally.
"HIV may be with us into the future until we find a cure or vaccine, but the disease HIV causes need not be," she said, defining what AIDS-free means. Then she launched into a discussion of U.S. monetary and international policy dedication to comprehensive prevention and to structuring PEPFAR (President's Emergency Plan for AIDS Relief) funded orgs' world wide to use these most effective strategies in their efforts, focusing in particular on the need for better health care programs for women and getting mother to child transmission of HIV to zero by 2015. She touted condoms, a women's right to choose when and where she will have children, and effective harm reduction based efforts to reach high risk populations, including sex workers and injection drug users (though not mentioning that the U.S. legally bans them from entering the country and therefore attending the conference).
"Discouraging risk behavior drives people into shadows where they are harder to reach," she said, then pledged nearly $40 mil to bolster, evaluate and implement the scientifically most effective methods to reach them. She also announced several other new funding initiatives based on these strategies, including funds for voluntary male circumcision and microbicides. The statements were refreshing (and frightening in their rarity) in an election year clogged with disturbing rhetoric in which ideology trumps science and reason at the expense of the fight against AIDS and us all. However, the newly announced funds totaled just $150 million, only a fraction of the $562.9 million the administration cut from the PEPFAR budget this year.
Advertisement
Her speech also implied a sincere dedication to listening to and respecting advocates' concerns. Reportedly, late last night after her staffers learned of the protestors plan to denounce the new Trans Pacific Partnership, the details of which the administration has vexingly shrouded in secrecy, Clinton made a last minute change to her speech to include and spotlight the U.S.'s commitment to generic drugs, stating that the country saved $380 million in generic drugs in 2010 alone, and would continue to rely on them as PEPFAR pushes to get 1.5 million more people on treatment to meet its goal of funding treatment for 6 million internationally by the end of next year. In addition, in the days leading up to the conference, dozens of international activists and leading AIDS organizations, including Housing Works and the likes of Desmond Tutu, circulated a petition requesting that the administration release a plan detailing its concrete strategies to fulfill its promise to reach an AIDS free generation. Clinton answered the call today. "I've asked Dr. Eric Goosby [U.S. Global AIDS Coordinator] to come up with a PEPFAR blueprint of our goals and efforts to be released before World AIDS Day," she said, saying it will provide a "clear picture of what we've learned and a road map of what we will do to achieve an AIDS free generation."
An area of possible concern, in a speech vehemently reaffirming her commitment to keeping that promise, was an emphasis on countries taking ownership of their own epidemic and not relying on international funders like PEPFAR and the Global Fund. This sparked concern among many that services in nations that most need AIDS care could be disrupted if health clinics and programs lose U.S. money and are forced to shift to the public sector prematurely, before they have the capacity to be self-sufficient.
She then ended with another theme common this week, taking a then and now look, at this, both the first conference where the end of AIDS is in site and the first one to hit U.S. soil in 22 years, since 1990, before effective treatment, when many positive delegates were hospitalized. She recounted going to the Mall with then President Clinton in 1996 to see the AIDS Quilt, recalling how its vastness jolted and devastated her as it stretched from the shining Washington Monument to the shining Capitol. She ended with a pledge that soon we would stop adding names to the Quilt. "We will meet the goal of AIDS free generation and truly honor all lost." The audience then stood again as she waved goodbye with rock star panache and ushered her out with thunderous applause.