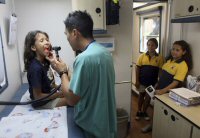 Photo courtesy of Zimbio.
Yesterday, amidst Republican calls denouncing Medicaid Expansion, California unrolled a program to extend Medicaid coverage to all low-income people with HIV in advance of the Affordable Care Act's 2014 implementation date. California is the first state to announce such a program in the wake of last week's Supreme Court ruling, which, while upholding the law, amended it to allow states to opt out of the expanded Medicaid coverage, sparking concern that, contrary to the law's intention, in some states many low-income people most in need of coverage will remain uninsured.
Previously, most low-income Californians with HIV had to wait until they were diagnosed with AIDS to qualify for Medicaid coverage, but no longer. Congresswoman Barbara Lee (D-CA) was on hand at the announcement at Oakland's Cal-Pep, an HIV advocacy organization. She plugged the program as a huge step in the fight for an AIDS-free generation, but stated that, "We have a long way to go."
Advertisement
In contrast, although the federal government will foot the full bill for expanding Medicaid coverage to those with an income up to 133% of the poverty level until 2016 and 90% of it after that, Republican governors in multiple red-leaning states have expressed serious doubts about expanding coverage in their state. This opposition could leave up to 17 million low income Americans with an income too high to qualify for Medicaid but too low to qualify for the government subsidies to help fund private insurance. Unfortunately, many of the governors most vocally opposed to the expansion hail from southern states like South Carolina, Texas and Mississippi, the region with the most new HIV infections and some of the largest barriers to adequate health care.
"I would resist any expansion of Medicaid that could result in significant tax increases or dramatic cuts to education, public safety and job creation," said Mississippi's Republican Governor, Phil Bryant, of implementing the change that would give hundreds of thousands of low-income Mississippians Medicaid coverage. Roy Mitchell of the Mississippi Health Advocacy countered, "The increased state cost that Mississippi will have to pay to expand Medicaid will be largely, if not completely, offset by the state and local revenue generated by the new federal funding and its related spin-offs by the reductions in uncompensated care costs."
Governor Rick Perry of Texas, a state where an estimated one in four people lack insurance, called the law a "stomach punch to the American economy" and a "monstrosity." Unlike most states, including Mississippi, that have begun setting up health care exchanges for subsidized private options as stipulated by the Act, Texas has taken no action to implement any part of it. An estimated 1.4 million uninsured Texans stand to gain health coverage under the Medicaid expansion alone. "It's shocking to me that we would turn down that amount of money and assistance from the federal government to provide something as basic as healthcare," said Katy Caldwell, executive director of Legacy, a safety-net clinic in Houston, who plans to lobby the state legislature to enact the expansion.
Other Republican governors said they would hold off on taking a stance until after the fall Presidential election, in the hopes that Romney will be elected and undo the reform. However, even then the law's undoing would most likely require a filibuster-proof Republican majority in the Senate, an unlikely election outcome. And the Obama Administration remains optimistic that the Republican opposition rhetoric will vanish with the daily headlines about the Act. Michael Hash, a senior official at the federal Department of Health and Human Services, said he believed that all states would eventually opt Medicaid expansion.
Regardless, in every state crucial parts of the law benefiting people with HIV will stand, including prohibiting denying them insurance because of their HIV status. Scot More, an HIV positive Houstonian, said of his relief that if he loses his current insurance, he can always get more, "I, personally, am getting really tired of who I am and my health being a political tool. You know, I'm a person, not a policy."