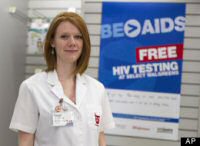 Photo courtesy of AP Photo.
To mark National HIV Testing Day, the CDC unveiled a program that will train pharmacists to provide free oral rapid HIV tests, which offer results after a 20-minute wait. "Our goal is to make HIV testing as routine as a blood pressure check," said Jonathan Mermin, M.D., director of CDC's Division of HIV/AIDS Prevention. The CDC is partnering up with Walgreens and four other pharmacies in 24 cities from D.C. to Billings, Montana for the 2 year, $1.2 million pilot program. Operations in seven locales are already up and running and the CDC will soon announce the other 17 test cities. After the results analyzing this limited effort are in, they plan to expand the program.
"Together, these and other efforts will help prevent new infections and ensure that people living with HIV lead healthy lives -- moving us towards our goal of an AIDS-free generation," said President Obama today about the benefits of knowing your status. He added, on this the eve of the Supreme Court's announcement of the fate of health care reform, "The Affordable Care Act now requires many health insurance plans to provide recommended preventive health services with no out of pocket costs, giving millions of Americans better access to HIV testing."