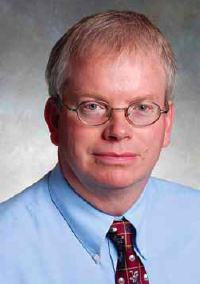 Keith Henry, M.D., Hennepin County Medical Center, Minneapolis, Minnesota. Photo courtesy of Keith Henry, M.D.
It's been 30 years. What do you think it will take to get people up to speed about HIV/AIDS -- transmission basics, the benefit of early treatment, understanding that treatment is prevention, etc.?
Brown: I wish I knew. I think the media could be more helpful. I think perhaps more characters with HIV, not just AIDS, in sitcoms, soap operas, and medical dramas, might help. We did a video locally regarding HIV and treatment, and why it's better to know your status and that treatment is a lot easier now (also available in Spanish). [Go to www.youtube.com/watch?v=yPt_2s5Dp6U]. I have had many friends and family -- educated and aware, I thought -- tell me how much they learned from it. We have also put up beautiful murals in town and have other promotions for this testing program.
Henry: Quality HIV education in the schools, coupled with appropriate and not just abstinence-based instruction, needs to be coupled with education of parents and a buy-in from the media to send consistent messages to youth and adolescents. I am not confident that we will see that happen in the current political and financial environment.
Volberding: Maybe a new Surgeon General willing to take this on?
For you, how big of a challenge are things like stigma, lack of information, and fear about being a person with HIV/AIDS, in helping your patients manage their health?
Volberding: I think this is going quite well, at least in San Francisco. I still hear of cases where a patient is in hiding with the diagnosis, but those seem rather rare.
Brown: It is a challenge to help patients when they are afraid of being seen at the clinic and will not come for appointments. I have a patient who was so fearful, we made arrangements for him to go somewhere else for a checkup so he could avoid being seen at our facility. He had not come in for a visit in over a year. We have people who will drive four hours across the state for their lab work and appointments, so they can maintain their privacy. Also, we have them draw their labs here in case they know someone working in the local lab. We reassure patients all the time that we are very careful with their health information, but they are still afraid. We reassure them that we will not speak to them or engage with them away from the clinic, unless they acknowledge us first. We have our pharmacy send meds by mail, unlabeled. We send mail unlabeled. We have special doctor's notes for missed work and school that are minimally identified. Even with these special efforts, we have patients who will stop coming for fear of being recognized. I feel like we actually do a decent job once a patient is in care -- we have a really high rate of undetectable virus in our patients who are on meds, but getting people into care and keeping them is the challenge.
Henry: Those issues are a constant presence in our clinic. We often have patients whose family (either in the U.S. or home in Africa or elsewhere) is unaware of their HIV status. When we have to use interpreters, often patients balk at having someone else who belongs to their local community involved with their care.
Brown: People are afraid their family or co-workers will see their meds and find out, and so are non-adherent for that reason. Also, patients often believe the HIV meds are toxic. I have at least two patients who avoided meds for 15 years because they thought all meds were like AZT!
Advertisement
What are the most effective approaches and tools you've found to help people get into care and stay there?
Brown: The rapid testing we do is helpful in getting people engaged in care. If someone from our clinic has given them the results, there is a familiar face that person can see when they return for the confirmatory test results. That face-to-face contact is crucial. We try to link people to care when a positive test occurs in our testing program, but a few people do disappear for a while. We have a multidisciplinary team with providers, nurses, and case managers, and we really try to help the patient feel safe and welcome. Even though the meds are so much easier to take and people can live a more normal life span, I think my patients really like that I take the time to acknowledge the challenges they face. It helps them trust me more.
Volberding: My own experience is that conveying the reality that HIV will kill in all cases unless it's treated, and that treatment can allow a normal life, are the things I focus on in keeping patients engaged. It usually seems to work.
Henry: The most important element is having a friendly and supportive team of good listeners so that every person coming into contact with the patient sends a positive message. One of my colleagues coined the term "stickiness" to describe the concept of us getting our patients to stick to clinic and get ongoing care. Any negative interaction with staff (even the billing office) that is interpreted the wrong (or unfortunately sometimes the right) way represents the weak link in the chain of care and can result in the patient leaving and not returning.
Brown: I also have many patients who don't trust conventional medicine. It takes extra time and reassurance that I am not just about them taking their HIV meds. After I spend time with them and work with their need to try alternatives first, I have been able to transition some to taking ART.
Henry: I believe that key elements to running a good HIV clinic include the availability of a benefits counselor/insurance guru with the patient's best interest at heart, peer navigators, outreach to the community, efforts to reach patients who have been lost to care, an in-house 340B pharmacy (a government-run drug discount program), case managers, social workers, safe sex and testing programs within the clinic, staff hired from the impacted communities, friendly secretaries and phone trees, sensitivity to diversity issues, and quality clinicians (many of whom are currently supported by the Ryan White Program and are not paid for or supported by standard insurance or billing mechanisms).
What do you think it will take to bridge the gap between the available tools of HIV management and the societal realities that make success difficult?
Volberding: We need a concerted and continuing effort at diagnosis and facilitated entry to care. I think we know how to do that, but it will be expensive when many seem to think we should be reducing, not expanding, public programs in health care.
Henry: Universal access to health care and the nurturing of user-friendly health care environments (sometimes called patient-friendly or medical home systems) are a good start to addressing key problems, including HIV care.
Brown: I really believe a single-payer national health plan would go a long way toward addressing these issues -- even though I don't think it will happen.