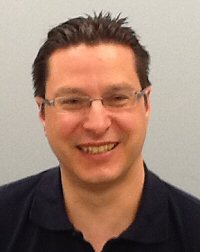 Gero Hütter, M.D.
This isn't another story about the "Berlin patient" -- a.k.a. Timothy Brown, the first, and to date the only, man who's ever been considered "cured" of his HIV infection. His story has been told many times, in many ways, and in many publications -- including ours, so there's no need to retell it.
By comparison, we've seen relatively little about the man who cured him: Gero Hütter, M.D., an oncologist in Berlin who was previously unknown in the HIV field. And with good reason: Until the Berlin patient, Hütter had never treated an HIV-infected cancer patient before, nor had he conducted any HIV-related research studies.
While in New York City for a speaking engagement, Dr. Hütter was kind enough to visit with us. Relaxed and mild-mannered, he discussed the Berlin patient's case -- how he approached it, how he weighed the risks and the benefits, and what we've learned from the process. He also shared his thoughts on how the case transformed his career, and on what needs to happen for the HIV/AIDS medical community to repeat the Berlin patient's success and yield a second "cured" patient (and a third, and a fourth, and ...).
Table of Contents
The Makings of a Miracle
Explain to me how a clinician who is trained as a hematologist and a cancer researcher ends up being the guy who changes the way we think about the approach to an eventual cure for HIV.
Advertisement
[Laughs] This is what I always want for my patients: I want the best treatment. This was a challenge, from when I saw Timothy and I realized that we have to do this transplantation. For me, it was the first patient with HIV which received allogeneic transplantation.
We know from patients with leukemia that eradication is achievable. And we cannot accept, in patients with leukemia, that any of these leukemia cells will survive, because they are the basis of any relapse of leukemia. So you have to cure these patients and get rid of the leukemia. And if this works with leukemia, why shouldn't it work with HIV?
You make it sound like it's such a natural, logical conclusion. But we've known about this mutation -- that people whose CD4 cells don't have the CCR5 receptor are largely immune to most forms of HIV -- we've known this since the mid-to-late '90s. Yet nobody had thought to try this before.
That's not quite correct. There are several others who had this idea before me. And they had made approaches to realize that. For example: the StemCyte [Cord Blood Bank] built up cord blood units, with tested cord blood units for the CCR5 mutation in 2001.
The gene therapy approaches targeting CCR5, they are older than the Timothy Brown case. But this case has supported their work. The techniques were available, and the idea was available, but it needed something that enhances the whole development.
After the Timothy Brown case was published, the funding and the support for such new approaches were opened, and now the development has come much more quickly and rapidly.