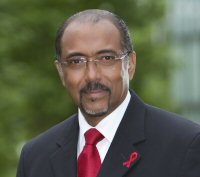 Michel Sidibé, Executive Director of UNAIDS.
In addition to providing a space for groundbreaking research on the connection of housing and AIDS disparities, this year's AIDS 2012 International Summit on Housing will feature a keynote address by Michel Sidibé, Executive Director of UNAIDS. Stephen Lewis, Co-Founder and Co-Director of AIDS Free World, will also be a featured speaker. As leading advocates for the human rights of people living with and vulnerable to HIV, including the land and inheritance rights of women, Sidibé and Lewis will bring valuable insights and perspectives to our dialogue.
"Housing status is important to achieve a good health outcome, especially for people living with HIV. Housing security improves HIV treatment compliance, reduces mortality and can help lower the risk of HIV transmission, says Michel Sidibé, Executive Director of UNAIDS. "I congratulate the organizers of this critical meeting to discuss strategies to address housing instability, poverty and other social drivers of the global AIDS epidemic."
Advertisement
As in previous years, the National AIDS Housing Coalition has made this year's AIDS Housing Summit a satellite meeting of the International AIDS Conference too build upon the Building upon six North American Housing & HIV/AIDS Research Summit meetings and successful International AIDS Conference (IAC) satellite meetings in Mexico and Vienna, the 2012 Leadership Summit on Housing will bring together leaders from every continent for a full-day IAC pre-conference.
Participants will consider the global HIV prevention and treatment challenges presented by housing instability in all its forms, and discuss the role of housing interventions as a response to the HIV/AIDS pandemic.
Simultaneous translation will be provided to facilitate participation in English, French and Spanish. Housing Works is a member of the National AIDS Housing Coalition, the sponsor of this annual summit.
Please Register ASAP for the session!
(Please note: Your name and comment will be public, and may even show up in
Internet search results. Be careful when providing personal information! Before
adding your comment, please
read TheBody.com's Comment Policy
.)