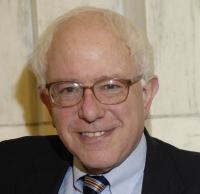 Vermont Senator Bernie Sanders
Housing Works has been advocating (along with our friends at VOCAL-NY and Health GAP) for a global Robin Hood Tax -- a small tax on the wealthy that would create a fund for HIV treatment access for people across the globe.
Vermont Senator Bernie Sanders has introduced a bill that will soon be analyzed by the Congressional Budget Office that would do something very similar!
The Huffington Post reports that the bill S.1138 which has been proposed by Nobel Prize winning economist Joseph Stiglitz, "would set up a $3 billion-a-year prize fund to buy out existing and future patents for AIDS drugs. The fund would compensate drug companies and researchers for their work. The patent would then be placed in the public domain so the drug could be sold in the free market as a generic. AIDS patients would no longer have to struggle to find ways to pay for their drugs; they would be sold at prices comparable to other generic drugs."
HuffPo writer Dean Baker also points out the incredible savings, noting "we spend close to $300 billion a year for drugs that would cost around $30 billion in a free market. The $270 billion difference is approximately five times as large as what is at stake with extending the Bush tax cuts for the wealthy."
On July 24th, Housing Works will be participating in the We Can End AIDS Mobilization in Washington, DC, advocating for these kinds of policies to end the AIDS epidemic. Join us there to make your voice heard!