We often hear that there's not much new coming down the HIV drug development pipeline, but there were several presentations and plenty of posters on new HIV drugs in development at this year's CROI, including two new integrase inhibitors set to be approved in 2012, elvitegravir and dolutegravir, plus a reinvention of the popular HIV drug tenofovir (Viread), also found in Truvada (emtricitabine/tenofovir). There was also information regarding already approved drugs that will help inform us on how to make better use of the drugs that are currently in use. Go to retroconference.org.
The Quad
In a Phase 3 study, the once-daily single tablet regimen (STR) of elvitegravir, cobicistat, emtricitabine, and tenofovir, known as the "Quad," was found to be non-inferior to the gold standard Atripla (efavirenz/emtricitabine/tenofovir) at 48 weeks. This is the first large head-to-head study of two single-tablet-regimens. 700 treatment-naive individuals were randomized to receive either the "Quad" or Atripla, with 88% of those on the "Quad" achieving undetectable viral load (less than 50 copies) compared to 84% of those on Atripla. Side effects differed between the two groups, with higher rates of nausea in those on the "Quad" compared to Atripla (21% vs. 14%), while increased rates of CNS side effects and rash were seen in those taking Atripla versus the "Quad" -- abnormal dreams (27% vs. 15%), insomnia (14% vs. 9%), dizziness (24% vs. 7%), and rash (12% vs. 6%). Both groups showed similar low rates of discontinuation due to side effects (4-5%), and similar low rates of virologic failure (7%).
In a related poster (#627) the "Quad" showed non-inferiority to boosted Reyataz (atazanavir/ritonavir) in combination with Truvada at 48 weeks, with 90% of those on the "Quad" achieving undetectable viral load compared to 87% of those using boosted Reyataz plus Truvada. This Phase 3 study is being conducted in parallel with the Quad vs. Atripla study discussed above.
An FDA advisory committee meeting on the "Quad" is scheduled for May 11.
New Integrase Inhibitor Dolutegravir
SPRING-1 is a Phase 2b dose-ranging study of dolutegravir, a once-daily unboosted integrase inhibitor, in approximately 200 treatment-naive individuals. The study looked at 10, 25, and 50 mg doses of dolutegravir compared to Sustiva (efavirenz), both in combination with two NRTIs. Fewer participants on dolutegravir (3%) discontinued therapy due to adverse events compared to Sustiva (10%). The study was not designed to demonstrate non-inferiority; however, the proportion of those with undetectable viral load was 88% for the dolutegravir group (using the 50 mg dose) compared to 72% for the Sustiva group, with no integrase inhibitor resistant mutations detected at 96 weeks. Two Phase 3 studies are currently enrolling for both treatment-naive and -experienced individuals using the selected 50 mg dose, and an expanded access program (EAP) is now open for those failing or resistant to Isentress (raltegravir) or elvitegravir and who need access to dolutegravir now (see "Dolutegravir Aces SPRING-2 Study, Now Available Via EAP").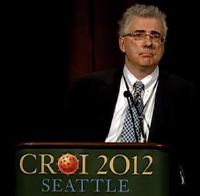 Peter Ruane, M.D.
GS-7340 -- Son of Tenofovir
GS-7340 is a pro-drug (a substance that becomes activated after entering the body) of tenofovir (Viread). Peter Ruane, M.D., and colleagues conducted a 10-day monotherapy study which was to compare three different doses of GS-7340 (8, 25, and 40 mg once daily), 300 mg tenofovir, and GS-7340 placebo. The drop in viral load was greater in the GS-7340 groups compared to Viread, while blood levels of tenofovir were lower in all GS-7340 groups compared to those on Viread. This newer version of the popular drug Viread (also contained in Truvada, Atripla, and Complera) achieves greater concentration of the active form of the drug within the cells, and lower levels in the bloodstream, while allowing for smaller doses -- in other words, greater antiviral activity, potentially less toxic, and a smaller pill (making it easier to co-formulate with other drugs). Gilead is also planning to explore use of GS-7340 as a treatment for hepatitis B.
Other Studies
BMS-626529 (poster #725) is the first in its drug class, an oral attachment inhibitor, which blocks the first step in viral entry, using a different target than entry inhibitors. In a brief study, monotherapy with BMS-663068, a pro-drug of "529," did not appear to select for BMS-626529 resistance for as long as eight days.
Rilpivirine (Edurant) is the newest non-nuke that was approved in 2011, and is also co-formulated with Truvada in a single-tablet regimen known as Complera. The ECHO and THRIVE studies compared rilpivirine versus efavirenz (Sustiva) in combination with Truvada, Epzicom, or Combivir. In a pooled analysis from both Phase 3 studies of 1,368 individuals, in those with a baseline CD4 count of 50 and above, responses were high and similar between the rilpvirine and efavirenz groups. There were lower responses for those on rilpivirine with a baseline CD4 count less than 50. Responses seen with rilpivirine were significantly higher than with efavirenz with both baseline viral load of less than 100,000 and CD4 cell count of 200 and greater. Overall responses were lower with rilpivirine compared to efavirenz with baseline viral load greater than 100,000, although non-inferiority between the groups was still met. Another poster (#617) demonstrated that rilpivirine 25 mg once daily and raltegravir (Isentress) 400 mg twice daily can be co-administered without dose modifications.
Got a comment on this article? Write to us at publications@tpan.com.