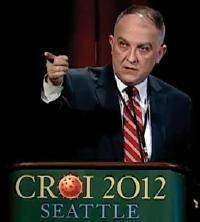 Pablo Tebas, M.D.
Science can seem to move along at an achingly slow pace, especially when curing HIV is the goal. Even though there has been extraordinary progress in understanding the virus and identifying targets for therapy, there is still much to learn about how HIV can be cured. One of HIV's survival mechanisms is to hide from our own immune system's response and to antiviral drugs that slow its progression. But new research is beginning to frame HIV cure science while we watch the developments unfold.
There were several oral sessions and posters dedicated to viral latency, eradication, and cure strategies in pre-clinical and animal studies, and some very encouraging early phase clinical trials. The HIV Latency and Eradication: Clinical Perspectives symposium was so popular that there were two overflow rooms for attendees that could not fit into the main session room.
Trying to understand HIV latency and attempts to activate or wake up so-called sleeper cells harboring the virus are in very early research stages. This is a critical HIV reservoir in which scientists are trying to figure ways to wake up the CD4 memory cell so that the dormant virus can complete its replication process. Then, theoretically, antiviral therapy can move in to do its job. But there are many barriers to completely understanding this process, and uncovering safe and effective ways that may lead to a functional cure (stopping HIV without the use of long-term drugs).
Scientists must agree on the best way to measure virus inside the CD4 memory cell before and after attempts at activation. It is also difficult to find these cells with dormant HIV inside. Also, finding the best monkey model to test the latency and activation hypothesis is in progress, but access to study animals continues to be problematic.
In an elegant proof of concept clinical study from the University of North Carolina, David Margolis, M.D., a leading cure researcher, showed for the first time that HIV can be purged from resting cells using one dose of an anti-cancer drug called vorinostat (known as SAHA for suberoylanilide hydroxamic acid). The drug is from a large class of drugs known as HDAC (histone deacetylase inhibitors). Histone deacetylase is an important enzyme that contributes to maintaining latency of HIV genetic material integrated into human cells.
Advertisement
The UNC study looked at six HIV-positive men who had been on stable antiretroviral regimens with viral load less than 50 copies/mL (undetectable) and CD4 cell counts above 500 cells/mm3. First, CD4 cells were removed and tested to establish baseline virus levels inside the cell. Then the cells were exposed to vorinostat, and HIV RNA was measured to show whether HDAC was inhibited. The cells were compared before and after the single dose of vorinostat. There was a two-fold increase in histone deacetylation after eight hours of the dose. All six participants had a response from 1.5- to 10-fold HIV RNA increase inside the cell, showing that one dose of the study drug could activate the sleeping virus. Even though only one dose was used there were no drug-related adverse events or toxicities. "This proves for the first time that there are ways to specifically treat viral latency, the first step towards curing HIV infection," Margolis stated.
Other drugs such as pegylated interferon-alpha-2a, used as one of the backbone treatments for hepatitis C, and disulfiram (Antabuse -- used for treating alcoholism) were presented at CROI with varying results. Still, the field is moving ahead as indicated by the number of positive results in pre-clinical, animal, and clinical studies presented. In time, the activation pathway combined with other approaches such as vaccines and immune modulators may all contribute to a functional cure. One remaining question is whether these or other approaches can target other HIV reservoirs such as the central nervous system.
Pablo Tebas, M.D., showed additional data from the first zinc finger nuclease (SB-728) cohorts at UPenn and Quest/San Francisco presented at CROI and ICAAC last year. The two cohorts were immunologic responders with CD4 cells greater than 450 and immunologic non-responders with CD4 cells less than 500 who all were given one infusion of SB-728. There have been no serious adverse events except one transfusion reaction that went away after a few days. After about one year, dramatic CD4 increases were seen in both groups that investigators think was related to increases in IL-2, IL-7, and IL-15, cytokines associated with CD4 expansion. CD4:CD8 T-cell ratios normalized in the majority of participants. After infusion, SB-728 was detected in peripheral blood from 90 to 700 days thus far. The modified cells also traffic to the rectal mucosa, showing that the modified cells are reaching other important HIV reservoirs.
One remaining question was whether HIV RNA would be affected by SB-728. To show this, participants went on a treatment interruption during the trial. After increase in viral load levels, all had significant drops in virus levels before resuming ARVs again. One man who dropped to undetectable levels was found to be heterozygous for the delta 32 mutation, making him an "elite controller," one whose HIV is controlled without ART. Because of this finding, a study has been enrolled to look at this very population to see if the antiviral effect is real. Another study is using a single infusion of a chemotherapy drug in order to make room for more expansion of the CCR5-modified CD4 cells.
AIDS treatment activists have been at the table in the latest developments in cure research since Martin Delaney stumbled upon the Timothy Brown "Berlin patient" poster several years ago. At CROI, that tradition continued in a one-day workshop organized by activists. Leading cure researchers, the FDA, the IAS (International AIDS Society), and pharmaceutical companies developing eradication molecules joined activists in a robust discussion. Issues addressed were how to better inform the community about cure research and clinical trials, including revision of the cumbersome informed consent process. Also, the challenge researchers have in gaining access to experimental drugs from other companies for use in their experiments and the continuing problem of development of the best assays and animal models were all discussed. Sangamo, the biotech company developing zinc finger technology, is now scheduling a meeting with a few cure research activists. Investigators from UCSF, UNC, and the Fred Hutchinson Cancer Center presented programs being developed for the Martin Delaney Collaboratory. Activists are also working to create community advisory positions with this groundbreaking research.
The game changer at CROI was that cure research has reached the main stage. While no one knows how long it is going to take to find a cure for HIV, everyone agrees that a lot of work remains.
Diagnosed with HIV in 1988, Matt Sharp's long history as an AIDS advocate includes belonging to ACT UP Golden Gate; directing the education programs at Test Positive Aware Network in Chicago and Project Inform in San Francisco; and helping to found the AIDS Treatment Activists Coalition. Currently, he acts as an international consultant.
Got a comment on this article? Write to us at publications@tpan.com.