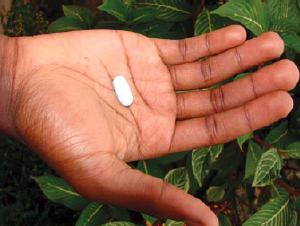 Photo courtesy of Partners PrEP Study Team.
Table of Contents
Introduction
More than a decade ago, "AIDS Drugs for Africa" was one of the rallying cries for a global activist movement. The meaning was simple: treat HIV-positive people with potent, life-saving medications regardless of where they live, how much money they have or who they love. These days, the phrase has more meanings than we could have ever imagined. The past two years have brought a range of data on the use of antiretrovirals for HIV prevention in HIV-negative people, as well as a preventive strategy in HIV-positive people. These developments are exciting, but the situation is far from simple. There are questions about feasibility and about levels of effectiveness observed in different trials. Today, many people want to know: Can antiretrovirals (ARVs) be used for HIV prevention in HIV-negative people? If so, which types of products, programs and for which populations is this prevention most effective?
The answers to these questions depend on several factors, including science, policy, funding, community demand, and the future of treatment access for people with HIV. Not surprisingly, the possibility of using an ARVbased prevention method in HIV-negative people generates strong opinions, both in favor of such a prevention tool and those opposed. In light of the potential, many questions have arisen including: Is it feasible? Will people actually use a pill or a gel once a day? Is it ethical, given the enduring need for ARVs for HIV-positive people worldwide? And, do we know enough from the trials to-date to describe levels of safety and effectiveness anticipated in a real world health care setting?
None of these questions have been completely answered. But over the past year, there has been a steady stream of developments that have both complicated and clarified the discussions. Mixed data on topical PrEP, such as the vaginal microbicide 1% tenofovir gel, and oral PrEP in women have left scientists and advocates perplexed. Many fear that the obstacles inherent in providing ARVs to HIVnegative people -- repeated HIV testing, the need to ensure access for HIV-positive people, additional staffing requirements, and more -- will overshadow the potential of these new tools. For advocates who want to see a full exploration of what ARV-based prevention can do in their communities, it's as important as it has ever been to stay informed of developments as they emerge and maintain a firm pursuit of the ultimate goal: to curb the epidemic by preserving health in HIV-positive people and preventing as many new infections as possible.
Mixed Results
There have been many highs and lows in ARV-based HIV prevention research over the past year. The first results of the year came in April from the FEM-PrEP trial, which tested once-daily doses of TDF/FTC (a combination treatment pill marketed under the brand name Truvada) and was stopped early after that PrEP regimen showed to have no effect at reducing risk of HIV infection for women in the trial.
In May 2011, one of the most headline-grabbing and encouraging developments was data from the HPTN 052 trial, which is ongoing in nearly a dozen countries across four continents. It found that early HIV/AIDS treatment reduces risk of transmission in serodiscordant couples (when one partner is HIV-positive and the other HIV-negative) by 96%.1 The trial is ongoing, with all HIVpositive participants now offered ART regardless of CD4 cell count. This will provide more information on the durability of the prevention effect over time, rates of side effects, and other issues.
Advertisement
Two months later, in July 2011, data from two oral PrEP studies, known as Partners PrEP and TDF2, showed that once-daily doses of TDF/FTC reduced risk of HIV in heterosexual women and men by up to 73%.2,3 Partners PrEP is a study that continues to follow the serodiscordant couples enrolled at its sites in Kenya and Uganda. TDF2 is planning a follow-on study to begin in 2012. It enrolled heterosexual men and women in Botswana.
Shortly after a string of mostly positive results, the ARV-based prevention field was handed several pieces of confounding and disappointing news. In September 2011, the multi-arm Vaginal and Oral Interventions to Control the Epidemic (VOICE) trial announced that it would discontinue the arm of the study that provided participants with TDF (a treatment pill marketed under the brand name Viread) after an independent review of trial data by its data and safety monitoring board (DSMB) showed that TDF did not have any effect on reducing risk of HIV for women in the trial. Just two months later, when the DSMB met again, it found that the arm of the study that provided participants with 1% tenofovir vaginal gel was also not effective at reducing risk of HIV for the women in the trial.4 As a result, the gel arm of the study was also stopped. VOICE was designed to look at the safety and effectiveness of three different HIV prevention strategies in women: once-daily oral TDF/FTC tablet, once-daily oral TDF tablet, or once-daily application of 1% tenofovir vaginal gel. The study enrolled over 5,000 women at trial sites in South Africa, Uganda and Zimbabwe.
To date, the CAPRISA 004 trial is the only study to show effectiveness in reducing risk of HIV infection among women through the use of 1% tenofovir gel. This study enrolled nearly 900 South African women and found that gel use before and after sex reduced risk of HIV by 39% overall.5
Regarding efficacy of oral PrEP among women, the VOICE data showed that once-daily oral TDF was not effective at reducing risk for women in the study. A similar result came from FEM-PrEP, which showed no effect of daily TDF/FTC for women in the trial. These results contrast with data from both the Partners PrEP trial and the TDF2 trial, which found evidence of benefit from oncedaily doses of TDF/FTC for both men and women.
So where does this leave the field? Unfortunately, with more questions than answers; and with a crowded chorus of stakeholders speculating why one trial worked and another did not. The theories that have emerged often center on adherence patterns, dosing strategies, population demographics, and/or other yet unknown factors. However, none of these theories can be substantiated without additional data analysis. It is not clear why interventions were effective in some trial populations and not in others. Past experience has shown that mixed results are common for effectiveness trials of new interventions, and the PrEP trials are no different.
A number of PrEP trials in the pipeline will yield information in the coming months and years, which will help to tease out the effectiveness and utility of these interventions.
The Need for Clarity
Since 1% tenofovir gel has now shown benefit in one trial and no benefit in another one, all eyes are on the FACTS 001 trial. This is a large-scale trial of tenofovir gel in South African women, which began enrolling in October 2011. The trial, which was approved by the South African Medicines Control Council, the South African regulatory body that approves new medicines, and funded by the South African Department of Science and Technology, the U.S. Agency for International Development (USAID) and the South African Department of Health, is testing the same dosing strategy evaluated in CAPRISA 004. The VOICE trial, which halted its tenofovir gel arm, was evaluating daily dosing. FACTS 001 results are expected in 2014. If the trial shows benefit, data from FACTS 001 could be combined with those from CAPRISA 004 and submitted as part of a dossier seeking regulatory approval for 1% tenofovir gel. Regulatory approval is a prerequisite for any product to be made available to consumers outside of a clinical trial setting. Such a regulatory dossier would also include data from the tenofovir gel arm of VOICE.
There is also a proposed open-label study (where all participants are offered the product being tested and there is no placebo), called CAPRISA 008. This study would look at effective ways to deliver 1% tenofovir gel in communities where the CAPRISA 004 trial took place.
In addition to work on 1% tenofovir gel for vaginal use, there is also rectal microbicide research underway. After a small Phase 1 trial looked at the safety and acceptability of the vaginal gel, it was reformulated for rectal use and is scheduled to go into the first ever Phase 2 rectal microbicide study in 2012.