On April 19-20, 2012, the AETC National Center for HIV Care in Minority Communities brought together 103 CEOs, medical directors, and other health center leaders in Washington, DC. These individuals, over half of which identified as racial and ethnic minorities, represented 42 community health centers (CHCs) from 17 states and territories.
The CHCs included community and faith-based organizations, health departments, migrant health, homeless, and Indian Health Service clinics. Collectively, they reach over 650,000 patients and 2,189 persons living with HIV in predominantly racial and ethnic minority communities.
Set against the landscape of health care reform, in which an estimated 850,000 people living with HIV could be newly insured, and a shrinking HIV and primary care workforce, the participation of these CHCs with the AETC NCHCMC showed their vision and commitment to provide increased access to quality HIV care for patients in their communities.
The purpose of the AETC NCHCMC is to develop, improve, and enhance the organizational capacity of non-Ryan White funded health centers to provide primary medical care and treatment to racial and ethnic minorities living with or affected by HIV/AIDS. It is supported by the Minority AIDS Initiative and the AETC program through the HIV/AIDS Bureau of the Health Resources and Services Administration. It represents the HIV/AIDS Bureau's major effort to increase access to HIV care for ethnic and racial minority communities.
Click here to visit the AETC NCHCMC website for the full list of participating health centers.
Dr. Julio A. Marrero Guadalupe from COSSMA,Inc. and Dr. Arturo Garcia Feliciano from Centro de Servicios Primarios de Salud de Patillas discuss the state of HIV in Primary Care in Puerto Rico.

Dr. Linda Clark and clinical learning leaders developing their HIV Training Plan and discussing barriers and solutions to integrating HIV into primary care at their health center.
During breakout sessions, 38 providers (MDs, NPs, and PAs) discussed the AETC NCHCMC's HIV Community Care Continuum (CCC). The CCC is a staged framework for integration of HIV care into primary care. At its core, the HIV CCC is a dynamic model for classifying community health centers and other primary care delivery sites, based upon where they fall in the spectrum of HIV care delivery. Classifying health centers in this framework allows the AETC NCHCMC to deliver customized HIV capacity building and clinical training responsive to the needs of individual centers.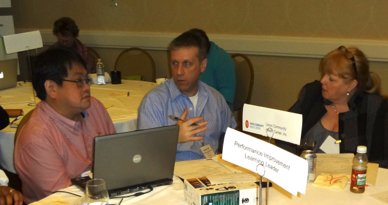 Union Community Health Center's Dr. Nelson Eng, Douglas York and Nancy Spellman discuss the performance improvement activities that will facilitate HIV into primary care.
The participants overwhelmingly reported that the working meeting was a great way to plan their HIV integration activities.
"We walked away with tangible plans & next steps."
-- Clinical Learning Leader

"I immediately started planning in my head and writing agendas for future meetings."
-- Clinical Learning Leader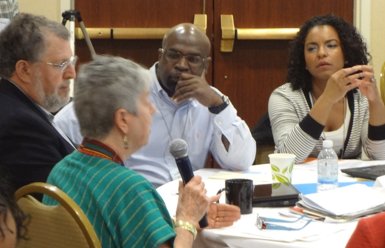 HIV in Primary Care Learning Community members report on their HIV training plans developed at the meeting.
The Clinical Learning Leaders also reviewed the HIV Training Package (HTP). The HTP is rooted in the framework of the HIV Community Care Continuum and supports community health centers movement through the continuum. The clinical training resources available in the package provide assessment based, comprehensive educational resources to increase provider knowledge and HIV capacity building. For an overview of the HIV Training Package, click here.
Performance Improvement plans were developed following individual conversations between CHC staff and AETC NCHCMC coaches. The plans address revenue maximization, population management, quality Improvement, and access including recruitment and retention of racial/ethnic and sexual minorities as well as patients facing mental health and substance abuse issues.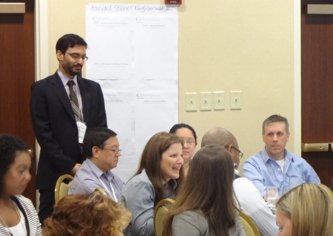 Performance Improvement coach Mazdak Mazarei facilitates a planning discussion with Beacon Christian Community Health Center, Union Community Health Center and Harvard Street Neighborhood Health Center.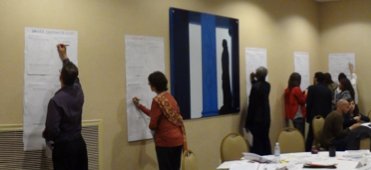 Performance Improvement Learning Leaders engaged in implementation planning.