Table of Contents
Abstract
Working with HIV-positive people to tell their sex and drug-injecting partners they have HIV is the first step in prevention with positives. Step 2 is encouraging positive people to consider starting antiretroviral therapy, with an eye toward reaching and maintaining an undetectable viral load. Clinician experience in the United States suggests that results of HPTN 052 have opened another avenue to discussing starting antiretroviral therapy. Because most sexually transmitted infections (STIs) remain asymptomatic, appropriate screening for STIs is essential to limiting HIV transmission risk from positive people. Despite data confirming low HIV transmission risk in people with an undetectable viral load, providers should continue to stress condom use. Circumcision lowers the risk of HIV transmission from positive heterosexual men. But the CDC and other groups urge caution in considering circumcision for gay men because of limited evidence in this population and because the risks of circumcision remain largely unexplored in them. Serosorting limits HIV transmission in gay men who do not use condoms but cannot be recommended as a primary prevention strategy. Clinicians should remember that most HIV transmissions from injection drug users come during sex, not needle sharing. Plentiful evidence shows that behavioral interventions can help HIV-positive people refrain from transmission-risk behavior. Some of these interventions involve little or no provider time and can be completed by patients using hand-held devices in the waiting room. The CDC plans to stress these time-saving strategies in its 2012 prevention-with-positives guidelines.

Reasons why clinicians fail to engage HIV-positive patients on transmission risk almost outnumber reasons why clinic-based prevention strategies work. The first article in this issue ponders both lists of reasons. This article probes clinic-based strategies for bridling transmission from positives -- with a focus on strategies that take little provider time and won't break the clinic budget.
First Step in Positive Prevention: Telling Partners
Before providers can lift a finger -- or prescription pad -- to prevent HIV-positive people from transmitting their virus, they've got to know who's positive. That's why the CDC and others are pushing hard to test as many people as possible, regardless of perceived HIV risk. Once a person gets diagnosed and referred to care, the provider must address another urgent priority -- making sure the new patient's partners know.
For an array of reasons easy to imagine, people with HIV often avoid telling sex partners they're infected. One study of 675 HIV-positive men who have sex with men (MSM) in six US cities found that 30% told no sex partners they had HIV in the past 90 days.1 Another study discussed below recorded a 7% notification rate.2
HIV providers must remember that most states and some local governments have laws regulating HIV disclosure to partners; many states also regulate disclosure by clinicians to third parties at high risk of getting infected by already positive patients.3 Some health departments give HIV-positive people a set time to notify partners. If the partners don't show up for counseling and testing by the end of that "contract period," the health department gives them the news.3
CDC guidelines advise providers to ask all positive people at their first visit whether they've told sex and needle-sharing partners they have HIV.3 And keep asking at follow-up visits, the CDC says, because many patients will have found new partners in the interim. (The CDC is releasing revised and greatly expanded guidance on prevention with positives in 2012. See the interview with the CDC's Kathleen Irwin in this issue.)
A 1992 trial that randomized newly diagnosed people to physician- or self-notification of partners found that physicians successfully notified 78 of 157 sex or needle-sharing partners (50%), while patients themselves notified only 10 of 153 partners (7%).2 Among notified partners, 23% had HIV.
Advertisement
Second Step to Positive Prevention: Undetectable Viral Load
Long before HPTN 052 offered sumptuous proof that triple antiretroviral therapy slashes the risk of HIV transmission in HIV-discordant couples, plentiful evidence forged a fast link between lower viral loads and slimmer chances of transmission. That principle became clear well before the dawn of triple therapy, when US and French investigators found that zidovudine taken by pregnant women and newborns sliced the risk of mother-to-child transmission 67.5% (95% confidence interval [CI] 18.4 to 32.5, P = 0.00006).4
In ensuing decades, one trial after another showed that one drug is better than none, two are better than one, and three are best in cutting chances of vertical HIV transmission, clearly because each stronger regimen lowers viral load more. Testing three triple regimens in 730 women, the Mma Bana study in Botswana found that more than 90% of women across the three groups had a viral load below 400 copies/mL at delivery and through follow-up.5 Six months after delivery, the HIV transmission rate in this breast-feeding population was 1.1% -- equivalent to rates in formula-feeding Western populations.
The same principle applies to sexual or parenteral transmission of HIV. In the seminal study of 415 HIV-discordant Ugandan couples before antiretroviral therapy became available, none of 51 people with a viral load below 1500 copies/mL infected their partner.6 In a study of 253 antiretroviral-naive HIV-discordant monogamous Ugandan couples, the researchers divided HIV-positive partners into four equal groups reflecting their HIV load: under 3090 copies/mL, 3090 to 14,450 copies/mL, 14,450 to 75,850 copies/mL, and over 75,850 copies/mL.7 Compared with people in the lowest viral load quartile, those in the next higher quartile had a 3.31 times higher risk of transmitting HIV, those in the quartile above that had a 6.39 times higher risk, and those in the highest quartile had a 7.06 times higher risk. (Figure 1).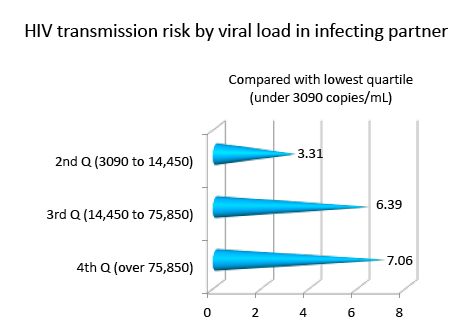 Figure 1. Higher viral load in the HIV-positive partner of HIV-discordant couples independently raised the risk of HIV transmission by the indicated rate ratios. Transmission risk rose with each higher viral load quartile (Q) in this study of 253 antiretroviral-naive monogamous Ugandan couples.7

Though HIV incidence data from HIV-discordant heterosexual African couples may not apply precisely to gay and straight couples in the United States and similar countries, this research certainly offers keen insights into how viral load may affect transmission. A canny modeling study relied on data prospectively collected from 3381 HIV-discordant African couples from 2004 to 2008, including 108 with genetically linked HIV transmissions.8 The model predicted that every 0.74 log (about 5.5-fold) lower viral load cut heterosexual transmission risk 50%, regardless of starting viral load in the population and other HIV-related population traits.
Meta-analysis of 11 studies involving 5021 heterosexual couples counted 461 HIV transmissions, only 5 of them from an antiretroviral-treated partner.9 No one with a viral load below 400 copies/mL passed HIV to a partner. These couples lived in three African countries, Brazil, India, Spain, Thailand, and the United States.
Population-based modeling studies show that, as communities start using robust antiretroviral combinations, "community viral load" drops, followed by HIV incidence (the new infection rate).10-12 For example, British Columbia's centrally controlled antiretroviral program allowed researchers to figure that individual use of triple therapy soared 547% from 1996 to 2009, reaching only 837 people in 1996 and 5413 in 2009 (P = 0.002).11 Over the same period, the number of new HIV diagnoses dwindled 52%, from 702 to 338 per year (P = 0.001). On an annual basis, the number of people on combination therapy correlated inversely -- and tightly -- with the number testing positive (-0.89, P < 0.0001).
With all these findings pointing (insistently) in the same direction, no one could be surprised that antiretroviral therapy stymied sexual HIV transmission in HPTN 052.13 But the magnitude of that effect was stunning. The trial enrolled 1763 HIV-discordant couples in nine countries, 97% of them heterosexual and 94% of them married. Everyone had a CD4 count between 350 and 550 cells/mm3, and no one had taken antiretrovirals. The investigators randomized HIV-positive partners in these couples to start antiretroviral therapy immediately or to wait till their CD4 count dropped to 250 cells/mm3 or they had an AIDS disease.
The Data and Safety Monitoring Board pulled the plug on HPTN 052 early when results through February 2011 showed that 28 couples had a genetically confirmed HIV transmission, only 1 of them in the early-antiretroviral group. Starting antiretrovirals immediately chopped the HIV transmission risk by 96%. Because the 1 genetically linked transmission in the early-antiretroviral group probably occurred before treatment made the positive partner's viral load undetectable, HPTN 052 confirmed earlier nonrandomized studies that found no sexual HIV transmissions from people with an undetectable viral load.