Table of Contents
Abstract
Helping HIV-positive people avoid passing their virus to partners -- called positive prevention -- could dramatically curtail the HIV epidemic if pursued aggressively. Yet, despite ample research showing that clinic-based positive prevention works, providers often neglect this aspect of HIV care. Research suggests many reasons why clinicians avoid talking to positive patients about prevention, from a simple lack of time, to discomfort in discussing intimate (often gay) sex, to the belief that counseling won't change a patient's behavior. Although chances of picking up HIV during condom-free sex may be 1 in 200 or more, those odds look bad when one considers the number of lifetime sex partners some people report. CDC data show that US HIV transmission rates began falling early in the epidemic and kept falling through 2006. Transmission rates probably continued to dwindle after that, but largely because antiretroviral therapy made viral loads undetectable in so many people. Primary high-risk transmission groups include people with high viral loads, sexually active gay and bisexual men, injection and noninjection drug users, and people with mental health problems. But research has also disclosed some unsuspected risk factors, like hunger.
Introduction
Everyone who gets HIV gets it from someone else. In the United States HIV usually jumps from one person to another during sex, and less often with needle sharing. Antiretrovirals for pregnant women and blood screening stoutly block the virus from infecting newborns and transfusion recipients. Even in countries with limited perinatal antiretroviral programs, sexual HIV transmission accounts for the bulk of new infections.
So if everyone with HIV stopped having unsafe sex and sharing tainted needles, the epidemic would end.
Yes, pregnant women with undiagnosed HIV or living in places without ready antiretroviral prophylaxis would pass HIV to offspring. But there would be fewer and fewer HIV-burdened pregnant women if HIV-positive men and drug-injecting partners stopped infecting them. So if sexual and drug-sharing transmission can be curbed, HIV infection would not be epidemic. Of course helping HIV-positive people in care stop transmitting their virus would do nothing to stymie transmission from people who don't know they're infected. But it would make a big dent in HIV incidence, and a bigger dent if wider HIV testing succeeds.
You might think, then, that HIV clinicians -- a group probably more attuned than any other to the public health consequences of the disease they treat -- would make preventing HIV transmission a top priority of day-to-day care. But study after study shows many don't -- even while a raft of other research proves that simple, regular counseling by HIV providers defuses risky behavior. And innovative risk-reduction and screening tools patients can self-administer promise to save clinician time without costing a bundle.
Advertisement
"Positive prevention" -- helping HIV-positive people avoid passing their virus to sex mates and injecting allies -- clambered several rungs up the US public health ladder in 2003 when the CDC promulgated its guidelines on Incorporating HIV Prevention Into the Medical Care of Persons Living With HIV.1 Until then, CDC experts noted, "HIV prevention in this country ... largely focused on persons who are not HIV infected, to help them avoid becoming infected."1 But to many that oak-to-acorn inversion has the logic of counseling potential car-crash victims to watch for reckless drivers rather than getting reckless drivers to slow down and stay in lane. And focusing on people without HIV had done nothing to stunt HIV incidence -- the new infection rate -- in the United States. (The CDC will update its positive-prevention guidelines in 2012. See the interview with Kathleen Irwin in this issue of RITA!)
If positive prevention languished as a clinical priority for nearly a decade after the CDC unveiled its guidance,1 results of the randomized HPTN 052 trial pushed this epidemic-arresting strategy to a prime spot in the frontal lobes of HIV clinicians and everyone else who thinks about how the virus spreads.2 Although this watershed study involved HIV-discordant couples, almost all of them heterosexual, few doubt that the foremost finding applies to anyone with HIV and that person's sex mates.
Randomizing HIV-positive partners in 1763 discordant couples to start combination antiretroviral therapy (cART) at a CD4 count between 350 and 550 cells/mm3 or to wait for AIDS or a count of 250 cells/mm3, HPTN investigators determined that early treatment cleaved the risk of HIV transmission to the negative partner by a whopping 96% (hazard ratio [HR] 0.04, 95% confidence interval [CI] 0.01 to 0.27, P < 0.001).2
Here, dramatically, was proof that keeping viral loads in check with standard cART virtually voided chances of sexual HIV transmission.2 The solitary person in the early-treatment group who transmitted HIV to his partner had just begun treatment. When RITA! asked top HIV clinician/researchers to name the one or two steps they recommend to keep HIV-positive people from sharing their virus, 16 of 18 said treat them with antiretrovirals, and 7 of those 16 specifically cited HPTN 052.
But "treatment as prevention" will not transform the transmission landscape overnight, even in countries with ready access to antiretrovirals. To blunt HIV incidence in a big way, providers will have to give positive prevention a top-drawer spot in their treatment plans, even if time is short and reimbursement beggarly. This issue of RITA! aims to help clinicians focus more sharply on positive prevention and to see what research says on which strategies work best. Although most of the research and guidelines reviewed involve HIV in the United States and countries with a similar epidemic, the major points largely apply to HIV clinics across the world. Interviews with two CDC officials and with Stephen Morin, a top positive-prevention investigator, analyze some of the most telling data. Quick summaries for clinicians appear through this issue, and patient handouts appear in and after the second review article.
Prevention Counseling Takes Back Seat in Many HIV Clinics
Studies that reckon how many HIV providers counsel positive patients on HIV prevention almost all report dreary results. The US Health Resources and Services Administration (HRSA) 2011 Guide for HIV/AIDS Clinical Care reports that "one third to three fourths of HIV medical providers do not ask their patients about sexual behavior or drug use."3
In 1998 and 1999 a CDC team asked 839 Californians with HIV (607 gay/bisexual men, 127 heterosexual men, and 105 women) in six public HIV clinics if a health worker ever talked to them about safer sex or HIV disclosure to partners.4 Almost one third (29%) claimed no physician, physician assistant, nurse practitioner, nurse, social worker, health educator, psychologist, or psychiatrist ever discussed safer sex, and 33% could not remember a physician ever mentioning safer sex (Figure 1). Only half of the study group said a health worker ever discussed HIV disclosure with them. About 45% of these people had visited their clinic more than 20 times.
Although the US HIV epidemic was dominated by homosexual transmission then and remains so today, multivariate analysis determined that gay/bisexual men were half as likely as heterosexual men to be counseled about safer sex (odds ratio [OR] 0.48, 95% CI 0.28 to 0.81).4 The CDC investigators suggested this finding "may indicate that some providers feel uncomfortable talking about homosexual behavior or that they may (mistakenly) assume that MSM [men who have sex with men] already know about the importance of prevention and thus do not need additional information."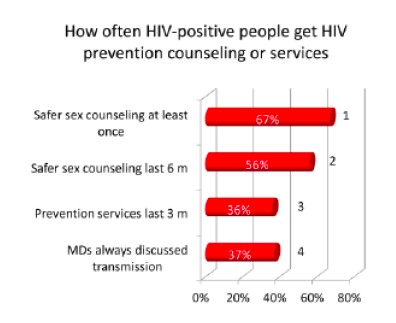 Figure 1. Four studies in the past decade document low to moderate rates of HIV transmission counseling and services offered to HIV-positive people in US clinics. The numbers to the right of each bar indicate the studies described here and in the text. (1) 839 HIV-positive people in six public HIV clinics in California, reported in 2002:4 67% received safer sex counseling by a physician at least once. (2) 413 sexually active HIV-positive people in 16 Ryan White-funded clinics in 9 states, reported in 2004:8 56% discussed safer sex and transmission prevention with a provider in the last 6 months. (3) 3787 HIV-positive people in New York City, San Francisco, Los Angeles, and Milwaukee, reported in 2008:5 36% received HIV prevention services in past 3 months. (4) 317 physicians surveyed in Atlanta, Baltimore, Los Angeles, and Miami, reported in 2008:7 37% of physicians always discussed HIV transmission risk with patients.

This seeming squeamishness about discussing sex with gays also surfaced in a 2008 study of 3787 HIV-positive people in New York City, San Francisco, Los Angeles, and Milwaukee.5 Almost three quarters of this Healthy Living Project group (73%) were men, 50% were MSM, 49% were African American, 26% white, and 19% Hispanic. Median age stood at 41 years.
Only 1356 study participants -- a little over one third (36%) -- said they received HIV prevention services in the 3 months before their first Healthy Living Project interview.5 Compared with other study participants, MSM were twice as likely to report HIV transmission risk behavior (OR 2.04, 95% CI 1.46 to 2.85), but they were 31% less likely to receive HIV transmission risk services (OR 0.69, 95% CI 0.58 to 0.82). Compared with whites, blacks were almost twice as likely (OR 1.93, 95% CI 1.38 to 2.68) and Hispanics 50% more likely (OR 1.52, 95% CI 1.16 to 1.98) to receive such services. People currently taking antiretrovirals were 20% less likely to receive transmission services (OR 0.81, 95% CI 0.74 to 0.89).
Earlier research by this group involving 618 HIV-positive people in 16 publicly funded US clinics found that providers were less likely to counsel people about HIV prevention in the previous 6 months in clinics primarily serving MSM.6 This study also traced a correlation between provider belief that behavior change is unlikely in HIV-positive people and chances of HIV prevention counseling. The researchers call this pessimism "provider fatalism," though it will more likely prove fatal to HIV-positive people or their partners.
A CDC team assessed prevention counseling of positive people in a survey of 317 HIV physicians in Atlanta, Baltimore, Miami, and Los Angeles, 208 of them men and 109 women.7 Only 37% of these physicians reported always discussing HIV transmission risk with patients, though 84% always talked about antiretroviral adherence and 65% always discussed prophylaxis for opportunistic infections. Two thirds of these physicians (65%) strongly or somewhat agreed that they had enough time to provide the care and information their patients needed, but only 41% of that group always discussed HIV transmission risk.
Multivariate analysis determined that Hispanic physicians and Asian/Pacific islander physicians were more likely to discuss HIV transmission than other racial/ethnic groups (P = 0.03 and P = 0.0001), as were physicians who said they had enough time to care for patients (P = 0.003) and physicians who cared for fewer patients (P = 0.05). The study identified a trend toward more frequent HIV transmission counseling by female physicians (43.5% versus 34.1% of male physicians).
Dismal HIV prevention counseling rates also emerged from surveys of 618 HIV-positive people in Ryan White-funded clinics plus in-depth interviews with 16 clinic administrators, 32 primary care providers, 32 support service providers, and 64 patients.8 Half of the HIV group was black, one quarter white, and 19% Hispanic. Three quarters were men, 49% heterosexual, and 45% gay or lesbian. The largest proportion of HIV-positive people (48%) was between 35 and 44, while 30% were 45 or older.
Only 27% of 413 patients who had sex in the past 6 months reported having a general discussion about "safer sex and ways to prevent transmission to others" in that day's primary care visit, and only 56% did in the last 6 months.8 Only 7% reported discussing specific sexual activities that day, and only 27% did in the past 6 months. These people said their clinicians talked about HIV transmission significantly less than adherence to antiretrovirals (41.5%), emotional issues (34%), or diet and nutrition (33%). People attending clinics with set procedures for HIV prevention counseling were twice as likely to report such counseling (OR 2.17, 95% CI 1.41 to 3.32, P < 0.001).
Brief Provider Prevention Prompting Has Big Impact
This bad to middling record of provider prevention prompting is particularly vexing because other research offers ample evidence that HIV-positive people curb risky behavior when providers talk to them about it, even briefly. University of Southern California researchers tested the value of "brief safer-sex counseling" by providers at six California HIV clinics.9 In this study of 585 sexually active HIV-positive adults, two clinics stressed the positive consequences of safer sex, two stressed the negative consequences of unsafe sex, and two control clinics stressed antiretroviral adherence. About 85% of study participants were men, about 75% were MSM, about 40% white, and about 35% Hispanic.
Stressing the negative worked best in people with two or more sex partners or with casual partners when the study began, cutting chances of self-reported unprotected anal or vaginal intercourse almost 60% (OR 0.42, 95% CI 0.19 to 0.91, P = 0.03) when compared with the control group.9 This result was similar when the researchers considered only MSM. The negative approach had no measurable impact on risky sex among people with only one partner (who had low prestudy rates of unsheathed sex) or only a main partner. And stressing the benefits of safer sex did not trim chances of unprotected intercourse compared with the control arm. These researchers concluded that "brief provider-delivered safer-sex interventions are both feasible and effective at HIV clinics that serve a large number of patients."
HRSA sponsored a 5-year program to see whether HIV prevention strategies in 13 clinics cut transmission risk in positive people.10 Of the 3556 study participants, 70% were men, 64% were older than 40, 45% were heterosexual, 44% gay, 8% bisexual, 48% African American, 37% white, and 11% Hispanic. Three quarters of these people had at least one sex partner in the past 6 months, and they averaged 5 partners. One fifth of the study group (21%) reported unprotected anal or vaginal sex with an HIV-negative or HIV status-unknown partner in the last 6 months.
Researchers randomized these people to receive prevention counseling by medical providers and/or "prevention specialists" (a social worker or peer educator) or the standard of care.10 Compared with the standard-of-care group, people who received provider-delivered prevention interventions had a 45% lower sexual transmission risk rate after 12 months (OR 0.55, 95% CI 0.32 to 0.94, P < 0.03). People randomized to counseling by a prevention specialist had a 42% lower sexual transmission risk rate at 6 months (OR 0.58, 95% CI 0.35 to 0.96, P < 0.04), but that benefit lost statistical significance at 12 months (OR 0.67, 95% CI 0.39 to 1.14, P < 0.14). People counseled on prevention by providers and prevention specialists did not have a significantly lower sexual transmission risk at 6 or 12 months than the control group.
The 12-month difference in transmission risk between provider groups and transmission-specialist groups probably reflects the ongoing transmission counseling offered by providers versus specialist counseling delivered only in the days or weeks after initial patient interviews. These researchers concluded that "behavioral interventions are most effective if they are delivered in 'doses' -- such as at routine medical care visits -- over time."10
There's another advantage to the provider-only approach: It's the cheapest way to go.11 After 3 years of the HIV prevention demonstration project just described,10 the investigators figured costs and cost-effectiveness for the three approaches used: clinical provider alone, prevention specialist (social worker or peer) alone, and provider-plus-prevention specialist. Cost per patient for 3 years averaged $1004 when only the clinical provider worked with the patient on prevention, $3173 when only the prevention specialist worked with the patient, and $3430 when both the clinical provider and the specialist got involved.11 Compared with the lifetime cost of HIV/AIDS care and with other effective HIV prevention interventions, the clinical provider-led interventions proved cost-effective, but specialist-led interventions and provider/specialist-led interventions did not.
A 2001-2002 survey of 614 HIV-positive people interviewed immediately after an HIV clinic visit at one of 16 Ryan White-funded clinics in 9 states divided clinics into those with written HIV prevention procedures, those where providers offered prevention counseling on their own initiative, and those with no prevention procedures.12 Half of the study group (51%) was black, 25% were white, and 19% were Latino. Almost three quarters of patients (73%) were men, 48% were heterosexual, and 46% were gay or bisexual. Three quarters (77.5%) were older than 35, three quarters (76.4%) were taking antiretrovirals, and two thirds (66.9%) had sex in the last 6 months.
How often these people got counseled about HIV transmission depended on their clinic's prevention policy: In clinics with written procedures, 69% said their provider talked to them about HIV transmission in the past 6 months, compared with 56% in clinics where individual providers had to take the initiative, and 45% in clinics with no HIV prevention protocol.12 Compared with patients whose clinics had no prevention policy, those in clinics with spelled-out procedures had a tripled chance of getting prevention counseling (OR 3.17, 95% CI 1.24 to 8.06, P < 0.02). Notably, though, even in clinics with written guidance, almost one third of patients said their provider did not talk about prevention, and overall 43% said they had not discussed safer sex with their provider.
As in two studies reviewed above,4,5 heterosexuals in this study were more likely to get prevention counseling in the past 6 months than gays and bisexuals (OR 1.47 in bivariate analysis, 95% CI 1.01 to 2.12, P = 0.042).12 Blacks got counseled more than non-blacks (OR 1.64, 95% CI 1.09 to 2.46, P = 0.018), women more than men (OR 1.59, 95% CI 1.09 to 2.32, P = 0.016), and sexually active people more than those not active (OR 1.70, 95% CI 1.26 to 2.31, P = 0.001). People older than 35 proved less likely to hear their provider talk about prevention than younger people (OR 0.57, 95% CI 0.39 to 0.85, P = 0.005), as were people currently taking antiretrovirals (OR 0.57, 95% CI 0.38 to 0.86, P = 0.007). The only one of these factors that independently predicted prevention prompting in multivariate analysis in clinics with written prevention procedures was current antiretroviral therapy, which lowered chances of counseling more than 60% (OR 0.38, 95% CI 0.33 to 0.43, P = 0.001).