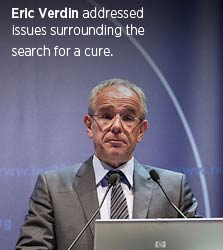 Photo: © IAS -- Marcus Rose -- Worker's Photo
While news on treatment as prevention (TasP) and pre-exposure prophylaxis (PrEP) was highlighted at this year's conference and made most of the headlines, the other topic that garnered quite a bit of attention was progress that's being made "Towards an HIV Cure," which is also the name of an ongoing international initiative to develop a global scientific agenda for an HIV cure.
At a Wednesday morning plenary session, Eric Verdin of the University of California, San Francisco gave a great overview presentation which sought to provide some answers to four basic questions: Why do we need a cure? Is a cure feasible? Why does HAART fail to cure, and what are the mechanisms of persistence? And how can we cure HIV?
Verdin laid out the two areas of cure research currently being studied: non-sterilizing cure (functional cure), which is exemplified by elite controllers, or those individuals whose immune systems are able to control HIV in the absence of treatment; and sterilizing cure (eradication), like what we saw with the recent success in the "Berlin patient," which proved that eradication of HIV is possible. But that was only one patient, he cautioned, and you have to repeat an experiment before you can claim victory. However, it's generally widely accepted that this proof-of-concept has quickly revitalized and helped focus interest in the area of cure research.
There are theroetically three mechanisms for persistent HIV production in patients on HAART -- CD4+ T-cell latency, persistent infection, and sanctuary sites. It is estimated that 1 in 100,000 to 1,000,000 resting CD4+ T-cells are latently infected, which means cells that are not normally producing virus but from which it can be reactivated. While CD4+ T-cell latency is very rare, the hope is that we could somehow purge those latent reservoirs, reactivate the virus, and those cells would then be eliminated by the immune system in the presence of highly active antiretroviral therapy (HAART). The potential role of treating these latently infected cells with compounds called HDAC inhibitors, such as SAHA and valproic acid, as well as other compounds such as prostratin and disulfiram (Antabuse), are now being studied.
The second mechanism, persistent infection, is less studied and likely to be much more complicated. The third mechanism would be in the area of sanctuary sites such as the brain, testes, or the gut.
Verdin suggests that we might be able to achieve either a functional cure or eradication, using intensification (treating early and treating strong); a therapeutic vaccine; purging and eliminating latently infected cells; or some type of stem cell or gene therapy, although the latter he feels may not be feasible but is still an area that deserves research.
Advertisement
During a Wednesday morning session entitled "Towards an HIV Cure: New Strategies for an Old Challenge," Daria Hazuda of Merck and Co. gave an excellent presentation which looked at drug development and the area of cure research. Hazuda pointed out that in studies thus far, intensification has not been shown to have much of an effect in blood plasma. However, when looking at other markers, such as tissue reservoirs, it seems that intensification does impact the level of immune activation, and HIV medications from different drug classes affect various reservoirs in different ways. The approach originally termed "shock and kill" is also known as the induction/elimination method, though many of the targets identified so far would not be useful when it comes to drug development because of the potential for toxicity.
An important and fundamental point she brought up toward the end of her presentation is whether induction -- even "very robust" induction using combination approaches -- will ultimately lead to eradication in the face of suppressive antiretroviral therapy. Hazuda says that in people whose virus has been suppressed on HIV therapy for years, we can still detect persistent viremia, so it's not clear why the immune system would be able to clear latently infected cells that are induced. That is why she believes it will require multiple approaches in combination, and not only will we have to address the latent reservoir, but ongoing immune dysfunction as well, in order to achieve eradication.
During the conference, the Towards an HIV Cure working group issued The Rome Statement for an HIV Cure in support of increased funding and research towards a cure. To sign on to the statement go to www.iasociety.org/Default.aspx?pageId=583.
There were many, many other posters and presentations related to HIV cure research, including work by Nicholas Chomant, Peter Hunt, Stephen Deeks, Sharon Lewin, and others. To find out more, go to www.ias2011.org.