How the study worked. Researchers in Brazil, Ecuador, Peru, South Africa, Thailand, and the United States invited men and transgender women who have sex with men to enter iPrEx. Study participants had to be male at birth, 18 or older, and HIV negative. When the study began, many people reported behavior that could raise the risk of becoming infected with HIV.

The iPrEx researchers randomly assigned study participants to take one Truvada pill once daily or an inactive lookalike pill, called a placebo. Throughout iPrEx, study participants did not know if they were taking Truvada or placebo. All iPrEx participants made a study visit every 4 weeks. During each visit, these gay men and transgender women received a supply of study drugs plus counseling on adherence (taking study pills daily) and counseling on lowering their risk of HIV and other sexually transmitted infections. They also got free condoms and tests for HIV and other sexually transmitted infections. People who got other infections during iPrEx received treatment for those infections. Everyone at risk of hepatitis B virus (HBV) infection was offered vaccination against HBV.

People signed up for iPrEx from July 10, 2007 through December 17, 2009. Researchers analyzed results of all study visits through May 1, 2010. The iPrEx team used standard statistical methods to calculate the risk of HIV infection in the Truvada group compared with the placebo group.
What the study found. At 11 sites in the six study countries, 2499 people entered the trial, including 29 (1%) who reported their gender as female. Ages ranged from 18 to 67, with an average of 27.5 in the Truvada group and 26.8 in the placebo group. About 18% of study participants were white, 9% black, 5% Asia, and the rest Hispanic or mixed race. Follow-up lasted for a median of 1.2 years and a maximum of 2.8 years.

Self-reported pill use was slightly lower in the Truvada group than in the placebo group at study weeks 4 and 8. After that, self-reported pill use averaged 95% in both groups. Pill use rate estimated by pill counts by researchers ranged from 89% to 95% after the first 8 weeks of study. However, measuring drug levels in blood and blood cells indicated that pill adherence rates were much lower than those indicated by selfreport or pill count.

Rates of syphilis, gonorrhea, chlamydia, genital warts, or genital ulcers did not differ between the Truvada group and the placebo group during the study. Sexual practices were similar in the two group at all points. The number of people with whom trial participants had receptive anal increase decreased during the study, while the percentage of partners who used condoms increased.

During the study 100 people became infected with HIV -- 36 in the Truvada group and 64 in the placebo group. HIV resistance to Viread or Emtriva did not develop in any of the 36 people who became infected with HIV while taking Truvada. In a statistical analysis that included all study participants except those who turned out to have HIV infection when they entered the study, taking Truvada lowered the risk of HIV infection 44% compared with taking placebo (Figure 1).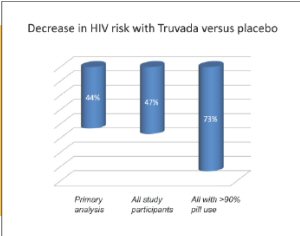 Figure 1. Once-daily Truvada lowered the risk of HIV infection when compared with placebo in men and transgender women who have sex with men. In the three analyses shown here, (1) the primary analysis considered all study participants except those who had HIV infection when the study began, (2) another analysis considered all study participants, and (3) another analysis considered all participants who reported pill use on 90% or more of study days.
In an analysis that included all study participants regardless of pill-taking adherence or HIV infection status when the trial began, taking Truvada lowered the risk of HIV infection 47% compared with taking placebo. Among people who reported pill use on 90% or more of study days, taking Truvada lowered the risk of HIV infection 73%. The lowered HIV infection risk seen with Truvada did not differ by geographical region, race or ethnic group, circumcision status, education level, alcohol use, or age.
Mild increases in creatinine levels, a signal of weakerthan- normal kidney function, were recorded in 2% of the Truvada group versus 1% of the placebo group. This difference was not statistically significant, meaning that chance alone could account for the difference. Seven people stopped Truvada and 3 stopped placebo because of elevated creatinine levels; 9 of these 10 people restarted their study drug. Five people taking Truvada had mildly high creatinine levels on two or more tests in a row. In all 5 people, creatinine returned to normal when they stopped Truvada, and 4 of the 5 started taking Truvada again without having a high creatinine.
Two separate studies assessed changes in bone mineral density in HIV-negative men taking Viread (part of Truvada) to prevent HIV infection.3,4 Earlier research found that Viread may contribute to decreasing bone density in people with HIV, and that would raise the risk of broken bones. Both studies -- including one analysis of people in the iPrEx trial3 -- found a small but significantly greater drop in bone density among people taking Viread than among those taking placebo. (See the article starting on page 12 for more on bone thinning with Viread.)
What the results mean for you. The iPrEx researchers summarize their findings this way: "Once-daily oral [Truvada] provided 44% additional protection from HIV among men or transgender women who have sex with men who also received a comprehensive package of prevention services." The researchers stress that their results should not be applied to other groups at risk for HIV infection, such as injection drug users or sexually active heterosexual men and women who live in areas with high HIV rates. The iPrEx team adds that the success of Truvada in this trial does not mean Truvada is the best PrEP pill or that the dose taken was the best Truvada dose for PrEP.

The lowered risk of HIV infection with Truvada does not mean gay men and transgender women who have sex with men can start taking once-a-day Truvada and forget about having sex with a condom. Truvada lowered the risk of HIV infection only 44% in this trial; a condom will always prevent HIV infection during anal intercourse, unless it is used improperly or breaks.

People tempted to use once-daily Truvada to lower their risk of HIV during sex must also consider the cost of daily treatment and the risk of side effects. Side effect rates were low in this study after about 1 year of treatment. But those low rates may reflect poor pill-taking adherence by some study participants, and long-term rates of Truvada PrEP side effects could be higher. Truvada may cause or contribute to kidney or bone problems over the long term, and Truvada did result in greater bone thinning than placebo in this study."3 Also, results of this study do not say whether taking Truvada will lower the HIV risk if Truvada is taken only on days when a person is having sex.

The CDC says it will need several months to develop guidelines on PrEP. But because of great interest in iPrEx results, the CDC offered "interim guidance" for gay men and their health care providers.2

The CDC stresses that PrEP should be "part of a comprehensive set of prevention services, including riskreduction and PrEP medication adherence counseling, ready access to condoms, and diagnosis and treatment of sexually transmitted infections." Anyone using PrEP should be checked regularly for HIV infection, side effects, adherence, and risk behavior. Also, PrEP should not be started by someone with signs or symptoms of acute viral infection, unless HIV RNA testing confirms that the person does not have HIV. People should be tested for HIV before they start PrEP.